I mentioned in our last blog that we would be updating the rules/terms/privacy/copyright and cookie policies that we use .... and we now have !!!!
The rules, as well as our privacy and cookie policies are now posted and active and can be accessed by clicking on one of the links at the bottom right of the page.
We have done away with the lengthy rule set that tried to cover every eventuality that happened on the site over the last 18 years, or may happen in the future because not only were they unwieldy and unwelcoming for new users, but they were also like a lightning rod for the tiny minority of users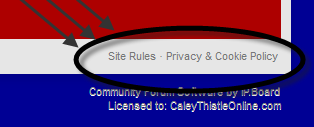 whose sole function on the planet seems to be a desire to create chaos or discord or to try and get one over the mods by finding something we hadnt covered ... Those guys can continue to play their games somewhere else, but the vast majority of users are not going to be subjected to a huge rule set just on their behalf. We're not playing that game anymore.
The new rules are about as generic as we can make them and although we have added a few specific examples based on things that have happened on the boards and which required moderator or admin intervention over the years, we are pulling back a bit and putting the onus on users to police their own behaviour somewhat.
Lets face it, most of you know what is appropriate or inappropriate in terms of the words, images or links that you post or the attitude you display. If you have to wonder whether you will get away with something you post, or the tone in which you post it then maybe you need to think again ? Thats all we are asking !!!
I know some folk will read this and not bother to click on the link, so for those users, here's a list of a few specific things that will bring you to the attention of the mods. Its not the full list - read the rules for that - but just enough to fill this blog post !
1. Personal Abuse / Agressive Behaviour: As we note in the new rules, we do have a minority of users who seem to delight in this and in making everything personal. We will continue to take a dim view of this and those who want to carry on doing it will soon find out how the new points system works. Its fine to disagree or discuss and debate the issues with someone, thats what forums are about, but you should be able to do it without making it personal or aggressive. We would also include passive aggressive behaviour in this such as posting snidey comments that denigrate someone for starting a topic you dont like. If you dont like a topic, ignore it and dont post in it rather than again making things personal ....
2. Inappropriate Posting / Swearing etc: Its a football forum with a primary demographic of male users of a certain age range. there's going to be swearing and there's going to be things that are perhaps not totally "PC". We are not going to get our underwear in a knot if someone lets the odd profanity go, or there is the odd image or link that gets close to the edge, but be aware of where that edge is. We have an audience that ranges from teenage to 80+ so bear that in mind when posting.
3. Illegal Content: There is nobody who likes to see ICT on the telly over here more than me, and yes I have partaken of 'dodgy feeds' to get that fix, but please dont post those links in open forum. Also, please try to refrain from posting copyrighted material if you dont have permission. We're not saying this to be assholes, we're saying it to protect the site from even the vaguest hint of action from various organisations or the authorities. We have developed good relations over the years with the club, with photographers, with the likes of the BBC or other media, and with people within the SPL/SFL/SFA and we still work closely with a lot of those folks ... it allows us to post things other sites may not get, or just to get verifiable info and such like. We wont allow anyone to jeopardise that.
4. Topic Hijacking: Topic Hijacking is not to be confused with going a little "off topic". We can all go a little off-topic here and there and thats to be expected and wont get you in the bad books unless you do it all the time and all over the place. Topic hijacking is where you purposely try to bring the topic around to your own different and unrelated agenda by changing the topic entirely rather than drifting into off topic territory ... and is usually quite recognisable as it is done on multiple threads if the poster feels strongly enough about a subject or wants to get a topic across. This is tantamount to bully boy tactics and wont be allowed. You want a topic on your subject, then start its own one ... if its of concern or interest to site users it will gather its own momentum.
So thats my personal top 4 .... like I said, there are a few more in the actual rules, but its basically all just common sense stuff .....
With regards to the privacy policy, we didnt change anything there other than making sure you could get to it from the link at the bottom of the page, and adding an additional portion to the end detailing the cookie policy.
The next post in this blog will be details of our re-vamped Verbal/Yellow Card/Red Card warning points system, but this will probably be next week now as the mods are still going over the finer points of it ... we want it to be fair, transparent and consistent and I think it will be ...
1