Rendalls Rambles #1
Enjoy a walk down memory lane with Caley Jags and world football fan James Rendall. He's a well travelled football connoisseur who has been following the Caley Jags from the start. He has put together a fascinating nostalgic review of Inverness Caledonian Thistle's first 25 years as witnessed through his own eyes. Thanks James, a remarkable commitment to the beautiful game.
Take a walk in James' shoes and relive the early days, with added input from CTO fans..............
The Inverness Caledonian Thistle Years #25
No.1 1994/95 (Games 1 to 20)
There wasn't an exact moment I pinned my tail on Caledonian Thistle as they were known then. On the very same night as the club trotted out at Firs Park, Falkirk to face the Shire in its first ever competitive game, I chose to see my first ever Faroese team in HB (Havnar Bóltfelag) who oddly were visiting Fir Park! A bit like buses, the Faroese National side came by Hampden a couple of months later, going down 5-1.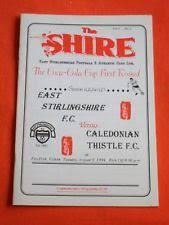 The legacy of post Meadowbank blues was still with me, and while I was drawn to both North clubs, the very fact the Inverness club was a cleansheet, a new club was the factor that swung it. My first ever Caley Thistle game was a 3-1 win at Telford Street versus Forfar in September, a rare moment of first season joy against the side who would romp away with the title. Indeed, by mid April I was at Victoria Park, Dingwall the day The Loons clinched promotion, and the final brilliant hoorah of an average campaign for Caley Thistle was thumping Ross County at Telford Street 3-0, a result that prevented them from going up ahead of us 

The Inverness Caledonian Thistle Years #25
No2 1995/96 (Games 21 to 61)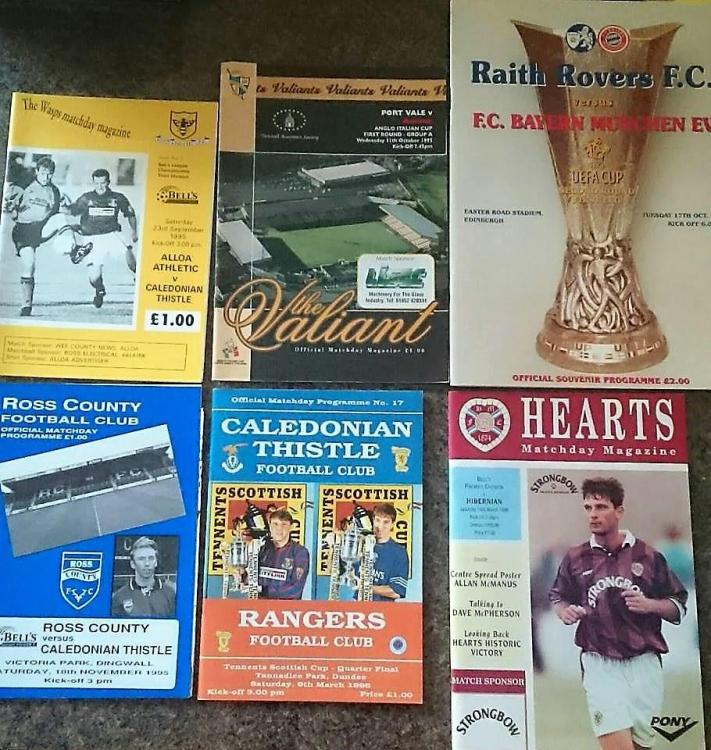 The club were bedding in better, red had been rightly added to the club colours and we were putting teams away with greater ease. The first programme here was the first of two back to back 0-5 away wins, but ultimately we'd come up short of promotion perhaps distracted by a wonderful Cup run, that included a last minute equaliser at old Bayview with East Fife and a subsequent penalty victory on the coldest Monday night ever! After another higher league side in Stenhousemuir were beaten 1-0 away in the next round, we drew Rangers at home for the only time thus far in our history in the Quarter Final. The game was eventually moved to Tannadice but with Gascoigne, McCoist and Brian Laudrup all playing for the opposition, we gave a battling performance, if beaten 0-3. It gave us a taste of the Scottish Cup as a new club, but the two component parts had long loved Cup ties. A lockout at Perth by virtue of the extraordinary number who ventured south, a classic tie at old Brockville in a blizzard v Stirling Albion were two memories of Caledonian, while Thistle had beaten Kilmarnock 3-0 as well as gaining notoriety for the longest cancelled Cup game with Falkirk in history!
The Inverness Caledonian Thistle Years, #25 
No.3 1996/97 (games 62 to 96)
In our third season in the league the new club was beginning to find its feet, and new heroes were developing. Having struggled with the loss of Meadowbank and even more so, my father, this was the season where I finally moved on too and really felt part of the new ICT nation. No one could know what would unfold in the coming years but this was to be quite a dramatic campaign and the start of a journey! 
Inverness was added to the name, the best thing they decided to do, as well as giving us notoriety for the longest name in European club football! The club also moved away from Telford Street, the home of Caledonian, allowing the ghost of both club to be finally left behind, although the new ground still carries the Caledonian name, a mistake in my opinion, especially if you are looking to heal wounds.
It is odd how football regularly offers a sense of symmetry, with Arbroath acting as the first ever league opponent in August 1994, and the last at Telford Street with Ian Stewart and Brian Thomson scoring the goals in a 2-0 win. The wee star, Ian Stewart was at it again a month later scoring the club's first goal at the new Caledonian Stadium with low key opening day visitors in Albion Rovers, who nicked an equaliser in front of a full house. The stadium has evolved a lot since then, and the road behind the stand is a main stay of the Inverness road system, but considering what it cost, and when you look at Falkirk's main stand etc, the need for that road reduced the availability of funds to build a proper mainstand!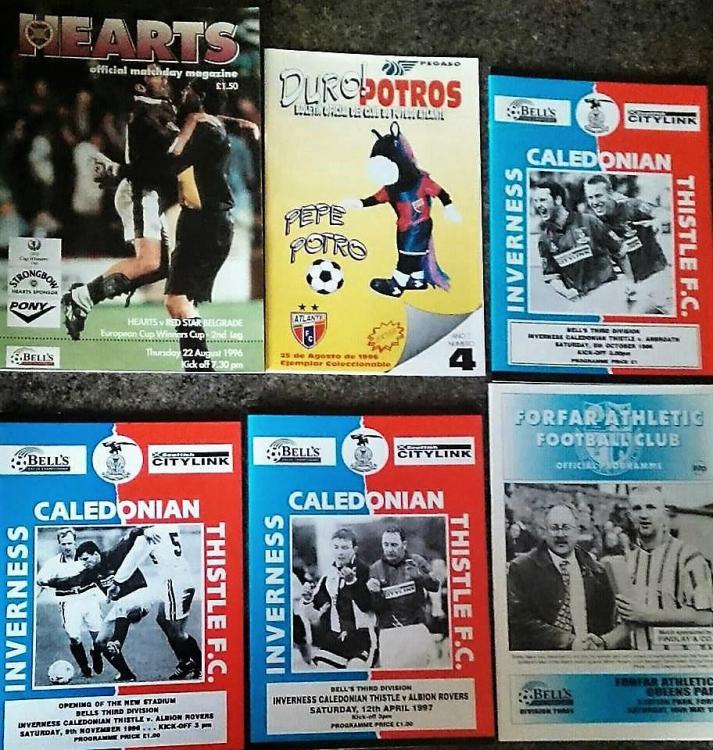 By March, messers Stewart and Thomson were at it again in a 3-0 win over the wee team, Ross County, a result that kept ICT top of the league and the wee Dingwall mob in its place! By the time symmetry came round again in the shape of Albion Rovers a month later, Caley Thistle were relishing the wider expanse of the new stadium, and another Ian Stewart brace, as well as a Barry Wilson goal and a rare Marco de Barros strike gave us a 4-1 win and clinched the Third Division title. Who would join us going up was still in the balance going to into the penultimate fixture. Forfar who had gone up in our first season must have come straight back down, and in our last home game of the season the party was not spoiled by a 0-4 first league loss at the new ground. The win kept Forfar second on goal difference from Ross County, and the following week I went to Station Park to see the Loons finish the job beating Queen's Park to step up with us. It would be years before County would find the promotion formula 

Next two installments coming up weekly............. 
You can read all about James' worldwide footballing travels in his own excellent blog FOOTBALL ADVENTURES WITH JAMES RENDALL
~~~~~~~~~~~~~~~~~~~~~~~~~~~~~~~~~~~~~~~~~~~~~
Our own Mantis can go back further than most, and he was there on day one.......

I was at the Shire game where Wilsie scored the first ever goal - the date is easy to remember as it's my brother's birthday. Followed up on the Saturday with the 5-2 v Arbroath and the following midweek at Dundee where the away strip got its first airing. Red and white stripes and blue shorts. In those days, midweek games kicked off at 7.30.
I then missed a 4-0 hammering at home to Queens Park (boo!) and the Wilsie-inspired cuffing of County at Dingwall (big regrets), before we won at Albion Rovers with a second half strike from 'spineless Norman' (Monty Python reference for the young team). I fished out my season ticket for the 3-1 defeat of Forfar, which took us to the top of the league, with Dick Campbell moaning that we were a long ball team, despite having Charlie Christie, John Scott and Mike Noble in the team. I think the season ticket was about £45, maybe £50, which sounds very cheap as I think it was £4 at the gate.
My final game, coincidentally, was a 1-0 defeat at Firs Park in April, featuring out of retirement Billy Urquhart, who had been at the first game as a supporter. My tally for the season was only 11 matches though, as like the team, I fell away badly after exiting the Scottish Cup, and I was still not the biggest fan of the merger.
That second season, 95-96, was a low in my attendance at games. The whole ICT thing hadn't really caught fire for me after the merger, and I ended up seeing only 9 matches. Steve Paterson had taken over from Sergei, thankfully, and it wasn't all that long before the difference began to show, in the playing style and the results. The team finished the season in 3rd place behind Livi and Brechin (but ahead of County naturally) but was to sweep all before them the following year.
If I'm honest, I showed up at a few games just to notch some new grounds, but I got my Caley Thistle news from the small band of regulars who travelled away with Caley Thistle, notably John Stewart, ex-Caley committee and his sons, one of whom is of course David, the MSP, and the other, Alan, who is a regular on here. I also became a regular traveller with big Dougie Lynn, and through him, met Ken MacDonald from Point in Lewis who, of course, is the father of big Lewis.
The season started for me at Cliftonhill where 2 goals from Herchie looked to have won it before Rovers equalised in the last minute. Then a goalless draw at Brechin which we really should have won. A place which became a happy hunting ground for ICT in later years. Apparently Charlie scored a late equaliser at Telford Street to salvage a point against Alloa but, unusually,  I can't recall anything of the game.  A week before Xmas we had a dour 0-0 draw at Cowdenbeath in front of 230, although at the time I thought there were more people in the main street to see Santa and his sleigh before the game 😀
In the New Year, a highlight was beating Livi 2-0 at Almondvale with late goals from Christie and Teasdale. But of course the icing on the cake, as it so often was with Caley Thistle, was the Cup. I missed the legendary Herch-inspired comeback v Livi and jumped in at the East Fife stage. As Steve Archibald substituted himself late on in the replay, thinking the game was won, a wee bit of the future ICT spirit was revealed with a late Herchie equaliser and a cool 3-1 win on spot kicks. This led to the famous win at Ochilview as the team, backed by a healthy following, progressed due to a Luggy screamer with 15 minutes to go. From my acquaintances in the game, I can exclusively reveal that Terry Christie was so depressed by this result that the Stenhousemuir board and some of his friends had to talk him out of resigning.
Then there was the Rangers game at Tannadice. A taste of things to come for ICT. Although we were well beaten in the end, most of us would have been happy with a goal, and we almost got one, courtesy of John Scott's drive which flashed narrowly over (I'm sure he went on to be a star somewhere 😂 ). For me, the ICT passion would be ignited next season.
Here is TheMantis' own pre-merger site at Caley Nostalgia................
Thanks Mantis.