Rendall's Rambles #6
Here's the next three seasons from James. He does get around and he has been following the Caley Jags from the start. He has put together this fascinating nostalgic recap of Inverness Caledonian Thistle's first 25 years as witnessed through his own eyes. Thanks James, a remarkable commitment to the beautiful game.
The Inverness Caledonian Thistle Years #ICT25
No. 16 2009/10 (Games 697 to 745)
The Charge of the Blue and Red Brigade. Life out of the penthouse suite started reasonably enough, just nibbling by lowly Montrose away in the Challenge Cup wasn't great, but an away 1-0 win at Parslandia showed how much we'd improved since our last inauguration in the second tier, a 4-0 spank that day. It was an August, take it and run!! A home draw to Ayr and a home loss to Moss County wasn't however the form of challengers. September was a mix bag, but a 3-0 win at Greenock was a good result. The likelihood of going straight back up seemed tricky as Dundee were horsing away at the top! Indeed, driving to Ayr, (as I will be on Tuesday once more), bored with how we were performing saw me decide to keep going at the roundabout outside Ayr?! Wick were down the road at Girvan and being a Scorries sympathiser I decided to go and watch this Cup tie! Oh boy did I luck out in terms of seeing Caley Thistle absolutely tonk Ayr, but hey, where else can you find a bottle of Old Pulteney being passed around following the wind assisted quelling of the Ayrshire side 4-1!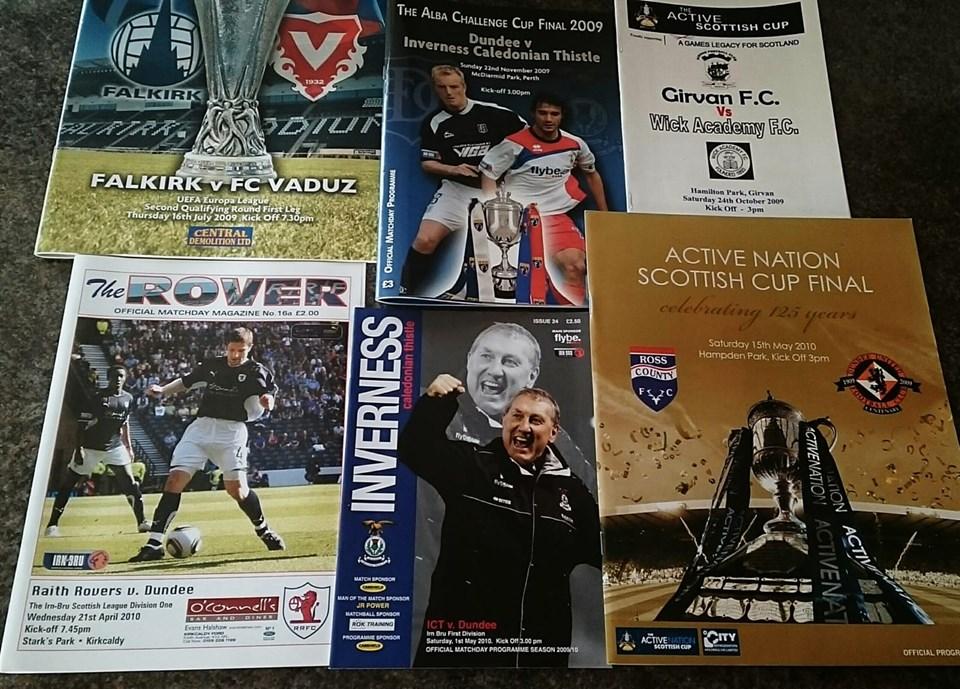 I scampered to South America for the first of two treks in the season, but when I returned the wins were becoming more regular, alas not before a second El Kessicko loss over the Isle and far away, and also the loss of the Challenge Cup Final to the Dees, 3-2 in a cracking final. However, by the time the dust settled on this particular season, what would we rather have won, this papier-mache gong or a much bigger prize? This was our Trojan Horse 🐴 gift to Dundee, who subsequently self destructed in a swarm of belief in their own greatness! 😀
A draw at Dumfries the following week would set in motion an unbeaten sequence that would go all the way to the end of the season, beating Raith, Airdrie and Partick before I went back to Argentina/Uruguay.
Upon my return Morton, Qos and the Pars were all despatched and we were on our way. The night our promotion back to the top table was confirmed and we didn't even kick a ball! Raith sealed Dundee's fate, and I was surprised how few Caley Thistle eyes went to Kirkcaldy to see us promoted, but everyone would be on hand to add salt to the Dees wounds the following week as we hosted them, allowing for the quaint ditty, 'fifteen points and you f***ed it up' to be born and reverberate around the Caledonian Stadium. We duly beat them in this one 1-0, and became the first team in a decade to go straight back up!
~~~~~~~~~~~~~~~~~~~~~~~~~~~~~~~~~~~~~~

The Inverness Caledonian Thistle Years #ICT25
No.17 2010/11 (Games 746 to 797)
Back in the.....it might as well have been the USSR. Another wanderlust season ensued, a remarkable one really aiding that perennial DNA within me that never allows me to feel unduly comfortable at the top table. That is especially true when the only outcome seems to be bottom six survival. It can be turgid and lacking colour, but like mining for gold, the fans of lesser clubs are always looking out for those little morsels to enliven the campaign. By seasons end I had watched football in seven lands, and ICT had featured in less than half of the games I viewed. The nuggets seemed few, but we did survive, and our days in the sun were just around the corner, but we didn't know that then!
It all started so well, a routine 3-0 in the League Cup versus the thinking man's Glasgow, the Spiders, and then a portent for this coming week, a colossal 0-4 stuffing of Arabia in August too! McCann, Duncan, and an Adam Rooney double effected a fire drill at Tannadice! What we would give for one of those on Friday night! We had peaked too early, lured into a false sense of a new dawn, a 0-1 home loss to Hamilton Kaccies brought us down to earth, followed by a mere one point from six from the Edinburgh duo, an especially poor return as in those days we'd beaten Hibs so often, by rights we should have been allowed to keep them 😁. What came next though was a real highlight, we rarely could get the better of Aberdeen at home, but we won 2-0. I cashed out for a while on that win, and upon returning to the ICT fold a commendable 1-1 at Tynie wasn't at all bad, followed by a depressing Boxing Day home loss to Les Buddoise, ouch!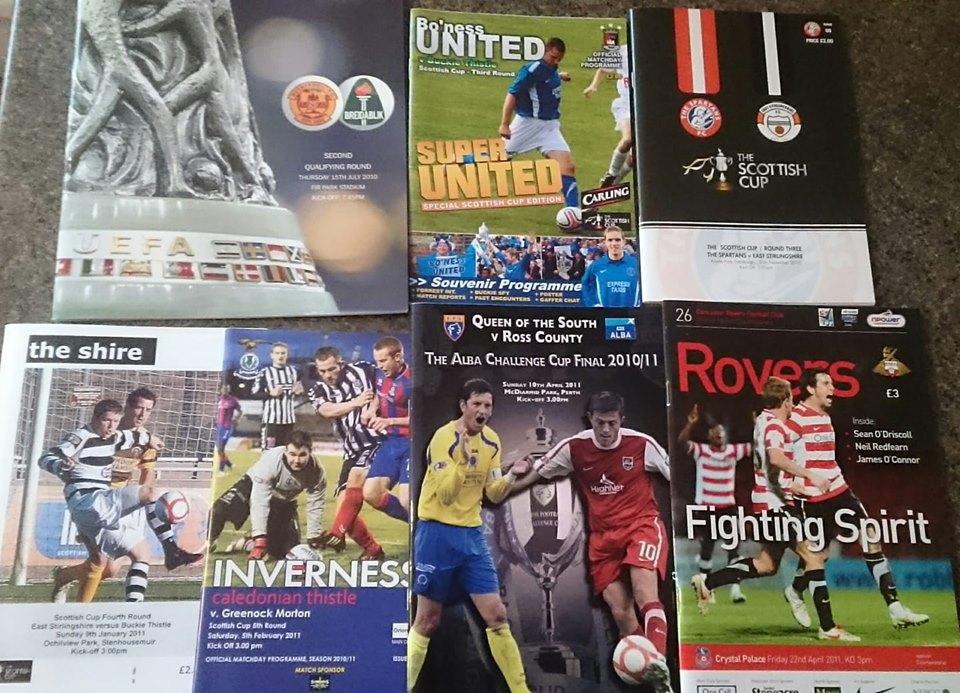 This was an especially harsh winter and I recall being mighty peeved at the closure of the A9 for snow preventing me getting to Inverness for the Cup game with old rivals Elgin, who rather embarrassingly had more fans at the game than we did! We won late, and it set up another home joust with Morton, despatched 5-1 and my game roster shows my next game was in the Cilindro versus Boca Juniors! 
Weeks later my re-appear at a Caley game saw a marginal 1-0 Arabian home win, but a draw with Hearts in the north was followed by a rare 3-0 win versus the Johnnies in Perth and an another away success versus Hamilton, but these latter games were run of the mill bottom six encounters.
Not only were seven lands on my football CV (beaten only by this season) but many a visitor from abroad too. A Port Alegre chum, Luciano was on hand to witness the most astonishing goalkeeping display by Stirling Albion's custodian in a remarkable one sided 0-0 at home to the Bairns, who did everything but score in the 120 minutes before submitting to a Zeuss like goalkeeping display in the penalties too, while they did score two, but he saved three!! 
Next up was my first sighting of an Icelandic side in Scotland since Keflavik opened the floodlights at Old Douglas Park! Reykjavik suburb, Breidablik were playing their European bow at Motherwell, going down narrowly 1-0. My oldest friend from outside Scotland, Andrea from Padova was in Edinburgh for the first and only time so far and we took in the opening day 1-1 at Tynecastle between Hearts and St Johnstone. Elgin were easily cast aside there too, 4-0, before Brora came to town in late September to play Edinburgh University. These were the days when Brora were about as good as Clachnacuddin always near the bottom of the table, not the top! Brora scored an equaliser that day at Peffermill late in the game which I think is still the most amazing goal I have ever seen!! It was struck from just inside the opponents half and if the net wasn't there it might have made Cameron Toll! An absolute rocket! Fabian was at Hartlepool in those days and I went to see him, but unfortunately he didn't play, Peterborough were beaten 2-0. Back on the Highland Cup run next, but as I neared Rosewell the game v Wick was called off, so a quick about turn and off to Prestonpans to see them play Annan, and force replay. Both were non league at the time! Bo'ness were seen off by Buckie and a quick scamper along the road caught Spartans going down to Shire just a few years ahead of this becoming a regular league fixture! Shire then oddly played Buckie and while they won 1-0 they were kicked out of the competition!
~~~~~~~~~~~~~~~~~~~~~~~~~~~~~~~~~~~~~~~~~~~~~
The Inverness Caledonian Thistle Years #ICT
No.18 2011/12 (Games 798 to 829)
A piece of driftwood. There was an impoverish driftwood feel to this season, the stark reality of the collapse of my employer and the subsequent, crushing depletion in my 'nest egg' resulted in an immediate pulling in of the belt! South America was off roster and any trips abroad didn't include football for perhaps the only year in this 25 year passage of time! 😱But hey, no sympathy please

, as I have been a lucky, lucky boy throughout life, and while this hiatus maybe signalled a changing of the guard, with South America making way after 12 years on the trot for Eastern European trips to come.
The football at home didn't brighten the mood, with Hibs winning in Inverness for the first ever time courtesy of a Garry O'Connor horror trundler that just dribbled over the line in agonising fashion in the very last minute for an 0-1 opening day home loss. 
A couple of draws at Dunfermline 3-3 and at home to the JT, but we weren't playing great football and quite frankly I was bored by Butcher's turgid style. I found myself drifting off to find more local football entertainment for a while, but a game at Tynecastle was never to be missed, always a cracking day out with my posse of ICT chums, but a 2-1 took me to Christmas Eve and a home game with Aberdeen before I would see us win! Stuart Golabek and Gregory Tade got the goals that made sure that the stuffing with the turkey had added spice! Gregory would a few seasons later be sat in the posh seats rested for a forthcoming Champions League game by Steau Bucharest when I pitched up two days after ICT debuted in Europe! It seemed an unlikely gig going into 2012 but not before we nibbled another draw at the Cabbage.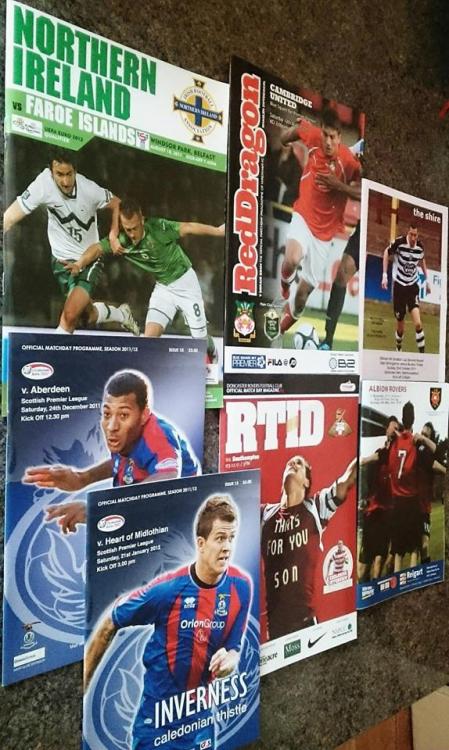 A brief rich vein was tapped into as the year began, a rare win at Motherwell was followed by another 1-0 win at home to Hearts. Three wins and a draw in four games viewed, as Natalie Merchant once sang, 'these are days to remember', but merely a pocket of joy in a fraught season. A 1-1 draw in February at Dunfermline and the subsequent closing of the door on being anywhere else other than the bottom six and I had raised the white flag by mid February! Looking back it was a scandalously early departure from the ICT nation! 
Scottish Cup Highland support has always been part of my viewing, and Edinburgh City's 4-0 thwacking of Brora was in the last days of Brora being a poor side. They would be back at Meadowbank in season's to come with a completely different approach! In the next round I set off for Galashiels to watch that mythical side Golspie Sutherland, only to learn the game had been moved to Hawick?! A good bit further down the road for the Sutherland side, but arriving shortly before kick off, I was never going to get caught in the rush! Another 4-1 for the nominal 'home' side, but Golspie did the North Caledonian league proud. The next day Buckie were back at Shire, a potentially fraught occasion after the exact same fixture resulted in the Falkirk side being kicked out of the cup last season. It had its moments this one, but ended 1-1, with Shire taking the spoils in the replay. 
Elgin were having one of their best season's and I got caught up in cheering them in the run up to the play offs. They fell short in the play off semi versus Albion Rovers, so I transferred my cheering to my southern Blues, Stranraer, who also lost out to Albion in a dramatic penalty shoot out. However, when the dust settled it had all been for nothing as not only did RBS explode, so did one of Glasgow's bigger sides, and Stranraer stepped up anyway as Rangers slipped from the top league to the basement and everyone else shuffled up one 😎
~~~~~~~~~~~~~~~~~~~~~~~~~~~~~~~~~~~~~~~~~~~~~~~
More wonderful memories in there once again. 
And there's more to come from James, the next three seasons coming along next week.
You can read all about James' worldwide footballing travels in his own excellent blog FOOTBALL ADVENTURES WITH JAMES RENDALL