Save Dave campaign gathers pace as Killie look to get out of trouble.
It's the beginning of the end for two of the bottom six clubs this weekend as Kilmarnock visit Inverness on Sunday in the early kick off at 12:30.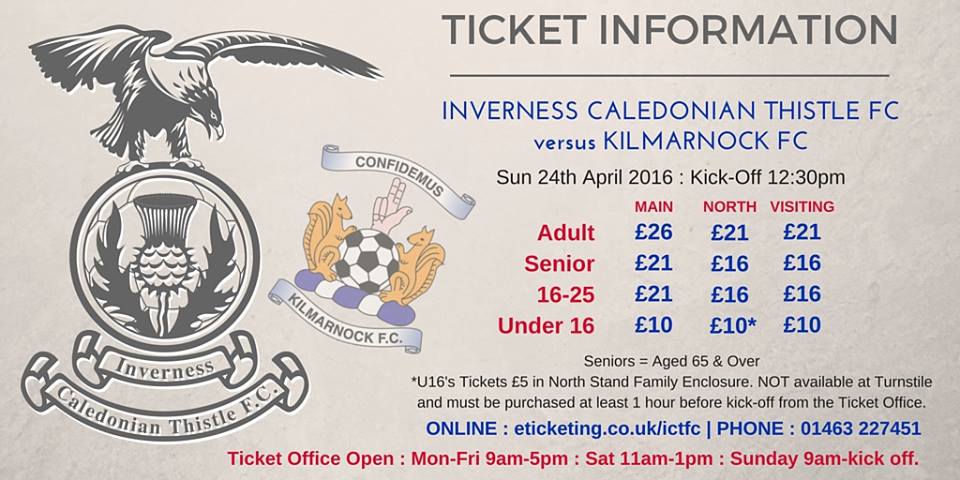 Dundee United are almost certainly confirmed as one of the clubs destined for the drop. The best they can do is escape automatic relegation and a play off place would be their only hope of avoiding the drop, but it's a tall order. At the moment all of the bottom six are still mathematically in bother, but the focus is on the bottom three of United, Killie and Accies with Inverness hovering on the fringes. A win today would make it highly unlikely that we would face the play-offs. Defeat would bring Killie to within five points of us with the possibility of Hamilton joining us on the same points total but with a vastly inferior goal difference.
Aye it's getting a tad fraught at the bottom as the clubs fight it out to be the best of the rest.
In a week where the Queen has been upstaged on her 90th birthday by a Prince, it's time for Inverness to produce their own purple patch and steer clear of the drop. Let's go crazy, we don't want to be playing at a Paisley park next season.
Despite all that's going on, the big talking point at the Caledonian Stadium is surrounding a Raven lunatic as the story has been made public that David Raven may not be offered a new contract by John Hughes. His preferred option of spending the cash will be to try and bring in strikers to add some fire power to our punchless squad. The fans are no happy about this situation and feel that Raven is being pushed out while he still has plenty to offer this club and would appear to be content to stay with us. It's a tricky one but this just fuels speculation of a rift within as Raven, although injured of late, looks to be frozen out. On the other hand, at 31 and a season littered with injuries, should Inverness be content to offer Dave a new contract? Either way, lot's of feathers have been ruffled over a Raven and a fans protest could well be surfacing.
Back to the game and the clubs have played three times this season with the home sides winning each game. Back in October, Kiltie and Magennis put us to the sword with a 2-0 win at Rugby Park. That was Killie's first clean sheet of the season. We're too kind sometimes. In mid December we returned the favour in the Highlands with a 2-1 win. A Vigurs double put us in the driving seat despite a late consolation by Mark Connolly. Back to Rugby Park in January and Killie triumphed 2-1 when Kiltie opened the scoring only for Draper to level it before the break. However, Craig Slater scored a stunning volley early in the second half to secure the points. At that stage of the season Inverness had opened up a four point gap over Killie, it's now stretched to eight.
Killie are not to be underestimated here and we just need to look back to their last game where they trounced St Johnstone 3-0. Worryingly for us, Kris Boyd scored twice and he is a player that knows the route to goal pretty well. Kallum Higginbotham scored the other in a tremendous victory over the side that thrashed Aberdeen on Friday night.
Our last outing showed up the very worst of Scottish football as we dug out a 0-0 draw at home to Hearts. A dreadful game where chances were at a premium. Story of our season to be honest. The previous game we eased our relegation fears with a good away win at Tannadice, a result that all but scuppers United but kept us just above the waterline.
Yogi has dented his relationship with the fans over the Raven affair and despite Dave being declared fit now, allegedly, he did not appear on the bench against Hearts when he is our recognised right back. Our injury list has all but disappeared, just Aaron Doran and Alex Fisher officially out. Dean Brill has played four or five games with the development squad and it's no coincidence that the young side has been performing better of late. Jordan Roberts has also featured but no sign of Raven anywhere.
Kilmarnock should be unchanged although the scorer of said stunning volley Craig Slater could be recalled after illness. However, Steven Smith, David Syme and Mark Connolly are out for the remainder of the season and Chris Johnston is nearing full fitness.
tm4tj prediction:- It's getting close to squeaky bum time as points are getting harder to come by. This will be no walk in the park with Kilmarnock's need greater than ours and that will be enough to drive them forward. With Kris Boyd back amongst the goals we need to be at our best defensively whilst also looking to create something at the other end. That's been a season long issue with injuries etc etc etc being cited as the reasons for our demise. It's time to stop feeling sorry for ourselves and get out on the park and put on a display. Yogi needs to put on an impressive performance here and forget about any locker room differences and put our best possible team on the park. Can someone tell him we are not clear of trouble yet and show some desire to get forward. His feathers may have been ruffled by the Raven, but it's not about one player, it's about the team. I'm going for a score draw, with Killie scoring an injury time equaliser, probably emanating from our right back position. Meh!
The touchy subject is raised in this interview.
Carl Tremarco talks about the visit of Kilmarnock, listen here.