Heading towards last chance saloon
After what seems like an entire season of games put on hold in the Winter of our discontent, we should take on fellow promotion hopefuls Dunfermline Athletic on Tuesday night. It's getting to the stage for both clubs where only a win will suffice.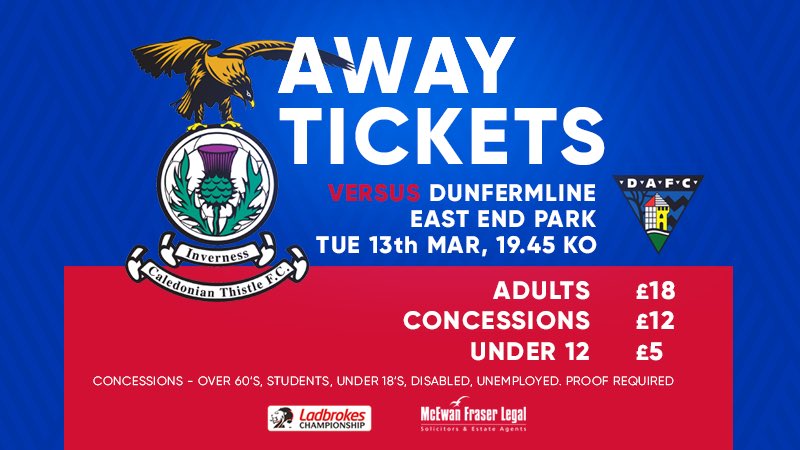 This game has been knocked back already due to inclement weather and frozen pipes but it looks like it could go ahead this time. Our last competitive game was on 24th February when we went down 0-2 against Morton in the Highlands. We only managed two games throughout February. The other one was the IrnBru Cup game against Irish side Crusaders which saw us get into the final after a pulsating 3-2 win. We will play Dumbarton at McDiarmid Park, Perth, in a couple of weeks. The fixtures are now stacking up for Inverness and we will be playing twice a week for the foreseeable future.
Dunfermline are without a win in their last seven games since they defeated Dumbarton 0-1 on 6th January. Their last game was a 2-0 defeat to leaders St Mirren at the weekend. They still lead Inverness by five points and sit just outside the play-off zone in sixth place, but we do have two games in hand.
We were dropped down into eighth position at the weekend when Falkirk beat Morton 3-1, and only Dumbarton and Brechin are below us. Our season now hinges on us making a grandstand finish to the season, but with our player of the year so far Coll Donaldson injured, it looks like the IrnBru Cup might be our only crumb of comfort after the massive rejig following relegation.
Dunfermline warned us how tough this league was going to be by trouncing us 5-1 in the second league game of the season. We did gain a modicum of revenge with a 1-0 win at the Caledonian Stadium at the end of October, but only six wins from thirteen Championship fixtures since then has seen us struggle to climb the league. It's like one step forward and two back at the minute.
Coll Donaldson and Nathan Austin are both out with hamstring injuries but Robbo should have a full squad otherwise.
Here's the Pars line up in their last outing at St Mirren.
Dunfermline: Robinson, Williamson, Talbot, M'Voto, Ashcroft, Craigen, Beadling, Vincent, Armstrong, McManus, Clark.
SUBS: Gill, Morris, Martin, Cardle, Wedderburn, Higginbotham, Ryan
tm4tj prediction:- With our lack of action recently it's difficult to guess how we will react to our inactivity. Coll Donaldson missing out is a big blow and our cover up front is thin with John Baird off to Morton and Nathan Austin injured. Dunfermline fans don't seem too bothered if we were to help remove Magic Johnston from the managers seat, so let's see if we can help them out here and record an away win. It looks like a tall order though, so I'm going with a no score draw.