FORFAR 5 EAST FIFE 4 (1964) - BUT SUPERCALEYGOBALLISTIC (2000)
Back in 1964, when I was a mere, pre-Animal, pre Royal Ordnance, Caley whippersnapper - John Alexander Gordon announced the all-time cult score line – probably only surpassed by THE newspaper headline on February 9th 2000 !! 

 I am sure that Mantis will remind me but I am sure that I have been to Station Park as a Howden Ender. Otherwise my only attendance in Loonsland was the last league game played between Forfar and ICT (20/03/1999). We strolled to a 3-0 win that day with a brace from Scott McLean and a Paul Sheerin scorcher. That put us top of the league on goal difference. We partied like it was 1999.
Livingston overtook us that season but we went up automatically in second place. Forfar was never a happy hunting ground for us in the lower leagues. Our only other win there was the previous season when we sneaked a 2-1 win. It was Sheerin who grabbed a brace that day before a late Forfar penalty had us holding on. Our only ever Cup encounter at Station Park was in the 2001 Bells Challenge Cup. Goals by Charlie Christie and Martin Bavidge looked like sealing it but Forfar hit back and we went through with a Paul Ritchie clincher in extra time.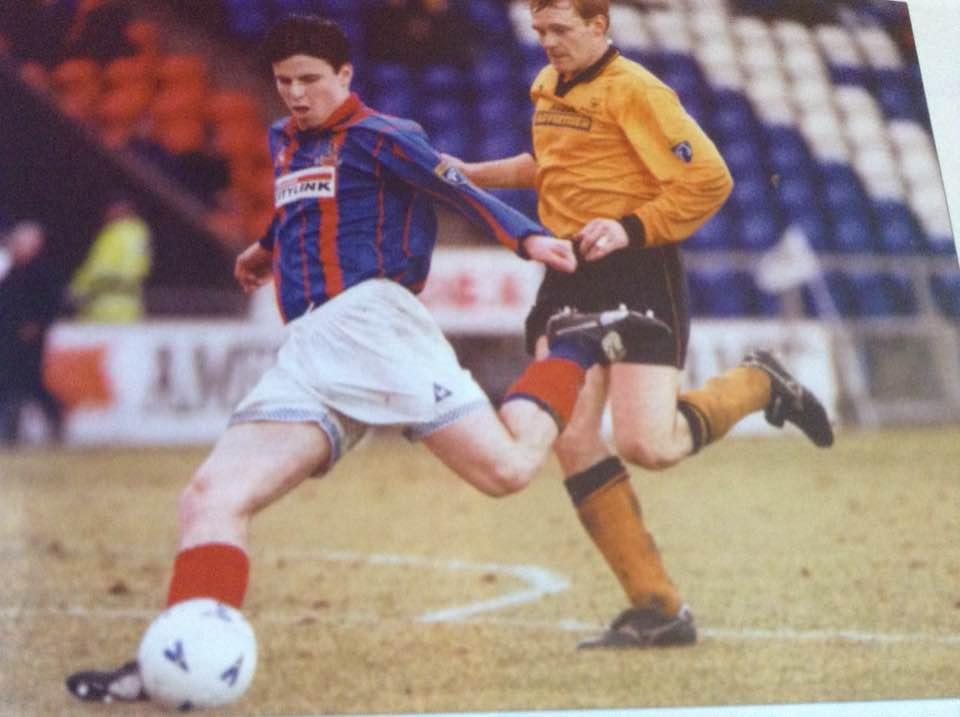 I can recall being on the terraces (the days when you could change ends at half time) at Forfar in 1999. There will undoubtedly be enough room this week. The average attendance at Forfar last season was 654. That was in a very good season where they gained promotion and demoted Putridheid in the process. They have no chance of progressing after a 1 point draw against local rivals Brechin, a home drubbing by the Binos and an away drubbing at Falkirk. The Loons will pick up the wooden spoon.
 We are struggling to qualify also but I think that Robbo will demand a performance at Forfar – "There are some players at this club who are still feeling sorry for last season, they had better get over it". On paper we should not have struggled in a group comprising of Bairns, Loons, Binos and Hedgehogs but the finished Robertson Championship masterpiece is a canvas in the making. I am taking my grandson (Leighton) to his first ICT game and then the real brainwashing process commences !!  It is a quaint wee ground and has a covered terrace opposite the Main Stand , handy if the heavens open (unless it is driving into yer faces !!). There is a bar in the Main Stand but unsure if it is open to Away supporters – but Palmerston had the only ground based tavern that was any feckin good anyway.  I will initially be heading to the Plough Inn on Market Street for the traditional pre-match libation.

So back into the here and now and the second John Robertson era. I am looking forward to seeing a number of new faces and they had better be fearful and prepared to face the brutal IHE Smileymometer.

(Also spared of wee red dots as well

).  Following recent posts I am especially looking forward to seeing Colin Seedorf and FCZ. Hopefully it will also be a reunion with Dave the Rave and Ryan Esson

But as Bob Dylan once said to me – "Johndo lad, the times they are a changing" – so I may also get my first peep at Mark Ridgers, Joe Chalmers, Matthew Elsdon, John Baird, George Oakley, Riccardo "Jim" Calder,  Alex Cooper, Mitchell Foy and Liam MacDonald. It really hits home what Dylan sang as that is ELEVEN ICT players that I have not seen and those ring the changes since the last game that I attended at Rugby Park on May 13th, a mere 10 weeks ago !! Possible 12 if we play the Buckfast striker Kevin Fraser as a trialist.
As for Forfar the names in their squad comprises mostly  of unkowns to me – exceptions being Simon Mensing and  Eddie Malone, two journeymen defenders. I thought that Mensing was serving pies in the Paisley Alamo.

  At least they went on a mini-spree against Nairn County, hammering them 6-1 a couple of weeks ago. Perhaps their danger man might be Matthew Aitken who fired in a first half hat-trick.
I reckon that John Robertson will be calling the shots during the week and I am very confident that we are going to come away with a confidence building result (Seerless prophecy of course). I know that some will disagree but I think that he has to be feckin brutal to sort out the mess created last season, possibly cultivated over the last two seasons. I also seerlessly think that we will be in a play-off spot at least by the end of next season. If we get there as a form team we will (unfortunately) be back in the top flights.
I AM GOING TO CHERISH MY VISIT TO FORFAR AND I AM ALREADY LOOKING FORWARD TO TRIPS TO A NUMBER OF OLD HAUNTS AS WELL – WITH OLD AND EVER-AGING JUANJO AWAY BUGGERS.