Play-Off practice
We have a couple of games of the standard season left to help us prepare for the extended version, the play-offs, where the prize for success will be a place in the premiership next season.
Our first game is this Saturday when we visit Recreation Park to take on one of the teams of the season, Alloa Athletic. We may have little to gain in this game other than keeping players fully fit for the task ahead, but for Alloa, their survival in the Championship will go down to the wire as they and half the division battle to avoid relegation.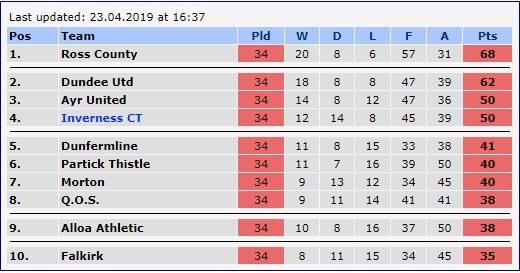 We can still overhaul Ayr United and gain some much needed cash and that will also be on the mind of the Caley Jags, but the bigger picture must surely be ensuring we have our best available XI on the park when the play off games come around. John Robertson still maintains that winning games is vital to build momentum, not to mention the extra £75K for finishing third. The title has all but gone to the quaint market town of Dingwall unless Dundee United can overturn an 18 goal deficit whilst winning their two remaining games with County losing theirs. A bit of a tall order if you ask me. Ayr though are very much catchable and will be a target whilst preserving the fitness of our thin squad.
***Latest news*** Ross County romped home with a win over Queen of the South on Friday night to win the Championship. Right eenuff for County; Queen of the South are now deep in the scheisse. A win for Alloa would certainly put them even deeper.
We slumped to a 2-0 defeat at home to contender favourites Dundee United last weekend. Not good I hear you say. However, the bigger picture shows that we left Coll Donaldson on the bench to give him more recovery time and Mark Ridgers and Carl Tremarco were both out injured and in need of much rest. We have been running on empty for a few weeks now and conserving energy is a priority. Much has been said of our performance last week but in reality we could have taken something from the game had perennial cheat Paul McMullan not been up to his old tricks again. A new one this time, hand ball in the build up to the second goal. The first was a beaut as Pavol Safranko blasted a volley home in the first half. Much has been made of this one as the ball never touched the ground from the goalkeeper until it went into the net four touches later. A classy route four goal if ever I saw one.
After four wins on the bounce, Alloa were looking good leading Partick Thistle early on, however two goals from the Harry Wraggs eased their plight and put Alloa back into the mix in second bottom. Aitchison opened for Alloa in the first half but second half goals from Scott McDonald and Joe Cardle saw Partick climb the table. They have since gone further away from the drop by beating Ayr United in midweek. Notably, Lawrance Shankland was not playing for the Honest Men, no doubt being kept for bigger games, making them Dishonest Men. A glance at the table will still reveal that Alloa are the form team over the last five games with four wins and that defeat to Partick.
No team news readily available at the moment, but my guess is we need to rest guys ahead of the play-offs. Sean Welsh is definitely out. Mark Ridgers should need more rest for his dislocated finger. Coll Donaldson was on the bench and will be available. Brad Mckay is suspended after last weeks double quick yellow cards. Plastic pitches are not on Aaron Doran's Xmas card list and he could sit this one out.
It's our final away game of the season prior to the play-offs. Here's how we have done so far
~~~~~~~~~~~~~~~~~~~~~~~~~~~~~~~~~~~~~~~~~
The Official Player of the Year and Young Player of the Year voting has commenced and you can cast your votes by following the link provided.
The nominees are:
Player of the Year

Coll Donaldson
Mark Ridgers
Aaron Doran
Sean Welsh
Joe Chalmers

Young PotY

Jamie McCart
Tom Walsh
Shaun Rooney
Cameron Harper
Roddy MacGregor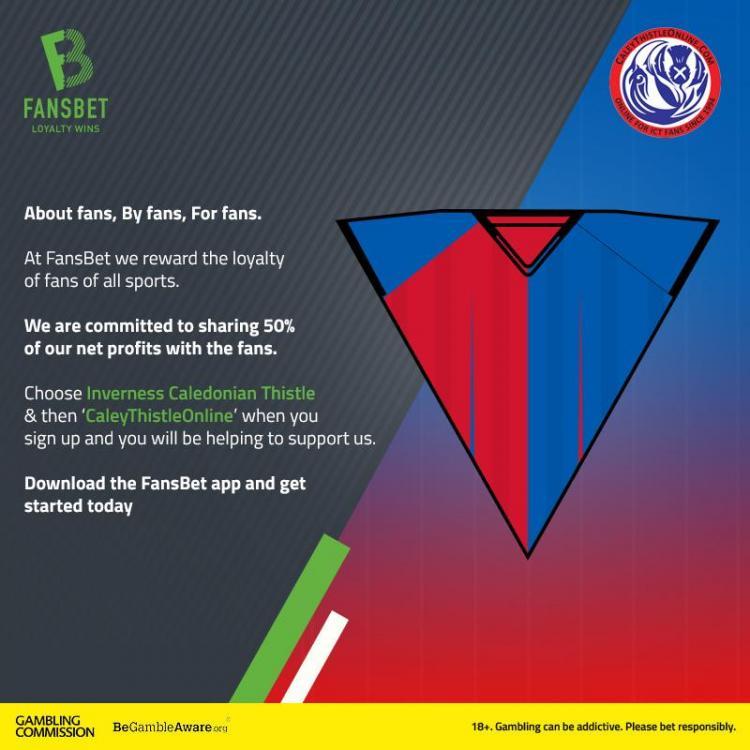 Here is the registration page to sign in to FansBet
Remember to select CaleyThistleOnline when you sign up and 50% of net profits will be returned to CTO
If you like a wee flutter, our new enhanced partnership with FansBet can offer you something. Just click on FansBet to get started.  "Remember to select CaleyThistleOnline when you register and you'll be helping us support ICT fan causes."
FansBet are partners with Supporters Direct Scotland and already have many impressive stories of giving back to and empowering fans, ranging from funding away travel, share purchases, backing safe standing projects and many more. You can read some of FansBet's Giving Back stories on their blog at https://blog.fansbet.com/fansbet-giving-back/partners/fan/
Always remember to adopt safe gambling and responsible policies.