Scottish Cup time
Inverness add a new name and venue to their list of opponents as they take on Edinburgh City in the third round of the Scottish Cup at Ainslie Park, Edinburgh, the game kicking off at 3:00pm on Sunday 25th November.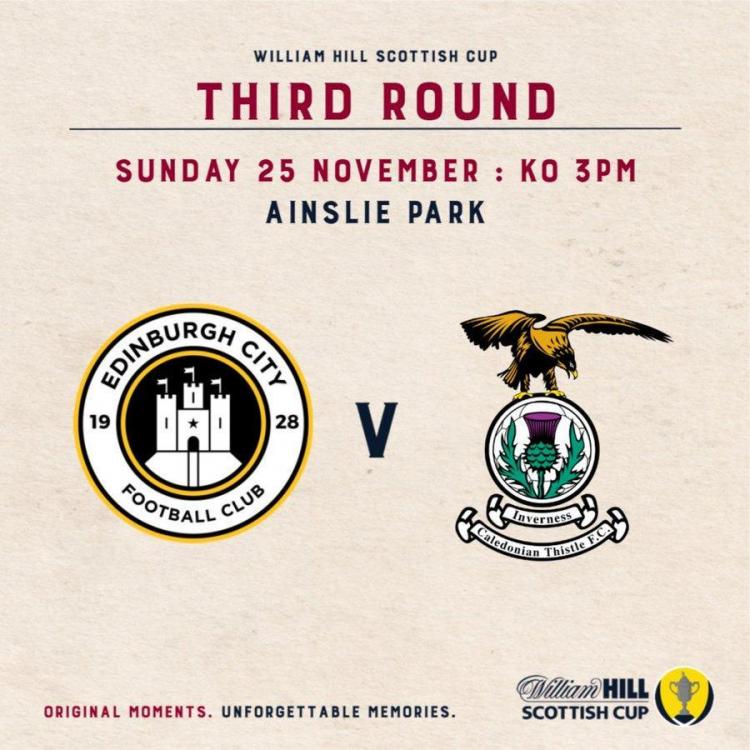 A heads up from Graeme the City man who mentioned he was looking forward to welcoming us all to Ainslie Park on Sunday.  "I'd suggest getting there early, there's not many (4) turnstyles, so a fair old queue tends to form for larger crowds".  Cheers, However, it's just us that's coming so maybe we don't qualify as a big crowd..............  
Ainslie Park is actually the home of Spartans FC, but with Meadowbank undergoing some  major refurbishment, City will be ground sharing until Meadowbank has been modified. Incidentally, Hibernian Ladies also play out of Ainslie Park.
"The nearest place to the ground to get a pint, (exluding a carry out from Morrisons) is Here " Other than that there's not a lot about, a couple in the other direction towards Granton. Although the grounds not  far from Leith/Stockbridge/west end- all probably about 10 minutes in a taxi. 
Graeme concluded, "Going to enjoy the day whatever happens, splashed out on hospitality. it's a pity the games been moved to the Sunday. Have the utmost respect for fans travelling out with the central belt".... Thanks Graeme, have a great day whatever.
Caley Stan is yer man for the millennium man Preview, (yuppies for you Scarlet) and he has not disappointed with this one................... 



Who the feck are Edinburgh City?
It's a legitimate question without a straightforward answer. An amateur team called Edinburgh City existed between 1928 and 1955, including a period in the Scottish League and a 3-2 victory away to Hibs in the 1937/38 Scottish Cup First Round. The Edinburgh City Social Club continued to trade thereafter, and in 1986 gave permission for Postal United (an East of Scotland League side formed in 1966) to revive the name. The new club hopped around various Edinburgh locations before settling at Meadowbank Stadium in 1996 following the demise of Meadowbank Thistle (formerly Ferranti Thistle, without whom Inverness Caledonian Thistle would not exist!).
Postal United/Edinburgh City had an undistinguished existence in the EOL, winning it only once, in 2006, but the team kicked into gear at the perfect moment with the formation of the Lowland League and its accompanying pyramid play-off in 2014. City had harboured a longing for Scottish League membership since the turn of the century, failing with bids for vacant spots in 2002 and 2008, and seized upon the opportunity to win that place on the park. They won the title in its second season by a 19-point margin but lost the pyramid semi on penalties to Brora Rangers, a certain Stuart Kettlewell with the decisive strike. The following season they horsed the league again - a 15-point margin this time and followed it up by defeating Cove Rangers and East Stirlingshire to claim a place in the SPFL. They finished 7th and 9th in their first two seasons in League Two, largely retaining the squad that had taken them up.
They sound like a bunch of non-league haddies, we'll pump them stupid, right?
A year ago, maybe. But something has happened since then. Edinburgh City are on an outrageous run of form, winning 10 out of their 12 league games this season (with no draws!) and sitting top of League Two. Last week, they progressed to the semi-finals of the Challenge Cup with a penalties win over Alloa.
What changed?
They brought in a fair few players with full-time experience. At the back, Craig Thomson has played over 100 games at that level between Hearts and exile in Lithuania, and Conrad Balatoni played around 200 before joining City in the summer - both are just 27. Midfielders Marc Laird and Josh Walker have spent most of their careers in the English League Two, while up front, Danny Handling and Scott Shephard have significant top-level experience with Hibs and Falkirk respectively. But its Blair Henderson who's been the star of the show this season - the 24 year-old striker was scoring a goal in every other game for Annan and Berwick but has upped that this season scoring 18 goals in 21 appearances in all competitions. Manager James McDonaugh has not been shy about taking credit for Henderson's run, and indeed, the progress that City have made since he took over a year ago – see this interview at about 41mins on the Totally Scottish Football Show.
McDonaugh, without any playing career of note, came through the ranks of the Hibs youth coaching system which means he must be a protégé of our own Donald Park.
Jim Jeffries is also working for City as Technical Director. There must be money involved here but I haven't found it.  
OK, but we have a glorious history in this competition, we pretty much are this competition, why the hell are we playing these no-marks in November? I thought the Scottish Cup started in January anyway.
Our star has fallen, my friend. And they keep messing about with the early rounds of the Cup. This game, falling on November the 25th, will be the earliest we have ever started a Scottish Cup season and it's the first time we've entered before the rest of the elite since 1999. The bookie that sponsors the competition was tweeting earlier in the week that we haven't lost a 3rd round tie since 1999, and while that is technically true, we have fallen at the first hurdle on two occasions since then, albeit in what is now called the 4th Round (Hibs in 06/07 and Dundee last season). Someone will write a book about our exploits in the Scottish Cup someday (hopefully not that guy who wrote 'Against All Odds', that was pish), but the message here is clear: We don't lose these games.
Don't say that, I'm getting worried now. What will Robbo do?
Every time I write a preview I drop a heavy hint that I think Robbo will start with a 4-4-2 and he never does but this time I'm happy to predict that Robbo WILL start with a 4-4-2. It's how he chose to start the season, all our strikers are fit now, and it's how we mounted our wonderful comeback last week. I'll be genuinely shocked if two out of Oakley/White/Austin don't start. He's stated that we will play our strongest available team, and with Shaun Rooney back in the squad, there will be decisions to make at the back.  
I'm going to need a drink before this, good thing Meadowbank has loads of good pubs nearby.
Hard lines. Meadowbank is closed for refurbishment and City are groundsharing with Spartans at Ainslie Park for the next three seasons. This is fitting in a way given that City/Postal, Ferranti and the old Edinburgh City spent much of their time at the nearby but now defunct 'City Ground', often sharing with Spartans.
Ainslie Park is a bit weird for lower league travellers - it's a thoroughly modern facility with two 3G pitches and a five-a-side cage. With no pubs within staggering distance, and a limited number of turnstiles, some of the more boisterous elements among our away support may struggle to make the first half.
Edinburgh City are stressing the importance of arriving early, the game is well-priced at £12/6 with under 12's Free, and I hear the macaroni pies are delicious.
As Noddy Holder used to say, My friend Stan got a funny old man............... ?