The wasps are coming
Player manager Jim Goodwin will take his Alloa Athletic side North on Saturday to face Inverness at the Caledonian Stadium in the Championship. It's a 3:00pm kick off with Inverness looking to remain unbeaten and keep the Wasps winless.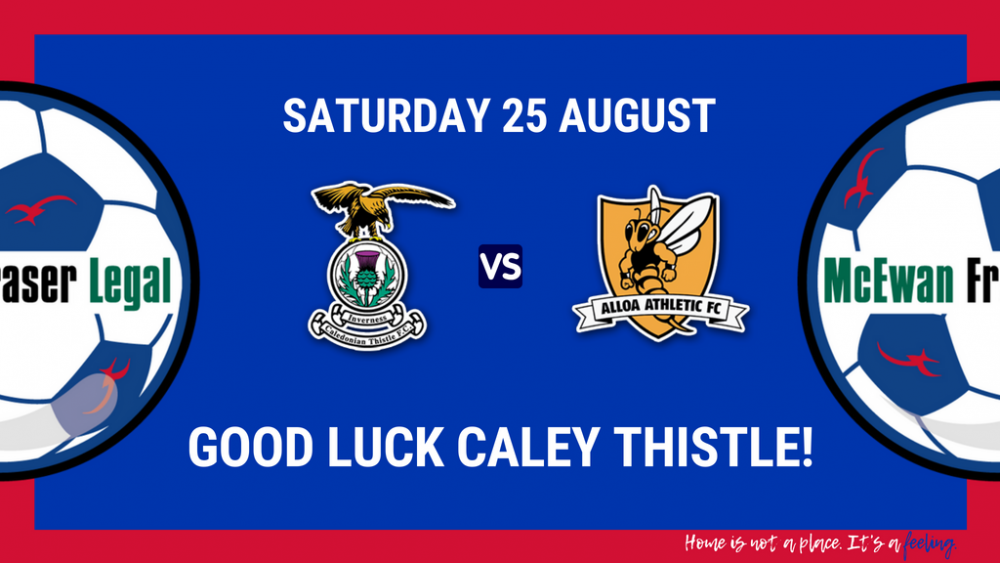 I notice that Alloa have the most appropriately named keeper in the league. You've guessed it, his name is Parry, but let's not dwell on that. Keeper Neil Parry was voted onto the League one team having completed 13 clean sheets last season. That aside, what an appropriate name for a keeper........ just saying.
Caley Stan has been doing his homework and the result is this informative Preview for us all to read....................
Alloa, known globally not just for its brewing but as the unlikely setting for a popular sitcom set during the French Resistance, lies on the north bank of the Forth where some say it ceases to be the River Forth and becomes the Firth of Forth. Fittingly, the town's football club continually refuses to accept the place in the Seaside League that usually serves as the pinnacle for a club of its size. Under the chairmanship of local tycoon Mike Mulraney, The Wasps have enjoyed a period of unprecedented success, beginning with the appointment of Paul Hartley as manager in the summer of 2011. Hartley oversaw successive promotions and Alloa went on to spend 3 consecutive seasons in the second tier. Now Player-Manger-Master of the Dark Arts, Jim Goodwin, has led them back up at the second attempt with victories over Raith Rovers and Dumbarton in the play-offs. 
History of the Fixture
Won 14 Drawn 10 Lost 6
We played Alloa 28 times in the first 9 seasons of our history and have faced them just twice since.  Our first victory came at the fifth attempt – a 5-0 win at Recreation Park in which a Charlie Christie hat-trick and an Ian Stewart brace provided the first sign of the free-scoring fun that was to follow over the next 7 and a half years. By the end of that glorious period, Alloa had been the recipients of a series of unremitting pumpings, and Pele's last visit to 'The Recs' fittingly saw us run out 6-0 winners, with hat-tricks from both Dennis Wyness and Paul Ritchie. I've always wondered who got to keep the ball.
For all that, it's a defeat that lingers most vividly in the memory. The 1999 Challenge Cup Final in Airdrie was an epic 4-4 draw that saw The Wasps victorious after a penalty shoot-out. Paul Sheerin, whose hat-trick in the game had included 2 from the spot, missed our opening penalty in the shoot-out and the loss was complete when Mike Teasdale had his saved. To add insult to injury, Alloa keeper Mark Cairns who saved Teasdale's penalty, scored the one before it. It may be difficult to imagine now, but it was a gut-wrenching defeat at the time – just 5 years into our history and in our debut season in the First Division, we were competing in our first final, bringing around 3000 fans down to a less than neutral venue. But in retrospect, with everything we've gone on to achieve, it's difficult to begrudge Alloa a success that takes pride of place in their 140 year-old honours list. And lest we forget, it was not just a victory for Alloa Athletic Football Club, but a significant milestone in the integration of duffel coat wearing headmasters into mainstream society.
The teams last met in the Second Round of the League Cup 2 years ago, with Alloa running out 1-0 winners. The defeat turned out to be a harbinger of things to come under the stewardship of Richie Foran and our descent since then has been steep. A maiden victory for Alloa at the Caledonian Stadium would represent a new low.
Form
Alloa Last 7: WDWLLLW
ICT Last 7: WWWLWDL
 Form is in the eye of the beholder here, as it can be argued that the all competitions figures above don't tell us much about confidence in the respective squads. Although Alloa have lost their opening two league fixtures, those games have been tight and they have performed well in the cups. There's little to suggest that they will suffer as Brechin did.
From our end, we remain unbeaten in the league since the 13th March, a run of 13 games, but the manner of our departures from the cups, combined with the failure to score against an Ayr side that played over an hour with 10 men, leave the impression that all may not be well.
 Teams & Tactics
Like Dumbarton before them, Alloa's chances of staying in this division are largely dependent on their ability to supplement a part-time squad with full-time loan signings. That makes August a tricky month, with clubs reluctant to loan players out before the transfer window closes. However, that process has stepped up this week with the loan additions of midfielder Liam Burt from Rangers and forward Dario Zanatta from Hearts.
All accounts suggest that Alloa are playing a stuffy, narrow 4-4-1-1, with experienced lower league journeyman Alan Trouten in support of Greig Spence up top. At the back, captain Andy Graham has decent experience at this level and his partnership with Bulgarian Zdravko Karadachki has impressed so far this season.
We also seem to be playing a narrow 4-4-2, with a settled back 4 that sees Shaun Rooney pushing up high on the right when we're in possession. Tom Walsh has made a bright start to the season on the left of midfield, while Liam Polworth and Joe Chalmers are fixtures in Robbo's starting line-ups. That leaves 3 places up for grabs with Charlie Trafford and Sean Welsh competing for the remaining berth in the centre of midfield, and Nathan Austin, George Oakley and Jordan White all in contention to play up front. It's difficult to see where Aaron Doran fits into this system and Robbo has made it clear that he sees Daniel MacKay as an impact sub at this time. Angus Beith remains injured and Zak Elbouzedi was absent from the bench for our last match.