Trick or Treat
Dunfermline Athletic are the visitors on Tuesday night for a Championship game that kicks-off at 7:45pm, the day before Halloween.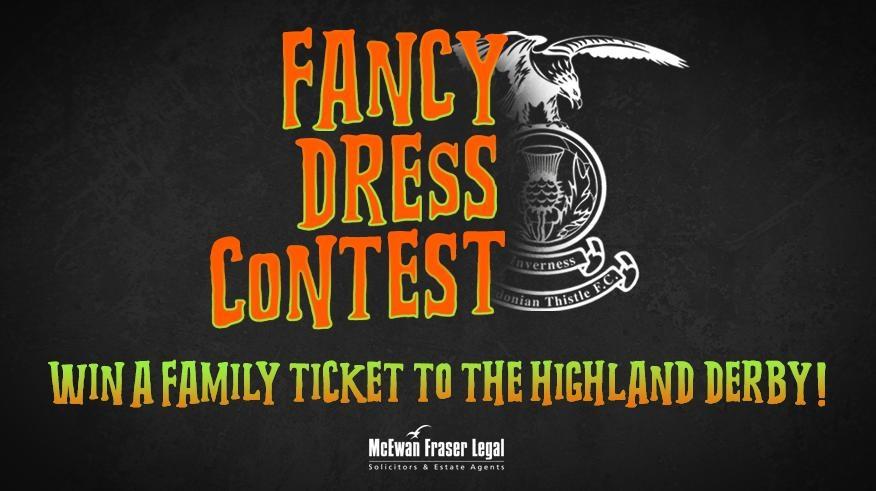 Halloween attire is the order of the day to add some much needed levity to our predicament, but many fans are seeing it more like a trick than a treat. However, if you are in fancy dress, send the pics to the club and tickets for the derby could be yours. Send us your photos in fancy dress tomorrow from your seat as we face @officialdafc The winner will get a Family ticket for Saturday's Highland Derby against @RossCounty! There is also a prize for the best costume in the away end!
Last time we played the Pars all was rosy. Well maybe not quite, but at least we won the game and scored three second half goals into the bargain. Shaun Rooney, Liam Polworth and George Oakley scored back on the 1st of September and we were all rubbing our hands in anticipation. Since then we have beaten Partick Thistle 3-2 (just), and then drawn the last five games, scoring only twice.
This slump has not gone unnoticed by the fans who are beginning to vent their frustration at the lack of ambition shown on the park, and with some justification I have to add.
It could be worse I suppose, we could be Dunfermline. They have had two wins, two draws and two defeats and have been dumped out of the Challenge Cup by Alloa. However, it still equates to the same number of points picked up since the last meeting but the Pars poor start to the season has them five points worse off than Inverness. We have slumped to fifth in the League after our failure to turn draws into wins with Dunfermline struggling in seventh.
Our season certainly looked brighter after beating Dunfermline and Partick to sit top of the table. It's gone stale now and an injection of new blood and or tactics is becoming apparent. Dunfermline's demise was the massive clearance at the end of last season and that is still hurting them now.
Jordan White is coming in for plenty of stick and the return of George Oakley is seen as a must, sooner rather than later. In White's defence, he has not been getting the best of service and that is down to a pedantic midfield who are less creative than we need. We also need a fair injection of pace, but with money tight I don't see where the improvement is going to come from.
Coll Donaldson will return to the heart of the defence after serving his suspension. Carl Tremarco is a doubt and I wonder if Robbo will leave Jamie McCart in central defence and move Brad Mckay to left back. Just a thought, if not then look for Riccardo Calder getting more game time at wing back. George Oakley has been training but my guess is he is nowhere near being ready for a full blown match. I suppose it will be White up top with nobody able to give him any support.
Dunfermline will be without Mark Durnan who has just had a hernia operation. 
This was their starting XI against Dundee United:-
Lee Robinson; Ryan Williamson, Lee Ashcroft (c), Danny Devine, Jackson Longridge, James Craigen, Tom Beadling, James Vincent, Louis Longridge, Myles Hippolyte, Faissal El Bakhtaoui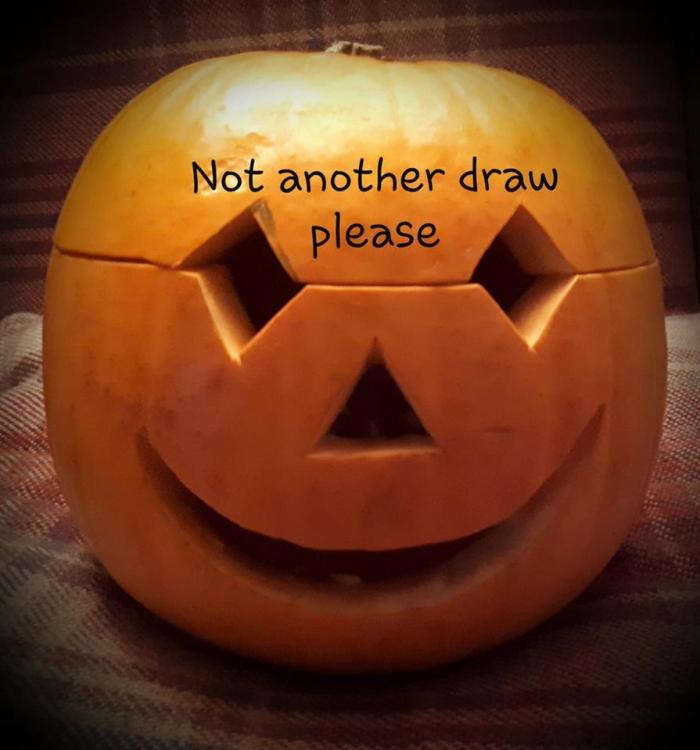 Alan Johnston is starting to be a target for the boo boys at East End Park and his counterpart John Robertson is attracting some flak in the Highlands after a series of mind numbing results. Both managers will be desperate for a win but the smart money will be on a no scoring draw with 1-1 being the next best option.
Mr Pumkinhead has made his choice and is looking for a home win as another draw will give him a splitting headache.....
Happy Halloween everyone.