Just the Ticket!
The final game of the scheduled season will see us play Dunfermline Athletic at the Caledonian Stadium. However, we will have at least another two games and a possible six should we make our way to the play-off final, fingers crossed. All this could see our season extended to Sunday 26th May where we will find out who will join Ross County in the Premiership next season.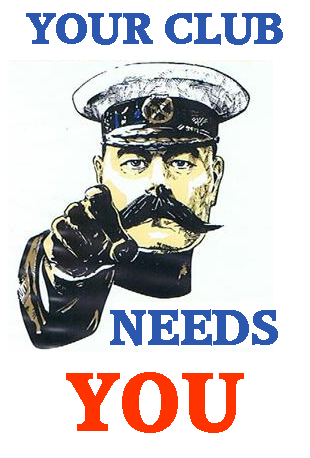 As well as the play-offs, there is a great ticket offer for next season to be released on 6th May, so no excuses, get yourself sorted and get behind the Caley Jags next season. Your club needs you............
It's been a bit of a slog, but we managed to get ourselves a second chance at promotion after a slow burner of a season where draws were the order of the day for ICT. We are the draw specialists, Morton running us close, but at 14 draws our run for promotion was seriously curtailed. However, despite being interspersed with some excellent results and mediocre performances, we have managed to stay in touch with the play-off zone for most of the season and we will get our opportunity to progress as a reward for our perseverance. 
Last time out we had a tough time at Alloa before overhauling them with two rapid goals in the second half. Shaun Rooney rifling home from the edge of the box and Charlie Trafford weighing in with his first goal for the club. That was enough to secure the points after a first half penalty had been scored by Alan Trouten. Worryingly, Carl Tremarco had to come off injured before the end and that is bad news with the extra games looming.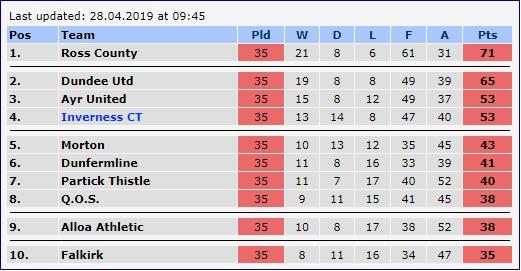 Dunfermline's season frittered away after a promising spell when they won a shitload of games to jump above us a couple of months ago. They stuttered badly in the run-in and they have now dropped to sixth, two points below Morton who beat the Pars 2-1 at the weekend. So tight has been the bottom half of the league they could plummet even further if results go against them this weekend.
Other games on matchday 36 are Ayr United -V- Alloa, Falkirk -V- Ross County, Morton -V- Dundee United, Queen of the South -V- Partick Thistle. Final day of the season and still lots to be decided.
Dunfermline were the side that scuppered our progress last season with a goal late into time added on to time added on. So be it. I won't dwell too much on the game on Saturday, suffice to say we have qualified for the promotion play-offs after a roller coaster season, a Scottish Cup semi-final and some rip roaring derby's in the Highlands. The carrot is dangling if we want more next season.
For your information, here are the Play-Off dates, times and TV coverage.
** Tuesday May 7 or Wednesday May 8, 2019
Premiership play-off quarter-final, 1st leg 
4th in Championship v 3rd in Championship
** Tuesday May 7 if Ayr United finish fourth 
** Wednesday May 8 if Inverness CT finish fourth
Saturday May 11, 2019
Premiership play-off quarter-final, 2nd leg
3rd in Championship v 4th in Championship
Tuesday May 14, 2019
Premiership play-off semi-final, 1st leg 
3rd or 4th in Championship v 2nd in Championship (Dundee United)
Live on BT Sport, kick-off 7.45pm
Friday May 17, 2019
Premiership play-off semi-final, 2nd leg
2nd in Championship (Dundee United) v 3rd or 4th in Championship
Live on BT Sport, kick-off 7.45pm
Thursday May 23, 2019
Premiership play-off final, 1st leg 
2nd or 3rd or 4th in Championship v 11th in Premiership
Live on BT Sport, kick-off 7.45pm
Sunday May 26, 2019
Premiership play-off final, 2nd leg
11th in Premiership v 2nd or 3rd or 4th in Championship
Live on BT Sport, kick-off 3.00pm
Play off prices on Official Site
 
Pars boss Stevie Crawford has Jackson Longridge suspended after a red card last week. Striker Andy Ryan and defender Lewis Martin have made comebacks recently and will be looking for a start.
Robbo had talked about keeping the momentum going ahead of the play-offs and the extra £75K will come in handy, but self preservation will also be important and I see little point in wearing out our already knackered first choice squad with crucial games ahead.
May the fourth be with you Robbo...........
Mark Ridgers has been recovering from his dislocated finger, and it's fantastic news for the fans and the club that Mark has signed a new deal to keep him at Inverness for another couple of years. Hope yer finger is better. Sean Welsh is out with a broken foot. Carl Tremarco was injured at Recreation Park and will miss out with a possible calf tear. Others are flagging as our thin squad gets stretched every week. Robbo will have options though. Coll Donaldson made a welcome return last week and Brad Mckay will return after suspension. Cammy Mackay has deputised well for the injured Ridgers and Kevin McHattie is a ready made replacement for Tremarco. 
He could also look to the youth set-up where we have some wonderful players emerging and they are fresh from securing the Under 18's Progressive Tier title. 



 Top bananas to these guys. They trounced none other than Ross County 4-0 on Tuesday afternoon. 
A full report can be found on the OFFICIAL SITE. Caley Thistle Under 18s secured the Under 18s Progressive Tier title in style as they beat Ross County 4-0 at the Caledonian Stadium thanks to a brace from Roddy MacGregor and goals from Donald Morrison and Matheus Machado. 
~~~~~~~~~~~~~~~~~~~~~~~~~~~~~~~~~~~~~~~~~~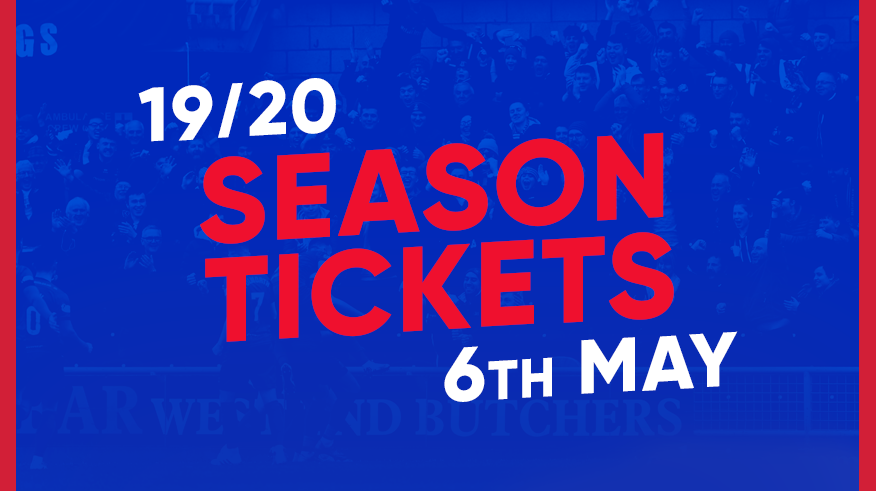 Just the Ticket
Coming soon, there's a great offer for you on the official site if you want to get your season ticket at this years prices, regardless of which division we find ourselves in. Here's hoping it's the Premiership, but the price remains the same.
Early Bird Season Tickets for 2019/20 season will go on sale from Monday 6th May.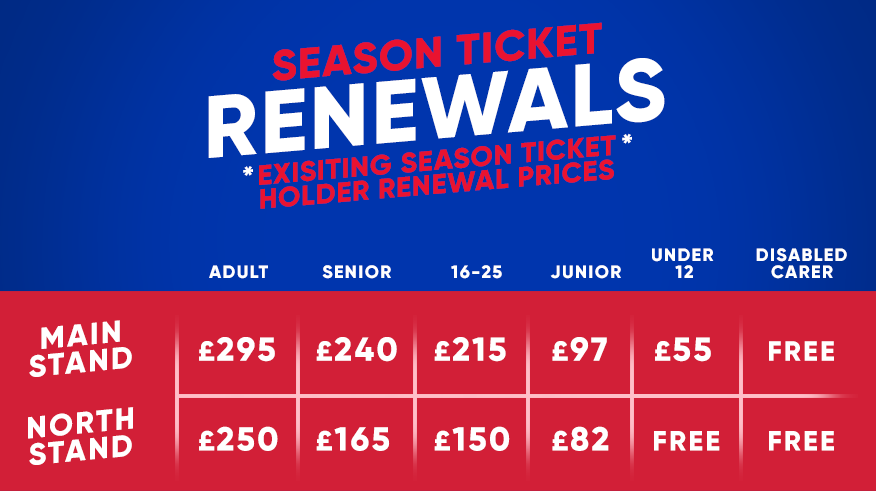 The club would would like to thank everyone who bought a season ticket for season 2018/19 and as we come to the climax of an exciting season with a day in the Hampden sun behind us and with the Premiership Play-Offs looming, the club is pleased to be able to announce that Season Ticket prices have been frozen for those wishing to purchase early. 
_________________________________________________________________________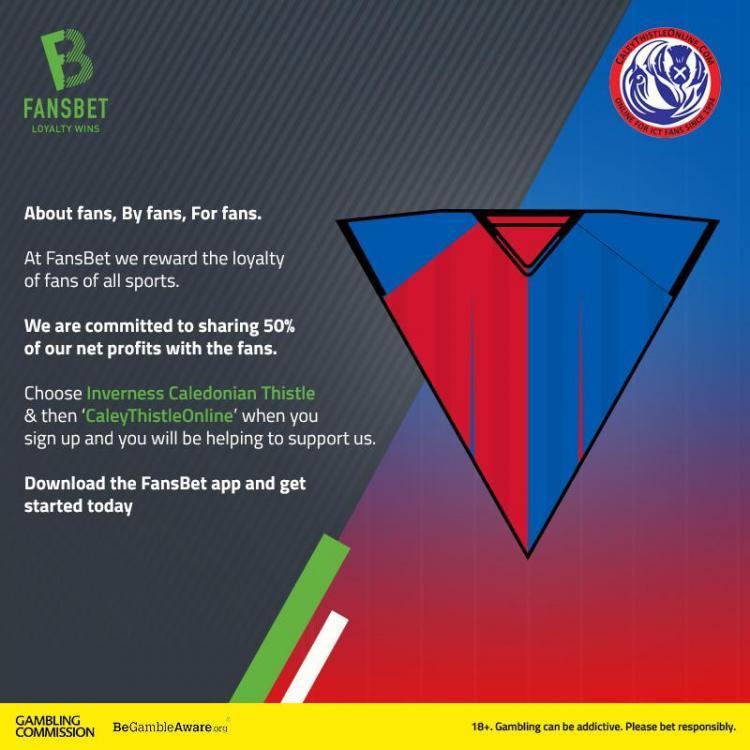 If you like a wee flutter, our new partnership with FansBet can offer you something. Just click on FansBet to get started.  "Remember to select CaleyThistleOnline when you register and you'll be helping us support ICT fan causes."
FansBet are partners with Supporters Direct Scotland and already have many impressive stories of giving back to and empowering fans, ranging from funding away travel, share purchases, backing safe standing projects and many more. You can read some of FansBet's Giving Back stories on their blog at https://blog.fansbet.com/fansbet-giving-back/partners/fan/
Always remember to adopt safe gambling and responsible policies.