Ayr we go Ayr we go Ayr we go.....
Saturday 5th October sees Inverness Caledonian Thistle make the trip south to Somerset Park to face Ayr United in the league. At 205 miles it marks the second longest journey ICT and their home based fans face on league business, only seconded by trips to Dumfries.
~~~~~~~~~~~~~~~~~~~~~~~~~
Supporters bus to Ayr
Bus to Ayr leaves Caley Club 8.45 ...Stadium 9.00 ....Sat5th Oct .
Book on Facebook or  07462 218717
HAPPY BIRTHDAY ROBBO

55 years young
~~~~~~~~~~~~~~~~~~~~~~~~~
Mr Caley Jag is our scribe this week with this Preview for you.......
On that travel basis alone their fans will undoubtedly be hoping for a better showing than the last display their team put on against Patrick Thistle when they were roundly defeated 3-1 at the Caledonian Stadium, some professing that the team didn't turn up at all. That defeat brought the team and fans firmly back down to earth with a bang and the reality of another hard slog in the Championship hit home.
Form
Up until that point the Caley Jags were unbeaten in 6 games in all competitions recording 5 wins and 1 draw while Partick had only recorded wins in the league cup and 2 draws in the league, so form was firmly turned on its head. Our current points total of 13 from a possible 21 sees us sitting in third spot in the league 4 points clear of Dundee but 5 points behind Ayr Utd.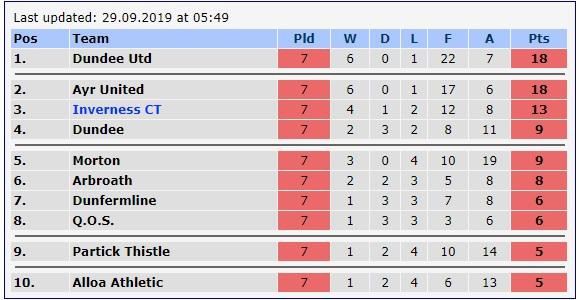 In stark contrast Ayr United sit second on goal difference behind Dundee Utd having gone on a 5 game winning run in the league and recording only one defeat at the hands of Dundee back on the 10th August. Somerset Park has become a daunting venue for teams to visit this season and none to date have come up with any answers and walk away with any points.
Ayr lost manager Ian McCall to Championship rivals Partick Thistle a couple of weeks ago and it was he who guided Partick to that win over the Caley Jags last weekend. Sandy Stewart is the caretaker boss of the Honest Men and McCall reckons he is the man who should get the permanent position at Somerset Park. He also reckons that Ayr are the best team in the Championship, but their size of squad will curtail their ambitions. Anyway, not his problem now that he has fecked off to the big money at Firhill, bloody wee Jobby.
All competitions since start of the League cup on 13th July over 90mins.
Ayr: WLWDWLWWDWW
ICT: DWWLLWDWWWWL
It's certainly not a game to pick for your coupon that's for sure unless you're chasing the odds with the bookies only slightly favouring Ayr United arguably on their recent league form and the fact they are at home.
Teams
Inverness welcomed Brad McKay and Mitch Curry back to training last week following bouts out with injury and it remains to be seen if they'll be fit enough to feature in any capacity. If not, they may get a run out against Brora Rangers on Sunday in the NoS Cup final.  James Keatings remains out with ankle ligament damage while we await news on whether Tom Walsh will back in the team line up after he missed out against Partick. There's no new injury concerns since the defeat to Partick unless the weekly mystery injury strikes.
Ayr Utd – Life after Lawrence Shankland seems to be doing just fine at Somerset Park. With 5 wins on the bounce, Ayr would appear to have little worries ahead of this encounter. We do seem to be a bit of an Achilles Heel for the Honest Men, but that can't go on forever. Stevie Bell will be another couple of weeks before he is ready and the experienced Mark Kerr is a major doubt. Jamie Adams, Frank Ross, and Andy Murdoch are out with injuries. Other than that I expect United to be on similar lines to the last few weeks, and why not, it's working well.
Here's Robbo ahead of the trip to Ayr.
Championship fixtures this weekend

Alloa Athletic 1-0 Dundee United 

Ayr united v Inverness CT
Dundee v Arbroath
Morton v Dunfermline
Partick Thistle v Queen of the South
 ICT News
Chief Executive Scot Gardiner sheds some light on the clubs financial situation ahead of the EGM on the 3rd October on BBC Sport
Former director Graeme Bennett on what he hopes to hear/see from the forthcoming EGM can be seen in the Press & Journal
 ICT EGM – 3rd Oct
Here's the Inverness Courier story after last nights meeting.
On the back of the EGM, there will be a SUPPORTERS OPEN MEETING to be held on Tuesday 8th October, with arrival from 7pm for a 7:30pm start. 
Trip down memory lane
24th April 2010
Ayr United 0 - 7 Inverness Caledonian Thistle
Team: Esson, Proctor, Munro, McBain (Bulvitis 26), Tokely, Hayes, Morrison, Duncan, Foran (Sanchez 64), Odhiambo (Eagle 71), Rooney
Scorers: Hayes, Rooney, Foran, Odhiambo, Sanchez, Eagle, Morrison
For me, this is arguably one of the best away games I have attended as a football fan and one of the best Caleyjag and I have been to together. Second last day of the season saw us guarantee the title and a return to the top flight at the first attempt under the tutelage of Terry Butcher. Chants of 'shoes up for the Caley Jags' while holding our shoes over our heads was a particular laughing point for me along with being on the pitch after the game calling out for TB to appear and address us. Aye, the sermon from the stand was brilliant!
Sad news breaking with the passing of Hugh Crout, the former Caledonian FC President.
"His partnership with his close friend, the late Alex Main, as team manager, was a winning combination at Telford Street. He was a real gentleman and made many friends in football, continuing his love for football by supporting ICT right up till the end. The highlight was seeing the club lift the Scottish Cup in 2015. He will be sorely missed by all who knew him."
Some more sad news coming from Greg Tansey is that he will have to retire from football due to ongoing injury problems. You can read more on this in the Press & Journal. Greg played a major part in the making of Inverness Caledonian Thistle, the Scottish Cup Winners, and he was one of the sweetest striker of a ball in the game. We wish Greg all the best for his future, wherever that will take him. Thanks for the memories Greg.
Here's how Greg announced it on twitter.......
Every footballer knows when they sign their first professional contract that it will eventually come to an end. Today is that day for me, an injury that I have been fighting for 2 years now has ended my career.
 On Sunday, The Pat Munro North of Scotland Cup Final against Brora Rangers FC
?3pm kick-off
?️Mosset Park, Forres
?️Adults: £10, Concessions: £5, Stand Entry: £2
Tickets available from the turnstiles on the day of the match (Cash Only)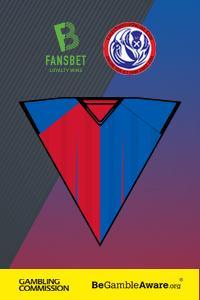 If you like a wee flutter, our partnership with FansBet can offer you something. Just click on FansBet to get started.  "Remember to select CaleyThistleOnline when you register and you'll be helping us support ICT fan causes."
FansBet are partners with Supporters Direct Scotland and already have many impressive stories of giving back to and empowering fans, ranging from funding away travel, share purchases, backing safe standing projects and many more. You can read some of FansBet's Giving Back stories on their blog at https://blog.fansbet.com/fansbet-giving-back/partners/fan/
Always remember to adopt safe gambling and responsible policies.