The Smokies are coming
After a slow start at Tannadice last week, 25 years on from the historic visit of Arbroath FC, Inverness welcome the now Championship newcomers Arbroath to the Caledonian Stadium on Saturday in a 3:00pm kick off. We won't mention Bon Accord, or the lack of pies at Gayfield. However we will mention that you cruised to the League 1 title last season, ending seven points clear of Forfar Athletic. Congratulations on that achievement.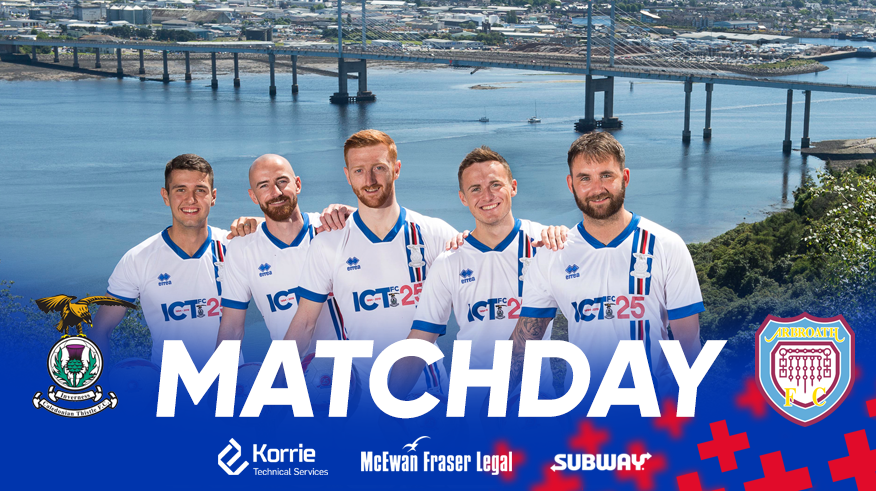 To celebrate our 25th year in existence, we will be wearing out new 3rd kit with the ICT 25 logo on it. Very smart indeedy.
These kits are now on sale at the club shop or you can order them through the official site. Lets hope they can kick start our season in this game which is as close to the 25th year of the one that started it all.
~~~~~~~~~~~~~~~~~~~~~~~~~~~~~~~~~
Cast your mind back 25 years to the Glorious 12th. No, not the start of the grouse shooting, but our first home game in the Scottish Football leagues. Caledonian Thistle, as we were known back then, and what a momentous occasion that was.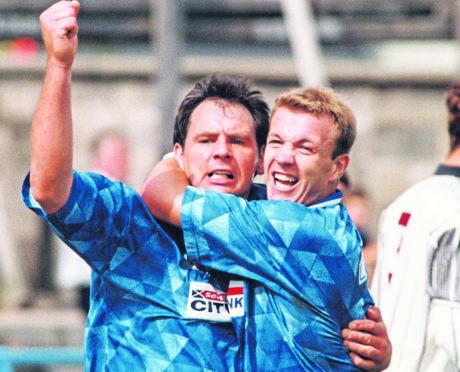 How fitting it was that club captain, hero, legend and all round terrific guy Alan Hercher scored the first three League goals for this club. In midweek, it had all kicked off on 9th August 1994 for Caledonian Thistle with a 2-0 League Cup win at Firs Park, East Stirlingshire where Wilson Robertson and Alan Hercher netted the goals to see us progress to a tie against Dundee. On Saturday August 12th, a crowd of 1700 saw the Caley Jags beat Arbroath 5-2 at Telford Street and the rest is history. Sadly Alan Hercher is no longer with us having been taken too soon, but his memories will live forever in the archives of this club. After Hercher had scored a twenty minute hat-trick, the Lichties hit back with a couple of goals through Brock and Reilly, but further goals from Paul McKenzie and Wilson Robertson put us firmly on the radar. We have gone on to have a wonderful roller coaster of emotions since then culminating in the Scottish Cup win over Falkirk at Hampden Park on 30th May 2015. Here's to the next 25 years!
Watch the action here, you might even see yourself in Telford Street............
There's an article on the OFFICIAL SITE regarding the 25th anniversary match.
~~~~~~~~~~~~~~~~~~~~~~~~~~~~~~~~~
On matchday one we suffered badly at the hands of a rampant Lawrence of Arabia who scored all four goals for the Arabs with Tom Walsh scoring what turned out to be little more than a consolation for the Caley Jags. By the end of the game we were well beaten, but it could have been a different outcome had we taken some early chances, notably James Keatings hitting the post before United took the lead. As it was, Shankland showed why United are forking out the big money for him.
Arbroath entertained a Dobbieless Queen of the South at Gayfield and their opener ended goalless. That was their first game in the Championship for sixteen years and they will be reasonably happy with a point to get their season off and running. Steven Doris passed up on a couple of good opportunities and he will be a handful for any club. Arbroath manager Dick Campbell said: "You would have to be happy with a point when we're playing a full-time team. We're not going to be easy fodder for anybody, because we've got good players."
Added to their League 1 winning squad are Derek Gaston, goalkeeper from Morton; Scott Stewart, defender from Airdrie; Robert Wilson, defender from Berwick and James Murphy, who is a midfielder.
Brad Mckay was helped off the park at Tannadice, his neck in a brace and he ended up in hospital to get checked out, bruising is the problem. Along with Shaun Rooney, Sean Welsh and Mitch Curry he will miss this weekends game against Arbroath. Rooney and Welsh are reported to be doing light training in their recuperation process. Aaron Doran has been cleared to play after a suspected broken finger has proven to be ok. We have a problem at right back with David Carson filling in, but he's not really filling that role with any conviction. Charlie Trafford has become a liability with a yellow card in the refs pocket with his name on it before a ball is kicked. Choices for Robertson to make. We keep hearing how good some of our youngsters are, so it's about time we actually saw them. 
However, we won't be seeing Daniel Mackay or Daniel Hoban unless we go to Elgin. They have been loaned out until January. See OFFICIAL SITE. 
Dick Campbell is as shrewd as they come and he will get the most out of his part-time squad. His new additions will compliment his title winning squad with Steven Doris the main goal threat. Bobby Linn is another with a bit of pedigree and worth keeping the shackles on him. The experienced former Dundee midfielder Gavin Swankie will be a key player for Arbroath. Midfielder Michael McKenna and defender Thomas O'Brien will be looking to start.
~~~~~~~~~~~~~~~~~~~~~~~~~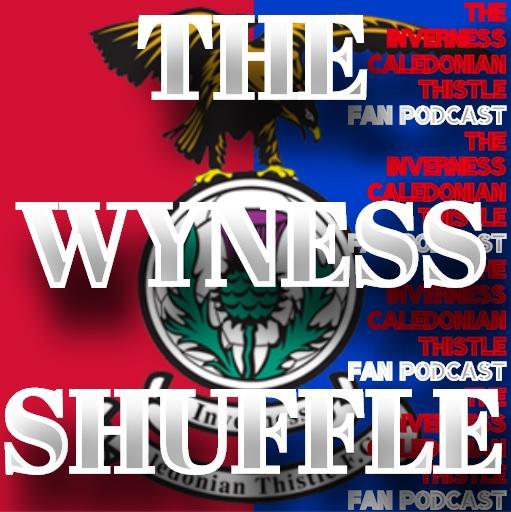 Have a listen to the latest podcast from the Wyness Shuffle. This one is entitled A SEAGULL IN A CARRIER BAG. Don't ask me where they get the names from, but well worth a listen and keep up the good work guys.
SHAUN ROONEY: MUTILATOR was the opening podcast and it has been well received. In hindsight, maybe it should have been called Shaun Rooney mutilated given his absence through injury picked up in pre-season.
Hopefully, Rooney and Welsh will be back sooner rather than later as they begin light training.
Fansbet are sponsors of CTO
Odds for today. H10/19 - D 3-1 A9/2