Willie Wonka and the Goalden Tickets
Raith Rovers are the visitors this weekend for Matchday 5 in the Championship, and it will be the first game at the Caledonian Stadium to allow fans in during the covid pandemic, albeit restricted to around 300 tier one season ticket holders. It's a step in the right direction for football and hopefully it will be a successful occasion on and off the park. The game kicks-off at 3:00pm on Saturday November 21st, a date for the diary. It might be a bit like Willie Wonka, but from little acorns and all that stuff...
The good news for streaming fans is that last weeks offering for the East Fife game was a marked improvement from the first couple of Pixie Lott efforts. This time a camera operator was apparently in place and aided by a lack of sun from the west, the live pictures came across much better without any following of the lineman's follicly challenged head. So credit where it's due, well done to whoever took note of the many unhappy viewers from previous games although it would have been nice if they could have let us know what was happening and that they were going to do something about it. Anyway, sorted for now.
~~~~~~~~~~~~~~~~~~~~~~~~~~~~~~~~~
£10 PPV option for this game £10
Ian Broadfoot - Milestones & Memories
~~~~~~~~~~~~~~~~~~~~~~~~~~~~~~~~~
The two sides met eleven days ago in the League Cup group stages at Stark's Park Kirkaldy. It was an entertaining game which finished 3-3 with Raith taking the bonus point after winning the penalty shoot-out 3-2. Manny Duku was a menace throughout and scored the opening goal before Shane Sutherland levelled for Inverness. A Danny Devine own goal put Raith back in front after Ethan Ross broke on the left before cutting the ball into the box and off the unfortunate Danny boy. Two quick goals for us from James Keatings (pen) and Roddy MacGregor, his first for the club, put us in the driving seat but Duku sent the tie to penalties in time added on. It was a good work out for both sides who will no doubt have some different personnel this weekend. Brad Mckay and James Vincent were both injured at Raith to add to out lengthy list of casualties.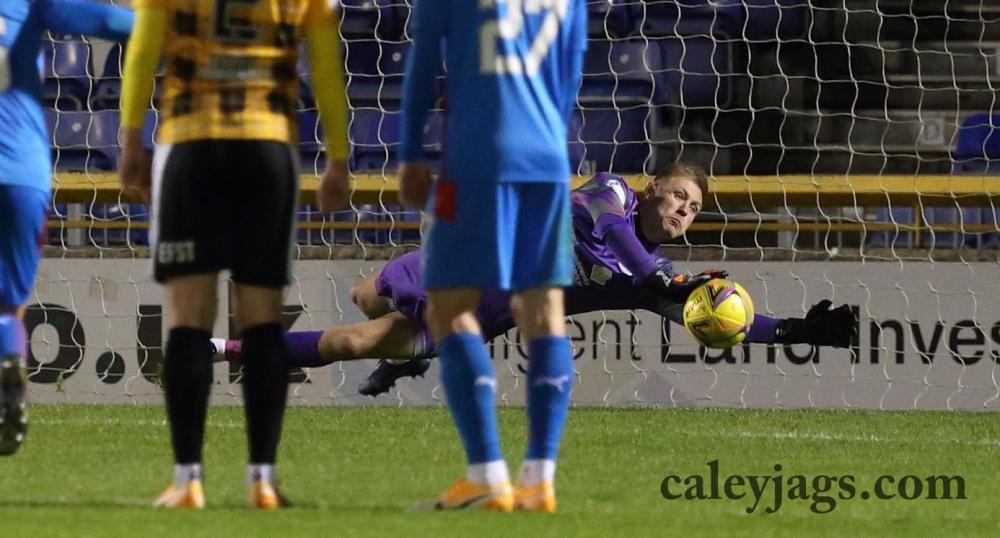 We played East Fife last weekend in the same competition and laboured to a 1-0 win in true Scotland style. We had Cammy Mackay to thank for that as he saved a penalty in stoppage time from Jack Hamilton. Shane Sutherland gave us the lead in the second half with a powerful header. Good points to come out of the game were a debut for Harry Nicolson and Miles Storey came off the bench on his return after injury. Also Cammy Mackay was in brilliant form with a super save earlier in the first half and ended his day with that superb penalty save.
Rovers had a Fife derby to contend with and they also made life difficult for themselves but they saw off Cowdenbeath 1-0 with Manny Duku again on the scoresheet.
I'm sure both sides will be stronger for this game with Dylan Tait back for Rovers and Lars Lokotsch available again. Jamie MacDonald will probably be between the sticks although Robbie Thomson did well against us and defender Kieran MacDonald could also return. That's seven goals already for Duku and he will need to be shackled if we are to take anything from this game.
Here's a few words from Kai Kennedy
John Robertson saw Miles Story return against East Fife and was able to rest one or two others with Aaron Doran and James Keatings coming on from the bench. Sean Welsh has missed a couple of games recently, let's hope he's just resting his fragile body as he's required for crucial games. Anyway, Robbo just wants to see this game out so we can regroup and hopefully get more players fully fit before the next round of Championship games on December 5th for us when we visit Palmerston on the Friday night. David Carson, Lewis Toshney and Kevin McHattie have been longer term casualties and time will be a great healer for them.
Other Championship games this weekend & Table prior to Dunfermline v Hearts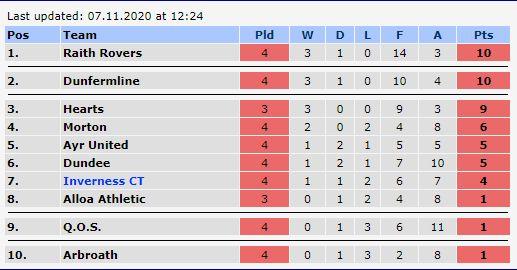 Dunfermline 2 - 0 Hearts (Friday night 7:45) 
Arbroath Fc -V- Morton
Ayr United -V- Dundee Fc
Queen Sth -V- Alloa Ath
*** LATEST TEAM NEWS***
From the Official Preview: John Robertson said "I don't think Wallace Duffy will make it, he's still injured from last week."
"We've got players back in training this week, James Vincent has started to train, Sean Welsh has started to train but he's still a bit tender, Miles Storey has done a bit more training, David Carson has started his running programme."
"The squad will be virtually the same as last week with the players with the possibility of one or two senior lads maybe on the bench. They're still miles off it unfortunately due injury and fitness but it may well be that they can do something for us off the bench."
So there you have straight from the horses mouth.
Latest from Raith with Paul Smith looking ahead to this game