Loons 1 - 2 Inverness
Liam Polworth had a first half penalty saved by Loons keeper Marc McCallum, who also made some excellent saves to deny Iain Vigurs, John Baird and Ricardo Calder after the spot kick. All the goals came in the second period with Forfar opening through Mark Scott. The lead was short lived and George Oakley and John Baird had Inverness in front six minutes later. That was how it finished, but it was not enough for Inverness to progress in the competition.
Connor Bell signed for Inverness in the morning of this game and earned a seat on the bench, Jake Mulraney joining him. David Raven started at right back with Collin Seedorf injured, and Mathew Elsdon was at centre back with Gary Warren still injured.
Immortal Howden Ender has this report for us, hot off the press.............
A BRIDGE TOO FORFAR !!
Well we bowed out of the Betfred Cup at far too early a stage.  The Bairns were always going to be a tough nut to crack but we should have hit the nine points from the other three. John Robertson certainly played it down with – "We've had a decent League Cup without being hugely impressive – It's been four matches against quality opponents (!!) that has put us in good stead for the league campaign and allowed us to gel and get fitness levels up". Hopefully he really meant – "I have now had a chance to look at everybody and I know the way forward".
Station Park may be difficult to find but it is a homely wee stadium and the "astro turf" looks in very good condition. (OK I prefer grass maself). The wind was strong assisted by the intermittent spells of drizzle. We certainly played better when faced to play football against the elements in the first half. The second half became more of a punt which did not work well with the wind and the pitch.
I note that the attendance was quoted at 517 but looked more to me. Good turnout from the Highlands – must have been 100-150. The Central Belters/Juanjo Away were well represented and driven to the game from Dundee by none other than a taxi driver called Bobby Mann. Me – I arrived there – by feckin car – 20 minutes before the kick off with Mrs Johndo and Mini IHE – stone cold feckin sober !! At least my grandson (Leighton) had a winning start to his ICT career.
We totally dominated the first 45 as we had to play football in its true sense. We could have/should have gone in 3-0 up. The final ball/ the final strike was sadly missing. We played some neat stuff but basically fecked it all up at the close. Calder could have netted a hat-trick. Just after the half hour we had a chance to practically ease the game. Initially it looked like a soft penalty award and a trip on Baird but it was reported as being a hand ball. Not sure why Vigurs did not step up but it was left to Polly – possibly to boost his confidence (DOH). It was really a very poor strike and adds to our penalty taking woes.
Four minutes after the restart Marc Scott put Forfar ahead. Perhaps Ridgers was partly to blame but David Cox made a fool out of Chalmers and the initial shot, well saved by Ridgers, should never have been allowed to be completed. Yngwie and I were joking earlier that Cox had enjoyed his summer holidays as he was clearly overweight. But then he tormented Chalmers which says it all.
Perhaps that was a wake up call and at least we reacted. Five minutes later McCallum was at fault as he pulled out of a 50/50 with Baird. The ball went loose and George Oakley neatly tucked it away. Before you could say Inverness Caledonian Thistle a Polworth corner was headed on and John Baird hit a screamer at the back post. And the photo does not lie as Mini IHE shows his seerness by evidently predicting the outcome !!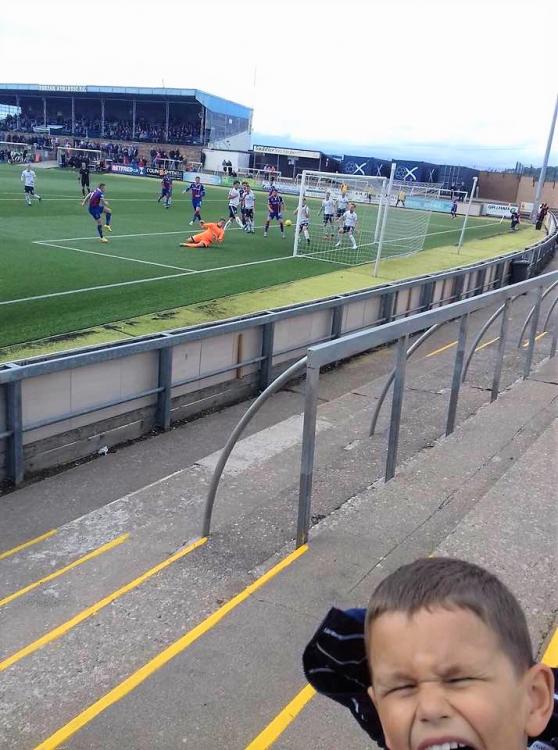 After that I was expecting a barrowload but we appeared to relax. Substitutions may not have helped but we were careless. We did not possess the killing off factor and nearly paid the price. So it was back to the 1984 Lounge for the Juanjo Away and a pickup by Bobby Mann. I headed to Camperdown Park to run the feckin dog, went to Tesco and had ma first feckin swally at 20.00 hrs. So feck the family it is Virgin Rail on my own from now on.
 
SMILEYMOMETER

RIDGERS 



  Neither worried or inspired me. Looks like a decent shot stopper and a decent distributor but he needs to get nasty and start shouting more.
RAVEN



    Nice to see him back. Looked good in the first half but outpaced on a few occasions by the speedy Scott. Looks more like a squad player.
CHALMERS


   Disappointed. Taken to the proverbial cleaners by a fat Cox. Perhaps that was a Twiiter prediction
ELSDON




   Looks the part but not the most mobile and looks very green and surprisingly not the best in the air.
McKAY 



  Thought he was going off in the first half as he appeared to have pulled a muscle. Expected more from him.
POLWORTH 

  Why does Robbo not realise that Polworth is wasted wide right - but there again where does he fit in ? He appeared to be given more of a roving role in the second half but we can do that at Forfar but ?!! The roving role however appeared to nullify both Vigurs and Draper
VIGURS 





   What was the abuse for ?  Vigurs was a class above everybody else in the first half. A sweet left foot comparable with the taxi driver called Bobby Mann. Ran the game for 45 minutes. Faded in the second but the wind was with us and punts became predominant. My MOM by miles.
DRAPER 




 Some are stating that he is in second gear. He has always appeared to be in second or third gear to me. He linked well with Vigurs playing in front of him. We really, really need to hold on to him
CALDER 



  Calder was impressive but NOT a left winger or a finisher. Looks more like a polished wing back or deeper wide player - unfortunately much like Mulraney. But Tremarco and Calder together really is a juicy prospect. But again where do you play him Robbo ?
OAKLEY / BAIRD I x2




  Impressed by  both Oakley and Baird. They are both pacey and thinkers. They are not on the same wavelength yet but the potential is definitely there. Both took their goals well.
MULRANEY

  Mulraney to me was a breath of fresh air but also a greedy *******. Perhaps trying to impress too much but was more of an individual than a team player to me.
BELL

  Bell did not have much time but looks like the perfect back-up fer Baird
FCZ (Susan)

 . I think I was initially spooked by the Clach reports. He is gangly and awkward but he showed signs  today that he can hold up and pass. At the moment a good back-up for Oakley. And he is much better than the Walrus.
SO .. I am really worried about the lack of pace at  the back. Seedorf and Calder at full backs may assist. Polworth is wasted and perhaps needs to be an initial back-up for Vigurs and Draper. Or what about Polly at right back and Seedorf forward. The front two picks  themselves.
---
a