All Square at Falkirk
It was a depleted Inverness that kicked off with Coll Donaldson, Tom Walsh and Mark Ridgers out and third choice keeper Cammy Mackay in goal. Undaunted, we took the lead after 12 minutes when Shaun Rooney touched in a Joe Chalmers free kick. On the half hour Zak Rudden equalised from close range. Doran restored our lead just on the interval when he volleyed into the top corner in spectacular fashion. Freak goal from McShane levelled the game again 10 minutes into the second half.
Inverness had both new signings Darren McCauley and Anthony McDonald available and on the bench for this game, however, we were dealt a blow with Mark Ridgers unable to play because of a back spasm and Fon Williams allegedly with a groin injury. That thrust young Cammy Mackay into the spotlight with Martin MacKinnon as back up on the bench. Nathan Austin and Jordan White started up front with George Oakley on the bench.
Falkirk had new keeper from Wolves Harry Burgoyne between the sticks for the first time and prolific scorer Zak Rudden starting.
It was a sodden miserable afternoon as Falkirk kicked off in front of nearly 5000 fans, 240 of them supporting the team from the Highlands, Cammy Mackay tasked with keeping the Bairns out. His last game was a month ago, a 2-0 defeat for Rothes in the Highland League against Brora Rangers whilst out on loan.
A bright start for the visitors saw Nathan Austin, Aaron Doran and Jamie McCart all make Harry Burgoyne work in the Falkirk goal.
Shaun Rooney did even better when he made him pick the ball out of the net in twelve minutes when he diverted a low Joe Chalmers free kick into the net for the opening goal. Great start for the Caley Jags.
Austin had a header saved as we pushed for a second and Doran was close with a shot and Sean Welsh dragged another shot wide halfway though the first period.
Burgoyne made a tremendous save to deny Doran from distance, fisting the ball away as the visitors continued to dominate and keeping young Cammy Mackay quiet in goal so far.
Spoke too soon as out of the blue Zak Rudden tapped in from close range to level the match after good work from Mark Waddington.
We fail to convert after a scramble in the Bairns box and soon after Liam Polworth shot wide after a lay-off from White.
A quick break from defence saw White's first effort saved and his follow up deflected for a corner. From the corner, Falkirk do likewise as Rudden is denied at the other end.
Inverness have had the greater opportunities in the first half and just on the break we regained the lead in spectacular fashion. A Polworth free kick was cleared as far as Doran at the edge of the box, and after taking a touch the wee man smashed the ball into the top corner on the volley, what a strike. Pick that one out Harry!
Half Time 1-2
No changes at the break as Inverness set the ball rolling for the second half and we began on the front foot again, Austin doing his best to undo his old club as he drilled a ball across the box but there were no takers.
Falkirk were relying on Mackay being in the firing line and they equalised when a corner from Ian McShane deceived the keeper and ended up in the net.
Austin tried to reply moments later but his header was too straight and saved by the keeper and Sean Welsh missed from distance.
Doran pulled up on a run forward and he had to make way for Darren McCauley to make his debut and it's almost an instant success as his ball is deflected to White and behind for a corner.
Jamie McCart took a head knock as well, injuries we don't need at the moment.
Substitute George Oakley had a header saved as we looked to get back in front, and Anthony McDonald replaced Jordan White to make his debut.
McCauley had an effort blocked as we looked for the winner and at the other end Paul Paton saw Mackay save his shot.
Big shouts for a penalty after a McCauley shot is blocked but nothing doing and Rudden blazed a shot over from 8 yards after being played in. That should have clinched it for the hosts.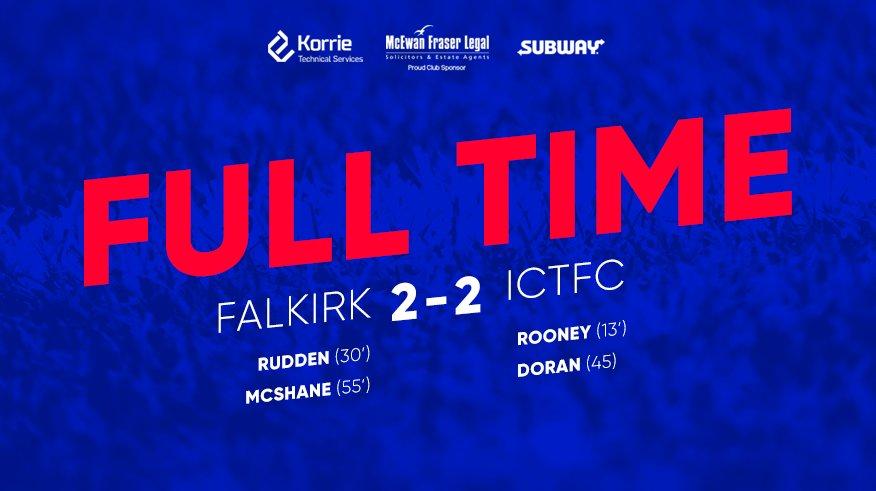 It all ended a bit towsy with a couple of bookings but with no further scoring it finished all square.
Inverness will feel it's two points dropped, after having enough chances to win two games, but the injury to Doran could be more worrying.
Speaking on BBC Sport
Falkirk manager Ray McKinnon: "That's us unbeaten in January but we need to start winning games. It will happen sooner or later, I'm certain of that. "We still need two players. We need someone to hold the ball up front and an experienced centre half. We played a more attacking style but we just weren't clicking in the final third."
Inverness CT manager John Robertson: "It was a strange game. Both equalisers come against the run of play. The Falkirk keeper - he was terrific - kept them in the game. "The most disappointing thing was not getting a penalty kick. Their player runs six yards to close down, hands above shoulders, and it comes off both hands. It's a clear a penalty as you'll get."
Here's some footage from Falkirk TV on YouTube
Where's Harry.............. Here he is...............
---
a