Hearts Trump Caley Jags Aces
Inverness had few tricks up their sleeves as they were brushed aside and out of the Betfred League Cup after losing 5-0 to Hearts at Tynecastle.
A display of clinical finishing saw Hearts into the draw as goals from Ikpeazu (2), Garuccio and Naismith (2) settled the tie. Uche Ikpeazu was the man who taunted Inverness all afternoon with a powerful display and capped it with two great goals.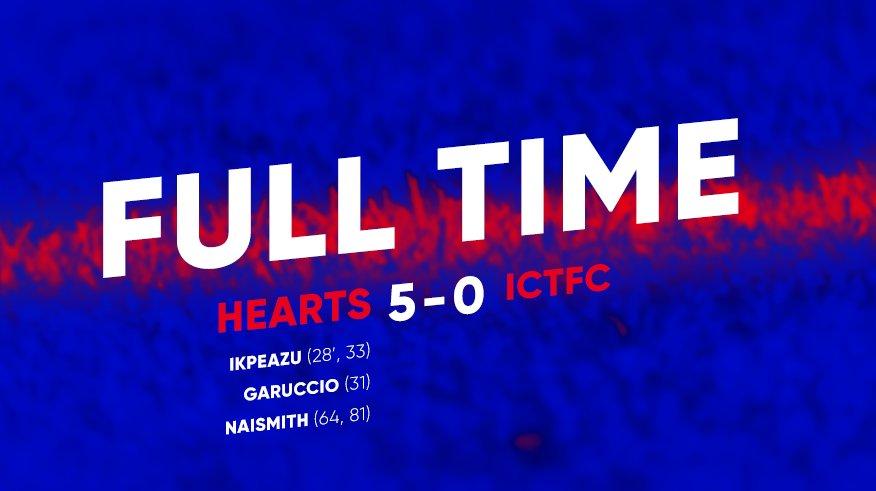 Hearts made three changes from the midweek thrashing of Cowdenbeath. Uche Ikpeazu's man of the match performance gained him a start. Aaron Hughes got his first start with Michael Smith injured and Olly Lee returned in place of Andrew Irving. Kyle Lafferty made the bench after struggling with a back injury. Jake Mulraney joined him on the wood.
For Inverness, Robbo made a couple of changes, George Oakley and Nathan Austin dropped to the bench with Jordan White and tough midfielder Charlie Trafford starting, no doubt looking to stifle the midfield and hold the ball well up front.
Immortal Howden Ender watched through clasped hands as we were tortured.......................
Well I probably can proffer thanks that this game was changed to a Sunday and prevented me from doing a British Rail Away day from Englandshire. It was difficult to take on BT Sport so I can really feel fer the 317 faithful who managed to get there. Can understand - to a degree - why Robbo started off as he did do. I expect that he was hoping to go in 0-0 at half time or even in the hope of a breakaway goal. For the first half hour there was little in it. Ikpeazu was the difference. As the BT punters kept on pointing out our central defenders were far too tight on him and he outmuscled them regularly. We could have gone in front on the 13th minute when the sweet left foot of Chalmers malfunctioned. My gripe about the first Ikpeazu goal was that White was given the role of shadowing him. It still was a fine finish. The free kick was unstoppable. Take a bow Garuccio. The third by Ikpeazu was a fine powerful header but we should have learned the earlier lesson. And the Zlamal makes two good stops to thwart Doran and Trafford. You began to start thinking that it was not our day. We could have been 4-0 as Hearts also hit the post but by then were fully in control, full of confidence and had the crowd behind them. In the second half we gain started well enuff but we NEVER looked like scoring. Naismith has always had a reputation of being good in the air for his size but he was left totally unmarked for his brace. Unfortunately it always looked as if Hearts would add to their tally rather than us pulling one back although Austin could have done that with a couple of minutes left. 
I will detract from an individual Smiley allocation BUT - Ridgers had little chance with all five goals. Rooney blew hot and cold. Donaldson and Brad McKay did not appear to be an understanding partnership. McKay looked the poorer. Tremarco did well enuff until limping off. Our tactics (by Robbo) proved to be wrong. We bypassed midfield and therefore we "lost" the influences of Polworth and Doran. They were played wide whilst the centrally operating pairing of Trafford and Chalmers were overrun -  but Hearts went wide most of the time with Lee, McLean and Morrison bossing throughout. I would give Walsh MOM and cant understand why he was hooked. White was evidently chosen for his height but he lost most balls in the air and was not exactly adept at holding things up. I am sure that in retrospect Robbo wishes that he had gone for Austin from the off and played Doran in the number 10 role. I would also have consider taking on wee Danny for either Chalmers or Trafford at half time.
Video footage to be added when available
---
a