Comedy of Errors
The announcement of the team lines filled us with trepidation. We knew it would be bad, we just never thought it would be this bad. An absolutely shambolic performance from Inverness who have plumbed the depths of the abyss after an encouraging midweek performance at Somerset Park, they lost 2-1 to Partick Thistle.
Partick Thistle took full advantage of our depleted error strewn lisltess squad and thanks to our defensive blunders scored twice in possibly the worst ever 45 minutes witnessed at the Caledonian Stadium. Steven Anderson and Aidan Fitzpatrick were the benefactors of our slapstick defending and although substitute Darren McCauley pulled one back it was smply not good enough for the season long suffering fans.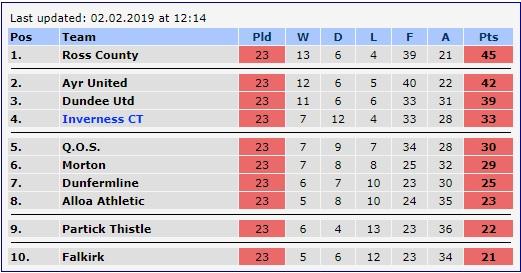 There's little to report on from an Inverness point of view. Cammy Mackay made a couple of excellent saves before Partick scored. Unfortunately Anderson had the freedom of the back post to tap-in after a short corner. Nobody in defence was able to stop the cross reaching him and Brad Mckay can hang his head in shame at the second goal. He lost the ball thirty yards from goal and left young Cammy exposed as Fitzpatrick accepted the gift, advanced to the box and drove the ball behind the keeper. Shambles springs to mind.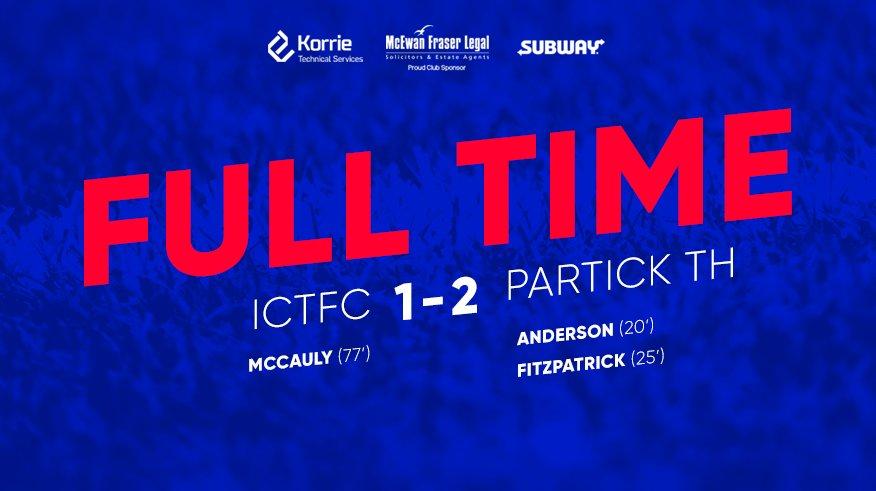 We created little of note throughout until a scramble in the box ended with McCauley knocking home from close range.
I'm finding it difficult to find any positives. Cammy Mackay pulled off a couple of brilliant saves, Donaldson as a substitute getting some game time and McCauley will add something once he is up to speed.

It's the biggest outpouring of public grief since Princess Di departed. I'll let the fans tell you more about this game, here's some views picked from the forum. They shall remain anonymous in case Robbo comes round..........

*Shell shocked!! What I think I watched yesterday was a bunch of amateurs playing together a game of kick about on a field. Worst performance this season giving the ball away with every second pass, little organisation at the back and complete lack of thrust at the front.. I felt sorry for Donaldson being thrown on when he was obviously out of sorts and not ready in fitness*
*Worst performance of the season so far. JR  comments shows a complete lack of respect for the fans that turned out to watch that drivel. Route one football and hoping that the ball drops to one of our players. There are no tactics just lump in box and see what happens.*
*I too agree with Robbo's comments but he really picked the wrong day to say it! None of what happened yesterday was anyone elses fault but his own. Wrong set up from start and it all went downhill. Caleyaway is a small but loyal band of fans some of  whom seldom attend home games. You don't ever hear the criticism/pickiness that I hear week in and out at home. Football at home is mainly a joyless watch. Its not helped by performances like yesterday however.*
*Have to agree that was the worst performance at home so far. Lost soft goals and never created any chances. Scrambled goal to give us some hope with 12 mins left however you didn't think we could do it. There keeper didn't have a save to make. Very disappointing following good win at Ayr.*
*Getting pretty sick of posting the same comments after almost every home game! That first 45minutes today really was the worst I can remember from an Inverness side. Absolutely pathetic!*
*You would be hard pressed to see a worse game of football anywhere today . Absolutely shocking no wonder the stands were empty.*
*People keep asking why people are staying away. Half way through the first half I suspect most at the game wish they had.*
*Five minutes before the end ,McCauley was announced as the sponsor's MOTM.  But he only came on in the 70th minute. I think that rather sums it up!*
*Poor team selection, poor tactics, poor application and poor, verging on irrational substitutions. The only comfort we can take is that our rivals for that final play off, which appears now to be our only realistic target, fared no better. However, even that final play off place will be beyond us if we continue to play as badly as that.*
*Trying to deflect the blame from himself even though his team selection, tactics and substitutions were horrendous. There was absolutely nothing to get the fans excited about watching that today. Taking on a centre half and defensive midfielder when we are two down hardly helps. Embarrassing comments from the manager.*
*That's as bad a performance as I can remember.  Just when you think we might have turned the corner, we  manage to produce a truly woeful performance. I can't remember their keeper making a save. We were second to every ball and made a poor Partick team look good. And for Robbo to blame the home support is totally unacceptable,  give the fans something to shout about and they will react.........*
*Another week another poor home game. Robbo can huff and puff about home fans but we've had 2 wins at home in the league what exactly does he expect? So many things wrong with todays performance a lot of which the manager and coaching staff need to take the blame for and some things the players.*
*I picked the wrong game to take my 7 year old grandson to: that was woeful, and even he knew that. We started ok, but lost two quick goals, and never really got any control of the match.*
*That was the worst game so far this season and I am being polite! Why he kept Brad Mackay on he was rank. And the rest weren't much better. I hope we have some of the injured players back for the County game.*
*Not up for the game from the start whole team were awful 1st half. The whole bloody lot of them need to take a look at themselves.*
*A shocking performance with Brad Mackay at fault for both goals.Never looked like winning this game. No pass marks for anyone except goalkeeper Mackay who had a couple of great saves *
However, lets end on a positive note..............
*Only positives for me were the couple of saves from Cammy Mackay, McCart being solid at the back, even when playing on the right of defence, and McCauley: he is definitely worth a start. *
*......he then made a couple of good stops and I think has done a good job coming in at the last minute* 
Here's the offending comments from our Gaffer.
Inverness Caledonian Thistle manager John Robertson: "I thought victory would still make us outside title challengers, and anything else would mean we are fighting for a play-off spot.
"We've got a problem at home. We've won two, lost three and drawn the rest. Away from home, we've got a small band of fans that get right behind the team but at home they don't seem to do that."
Partick Thistle manager Gary Caldwell: "We spoke about the characteristics you need to win away from home - resilience, desire, togetherness - and I think we showed that second half.
"But in the first half, we showed quality. It could have been more than 2-0 and tactically I thought the boys were outstanding."
Here's the wee man himself...........
---
a