Wasps Buzzing
Inverness had to re-shuffle the back four in the third minute with Lewis Toshney unable to continue, Kevin McHattie replacing him.  A deflected shot by Lee Connelly opened the scoring after 12 minutes, the ball entering the net off Brad Mckay. Alloa were on top in the early exchanges but Neil Parry had to make a brilliant save to deny Jordan White midway through the half. Alan Trouten extended the lead before half an hour had gone, scoring from close range. No further scoring after the break, but Alloa were well worth the three points. It should have been more, the woodwork came to inverness' rescue a couple of times in the second half. For Inverness it's a thoroughly disappointing result, undoing the good work in midweek. The only thing in our favour was we only lost one point on everyone else as the rest of the games ended in draws. Therefore, this week saw us gain a point on our nearest challengers. Still, in truth, it's results like this that have cost us big time and left Dundee united alone at the top.
One step forward, two steps back!
Brad Mckay returned to defence with Kevin McHattie dropping to the bench. James Vincent and Sean Welsh were still out. For Alloa, Ian Flannigan missed out but Neil Parry made his second start between the sticks after returning from injury.
Great report on CTO forum from RIG...............
Daylight robbery.
We should have been absolutely pumped rotten today. I can barely remember troubling Parry until a couple of minutes from the end when Walsh flashed a shot just over / onto the bar. The rest of the game Alloa took us to pieces aided by some lacklustre defending from us. 

There was no one with the entire mountain range of the Ochils to stop Alloa taking the lead with Connelly having far too much time and space to lash a shot beyond Ridgers. Apparently it took a deflection but it was hard to see for sure from the other end of the ground. Not too long later the second arrived. Harsh free kick against White for handball but again we looked shoddy defending the resultant cross which found Trouten at the back post and he tucked the ball in from close range. There didn't look to be any ICT player in close attendance and if there was there were still other Alloa players unmarked in an apparent breakdown of who was marking who. Our only real chance came when White tried to seize on a knock down but from a couple of yards out he couldn't connect with the ball and Parry gathered.

Second half Alloa initially seemed to sit in before quickly realising that a defensive pairing of Brad Mckay and Kevin McHattie can be easily be gotten at, and set up utterly destroying us. Star of the show Scott Banks tested Ridgers when he broke free and curled a lovely shot towards goal but Ridgers leapt across to block it. Alloa then missed what looked like an easy chance to get that third goal. Alloa forced Ridgers into a save but, with the ball bobbling just in front of him, he couldn't hold on and the ball broke free to an onrushing Alloa player who rounded Ridgers but then hit the post from a yard or two out. Banks again showed real class as he did spin after spin to dance through the ICT midfield and defence and he was unlucky to see another good effort go over the bar and Alloa had a further chance when they rattled the crossbar. Our only real second half chance came when Walsh sent a half cross half shot onto the bar but we were well and truly gubbed today. A lot to think about in the coming weeks.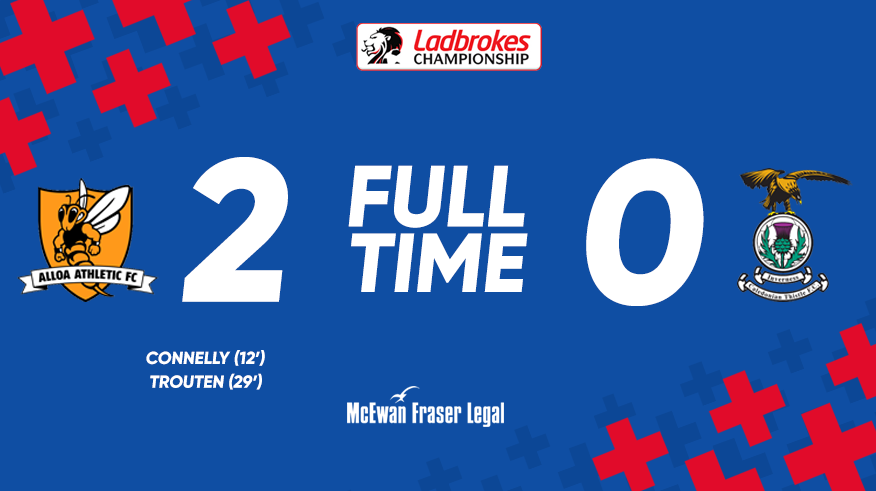 Highlights from AlloaTV
Honest John.....
---
a