Dens Deelight for Caley Jags
Inverness dominated the early exchanges and it was no surprise when Aaron Doran opened the scoring with a wham bam thankyou mam effort from 13 yards. Long ball from McHattie to Rooney and then on to Doran for a brilliant opener. Seven minutes later, James Keatings ran through on to a Rooney pass on the counter and drilled superbly under Hamilton for a second goal in the 24th minute as the visitors dominance continued. The half time stats showed Inverness with seven attempts on target to zero for Dundee. Despite an improved second 45 from the hosts, Inverness were well worth the three points today and remain second in the Championship.
John Robertson had threatened wholesale changes after the lethargy displayed against Arbroath with only Ridgers and Storey guaranteed their place in the starting XI. The reality though brought home how fragile our squad is. Sean Welsh and Tom Walsh are back in training but not ready for action yet. So, captain Carl Tremarco back in at left back was a no brainer. However, Jamie McCart was dropped to the bench with Kevin McHattie moving to centre back to replace him. That was more of a surprise. James Vincent returned to midfield in place of David Carson with Nikolay Todorov up front for Jordan White. So, three changes, one surprise. Another pleasant surprise would unfold as the afternoon wore on.
Dundee had Josh Meekings in the heart of defence with Dorrans in midfield and Kane Hemmings starting up top.
Other Championship results today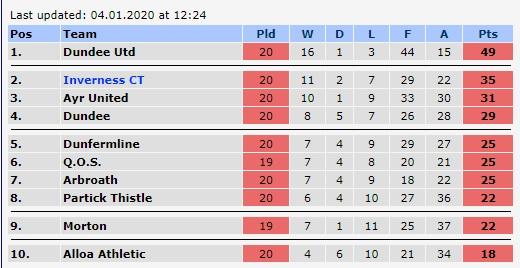 Alloa 1-1 Partick Thistle
Arbroath 1-2 Morton
Dunfermline 0-1 Ayr United
Queen of South 0-1 Dundee United
What the managers said on BBC Sport
Dundee manager James McPake: "You go in and you think you've got the consistency in performances, you think everything's starting to click and then bang - you get that start to the game. We were on the back of a half-decent run, we should have been out of the traps really quickly and starting the game well but today we were really poor."
Inverness CT manager John Robertson: "Today we showed what we are about - hard working, inventive with the ball, a right good team. To come here and win as comfortably as that is a big fillip for us."
Looks like Robbo has signed a new player. Well done big Fillip.

Immortal Howden Ender has this report for us, and just look at his face when he saw the team lines.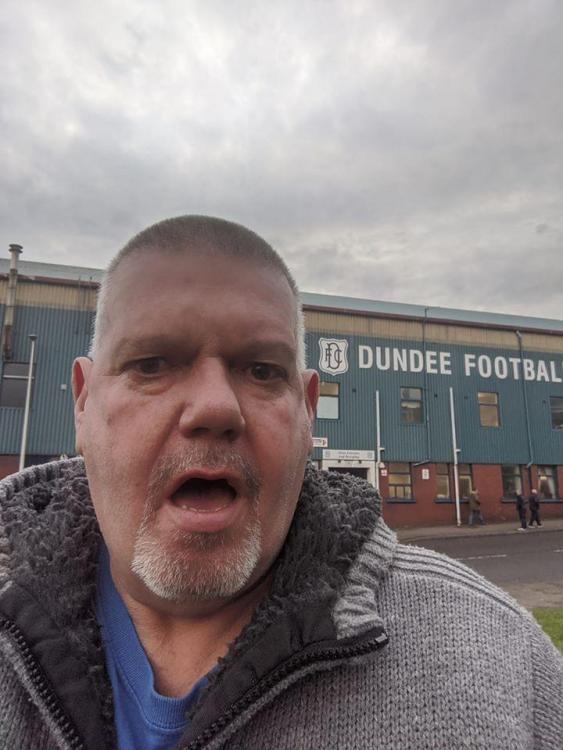 Well I would bet mucho spondoolicks that the 194 ICT supporters who witnessed this performance would rank that first half performance as the most fluent and effective that we have played in a long time. I would class it as entertainment personified and the singing must also class as the loudest and most prolonged in years as well - even though a few idiotic barstewards tried to ruin it. Storey coming off at half time definitely affected the rhythm and Rooney was nowhere near as effective in midfield - although he had done enuff in the first 45 to win the MotM by a country mile.
We started off as a 4-2-1-3 but were forced into a 4-4-2 in the second half. I reckon we would have trounced them if it had stayed the same. We totally controlled the first 15 minutes and then we were treated to the goal of the season which will be very difficult match. McHattie fired a pinpoint 60 yard cross field ball which found Rooney in miles of space. He then moves forward and we expect a looping cross. Well he cut it back along the 18 yard line at pace and DORAN smashed it into the corner. And only seven minutes later Rooney is at it again and at the end of a speedy counter attack KEATINGS coolly chipped it home. And we all thought that Storey had smashed in a second but unfortunately it was the side netting that bulged. And as we drew breath we wondered if the second half would be more of the same.
Alas Storey going off, presumably injured, we probably lost our system. Brad McKay coming on at right full back and Rooney moving into right midfield. Harsh maybe but I feel that we should have taken on MacGregor. But don't get me wrong - we continued to boss the game. We never really looked like grabbing the third but Dundee never looked like scoring either.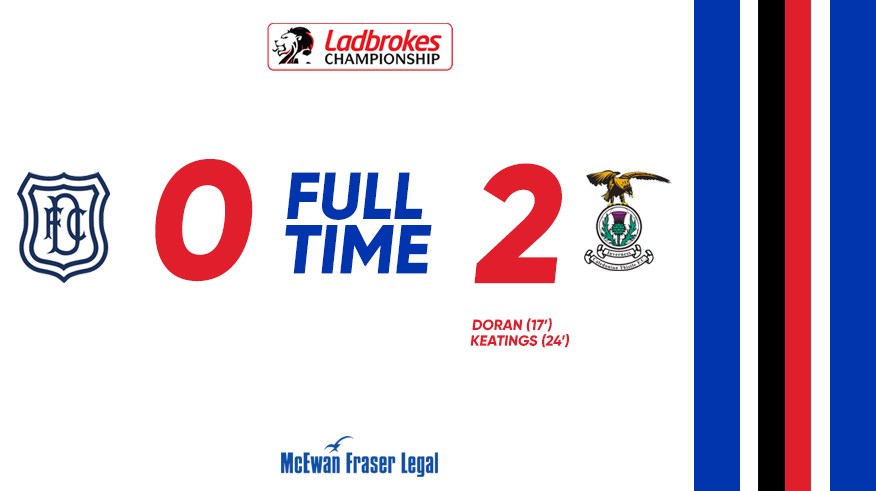 We did play a low lying back four but they won nearly everything and our workmanship and pressing was excellent. The only negative is that we may have lost three more squad players but let's hope that none of the injuries are serious and that Welsh and Walsh will return soon.
So it is a very happy IHE who sips his post match voddie and let's hope that 2020 brings more of the same. 


The scores on the doors..........
Ridgers 
 He is becoming a major bonus. Another deserved clean sheet and three tremendous saves.  
Rooney  
 Simply superb in the first half. Not as effective in the second half when moved forward but covered every blade of grass
McHattie 
 Was unsure to begin with but he and Coll looked like a real partnership. And that pass to start the first goal move was "World Class".
Donaldson 
 Looked more like the Coll of yore. Won EVERYTHING. 
Tremarco 
 Solid if not spectacular but Dundee did play mainly down our right flank.
Vincent 
 I thought that he was superb and you could see him continually supporting and egging on all around him.
Trafford 
 Grafted but defended more than gave anything going forward.
Keatings 
 Very well taken goal. I felt that he too suffered from the enforced half time goal. Desperately needs a striker who knows how to be a foil to a number 10.
Storey 
 Has so much potential but frustrates me that he does not take people on more often. Still a striker to me and not a winger.
Todorov 
 Sorry but had a big chance to make his mark but did little to impress. Simply not a holding target man.
Doran 
 What a finish as only Aaron could do. He is the one person who you think could do something impromptu but lacks pace these days BUT still worth a starting place
Mckay was a bit of a bomb scare at times, Carson is tireless and White looked good and hopefully continues to look over his shoulder at Toddy.
Robbo got it spot on today but I still think that he should have taken on McGregor at halftime but WTF.
And even Robbo the Ref gave us far more than he usually does 
The goals courtesy of Sky Sport Scotland........
Robbo in better tune after that great performance. What a difference a week makes.
---