Bleak House
We were hoping for a White Xmas, instead we got a Dickensian novel, Bleak House, as Arbroath deservedly took all three points with a disciplined performance against a complete team of misfits with only Mark Ridgers earning his crust. The goal came just after the break with Luke Donnelly stroking home after we lost the ball near the visitors box. That triggered a terse exchange between Ridgers and his defence with Rooney the brunt of the exchange. All this came after an eye gouging first half which was topped by a more than inept second half with Arbroath more likely to increase their lead without having to try too hard. You can only paper over the cracks for so long and today we were found wanting as part time Arbroath, not for the first time this season, turned us over.
It's such a shame that a decade of so many highs has ended with an all time low.
Ridgers had to make a great block in the first half and two terrific second half saves to spare our blushes further whilst we were incapable of troubling the keeper who worked harder kicking the mud off his boots on the goal post than dealing with anything Inverness had to offer.
On a weekend when every other result was in our favour, we could not help ourselves, and that's a bit of a concern. In fact, we are almost as close to Alloa Athletic as we are to Dundee United, only one point in it. I suggest we will be closer to the team at the bottom come the end of the season.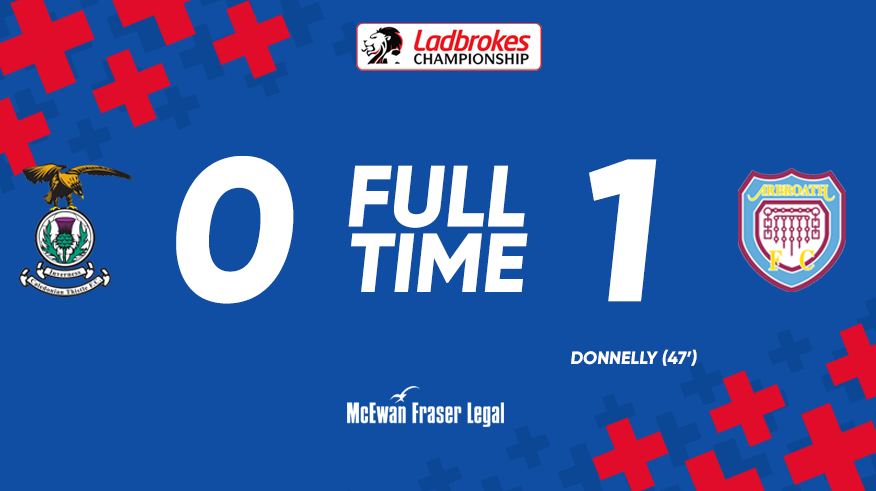 Mark Ridgers was our MotM and that should tell you all you need to know about our inability to trouble Arbroath.
I can't think of any outfield player who deserved passmarks other than possibly Miles Storey who at least put in some effort although not always channeling his runs in the right direction or getting an end product with wasteful crosses. Charlie Trafford made less mistakes than others, but played it safe instead of hurting the defence. 
Otherwise, we were a complete omnishambles.
We remain second in the league for now, but unless we kick on, then we won't be there come the end of the season.
Take nothing away from Arbroath who will be rightly delighted with the result, but this report is all about our inability to play football at a level required for promotion. In truth, the Smokies cigared this, so well done to them for a very successful year 

Manager reaction from BBC Sport:
Inverness CT manager, John Robertson: "We were horrendous, quite as simple and straightforward as that. From the first whistle we looked lacklustre, didn't have any energy, any zip, didn't move the ball about. It looked like the players thought it's only little old Arbroath - little old Arbroath showed exactly what it takes to be a professional football team."
Arbroath manager, Dick Campbell: "Anybody watching the game today would respect what we're about and it wasn't an undeserved result for me. To come up here and score a great goal like we did is fantastic - and I didn't see my keeper having having a lot to do. I couldn't be happier with points, I'm that soft and might give them Tuesday off now."
Angry John...... 

Match reaction on CTO Plenty of unhappy Bunnies.
Doofers Dad: I'm finding it hard to understand that a team that has been playing pretty well recently, who could have increased the gap between 2nd & 3rd to 6 points and who should have felt they had a point to prove after a poor 3-0 defeat earlier in the season at Arbroath, can put in such a truly awful performance.  They should have been really up for this game.  Instead, it looked as if most of them simply couldn't be bothered.  And I don't think I can remember a game when possession has been given away so easily so often. It was like watching a 2nd rate pub side at times.  It was just dreadful.
Jack: I cannot believe the ***** I've just witnessed. We're bloody 2nd in the league and are being played around by a part time team who's main striker works the bin lorry every other day.
Muirtown Jaggy: Slow, predictable, lethargic, sloppy....... it was hard to tell who the part time team was !!!!!!! Absolutely woeful, some players really need to be having a word with themselves. Does Robbo have enough about him to sort this out !!!! Not so sure.
Caley100: That was a feckin disgrace. Total rubbish from start to finish!    You would think Robbo and the coaches would have learned after the last two games against Arbroath what tactics would be an improvement. 
Rig: That was the first time Arbroath have ever beaten us in Inverness and, based on today, it'll be a long time until we beat them again. A truly shocking performance from ICT.
Yngwie: Had a question for you all......
Question: Which spectators sat through both this and the corresponding away defeat? 

Answer: The ICT outfield! ? 


Have a great 2020, see you all then.
 tm4tj and the editorial team 


---
a