Top for four minutes
Inverness blew the chance to go top of the table after Alloa scored in the 89th minute to earn a point with a disciplined defensive performance at the Caledonian Stadium. Take nothing away from Alloa, but we were void of ideas as we struggled to break down the Wasps defence in a frustrating second half. Liam Buchanan opened the scoring as early as the fifth minute and that opened the door for Alloa to flood their defence and employ standard hit on the break tactics that worked well for them as we toiled in a poor first forty-five. The second period saw more frustration for the hosts until we scored from an unlikely source with a stunning goal. A Tremarco corner came back to him at a tight angle. Undaunted, he fired the ball high into the net with his left foot for a spectacular goal with an hour played. We huffed and puffed before Jordan White looked to have won the game with a powered finish in the 85th minute. However, there was a sting in the tail of the wasps after Jamie McCart took the wrong option, eventually putting the ball out for a throw when a pass to Mark Ridgers would have been sufficient. From the resultant long throw Alan Trouten found himself in space to knock the ball home to silence the frustrated home support. James Keatings hit the bar with a superb free kick as the clock ticked down but it was too little too late and we were knocked off our four minute perch. Given that every other result went our way, it was a hugely disappointing outcome. Meh!
John Robertson was without Tom Walsh, Sean Welsh and Nikolay Todorov. Charlie Trafford started in midfield after a good showing in the Challenge Cup game last week and Roddy MacGregor retained his place in the starting line-up. James Keatings was on the bench with other returnees Mitch Curry and Brad Mckay.
Peter Grant's Alloa side saw  Robbie Deas return and Steven Hetherington and Blair Malcolm were fit enough to start, however Iain Flannigan was suspended. 
Just over 2,000 were inside the ground and a fitting minutes applause was offered in memory of former Caley Chairman Hugh Crout who passed away recently.
Within five minutes of the start, Alloa took the lead with Liam Buchanan finishing off a tidy move on the left side of our area. Neat interplay sliced us open and Buchanan added an excellent finish.
We almost responded immediately but Roddy MacGregor's header was well saved by a diving Jamie MacDonald on his line.
Unfortunately, that early goal gave Alloa the opportunity to sit back and soak up what we had to offer, and quite frankly that was very limited and very little. All too often we ran out of ideas and any high balls forward were mopped up by the waiting visitors defence.
Carl Tremarco let fly from distance but his low shot fizzed just wide. He would do better later in the game. A couple of headers well over the bar from Jordan White was all we could muster. He would also do better later on.
Apart from the goal, there was little to enthuse over in a turgid first half for Inverness with Alloa content to sit on their lead, and why not, they deserved it at the break.
Half Time 0-1
If anything, the second half saw the visitors even deeper in their own half as their hosts flattered to deceive. Plenty of possession but too many sideways or backward passes saw the crowd looking for a more direct approach. Alloa on the other hand broke quickly on the few opportunities they got.
White almost got a shot away inside the box as he broke through the middle of the defence but was stopped by a solid challenge and John Robertson, yes, the manager, got the first yellow card of the afternoon for showing his displeasure at some poor refereeing decisions.
Just when we were beginning to think it was not going to be our day, a goal out of the blue from Captain Carl. And what a strike it was. His corner was cleared out as far as himself on the right side of the box. Tremarco never hesitated and fired a tremendous shot high into the net from 20 yards. Spectacular stuff.
The introduction of Mitch Curry and David Carson seemed to liven up our efforts and it looked as though White might have given us all three points when his diving header from a Tremarco cross flew into the net. At that moment, we were top of the league with results elsewhere going in our favour.
However, another lapse from the normally reliable Jamie McCart saw him fail to clear up a ball forward when a comfortable pass back to his keeper would have cleared any danger. Instead, he almost gave away a corner but ended up knocking the ball out for a throw in. From the long throw in, the ball landed at Alan Trouten's feet and he promptly tucked it behind Mark Ridgers for a sickener.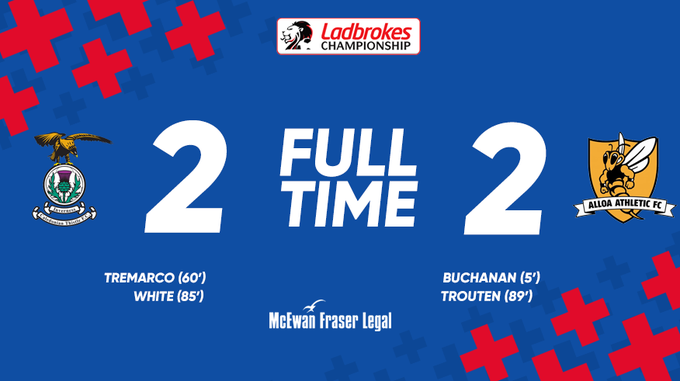 We almost snatched it in injury time when a curling free kick from James Keatings crashed back off the bar with MacDonald stranded, but the rebound was cleared and a great opportunity passed to head the table.
Only ourselves to blame for this after struggling to make headway against a team we beat 3-0 the week before. In saying that, the signs were there in that game that Alloa could cut us open at times and so it came to pass.
Difficult to pick any Inverness players for MotM, but Carl Tremarco gets my nod for his superb strike and assist. Jordan White similarly, and he was fed on scraps throughout the game. Substitute David Carson did his prospects no harm and took the game by the scruff of the neck by driving us forward with a bit more tenacity and urgency. Those who will not be getting any awards are those not mentioned, especially McCart who needs to look for better options than scrambling the ball out after miscontrol and brain farts. Col Donaldson was in his early season mode, miffed at not getting a transfer probably and looked disinterested and Shaun Rooney never really got going. Roddy MacGregor wanted to be busy, but the game passed him by and Aaron Doran did his usual wee circles of nothing. Miles Storey, now there's an enigma and James Vincent was more sideways than a crab. No blame attached to Ridgers, although he did make a meal of a shot that bounced just in front of him, the ball squirming away for a corner with Mark staring at the offending blade of grass. If looks could kill!
Maybe it's time for a wee shake up Robbo.
~~~~~~~~~~~~~~~~~~~~~~~~~~~~
From BBC Sport
Inverness Caledonian Thistle manager John Robertson: "We've let United and Ayr off the hook and that's what disappoints me. To go 2-1 up, if you've got title ambitions you've got to see that out."
Alloa manager Peter Grant: "The boys deserved great credit for the way they kept fighting. I'm disappointed to be going down the road with only the one point."
~~~~~~~~~~~~~~~~~~~~~~~~~~~~
RIG summed it up like this:- 
Donaldson and McCart were really poor today. Despite not being put under much pressure their balls out of defence were absolutely rotten, Donaldson especially, and often set up chances for Alloa to break on us. Storey was poor again and had one decent cross from the flanks. He isn't a winger and struggled there at Partick so why we are persisting with him there is bizarre. MacGregor struggled to create much of note in the middle as Alloa packed the midfield and sat deep. There was zero creativity in the ICT side today to break them down and it would have been very harsh, though thoroughly pleasing, had we won that game.
With Queens getting a superb result today and Morton possessing an excellent home record the next couple of games are going to be a lot more difficult than they might appear on paper.
Did he mean it???
Raging Robbo....
---
a