Pumped Again
As sure as Inverness Caledonian Thistle can beat Ayr United, Partick Thistle can beat us. Partick hold the Indian sign over Inverness this season with another 3-1 win over second place Inverness. James Keatings had levelled an Alex Jones opener for Thistle, but further goals from Steve Saunders and Dario Zanatta made it a long and miserable journey back up the A9. That win moves Partick up to eighth in the table.
Immortal Howden Ender was on hand to witness our demise.......
Ok I have slept on it and my "report" will be more considered, less emotive but still very critical. I suspect that after savouring the win and performance at Alloa and the positivity following the Dundee game I may well have underestimated Plastic Whistle and I feel that the team did as well. We have been crying out for a Plan B and that has been recently been delivered and in some style. There may be a load of armchair managers on this forum but there were a few things tactically that Robbo was blinded to yesterday. You can play the tippy tappy football on 4G or well cared for surfaces in cold and frosty conditions. Robbo has introduced that recently but – when you are faced with a boggy pitch, it is feckin freezing cold, added to by a strong, swirling wind and driving rain (especially in the second half) then the "hoof" is a more sought tactic. McCall sussed us yet again. He played two lines of four playing deep in defence. They only pressed when we were in the final third. They were only too happy to sit back and let us play meaningless passes across the pitch and often played backwards as well. And did we do just that !! And then we did not use the width. When we did go wide we looked more threatening. How many times did Storey run forwards but then stop and play the ball backwards or sideways. Doran simply does not have the stamina and pace in such conditions and defensive set up. But then again we do not have a holding forward or a striker with the "poacher" penalty box instinct. I would also criticize Doran and Storey for not channeling back and that increased the workload on Carson and Trafford. Plastic Whistle had the old head in Kenny Miller (playing in central midfield) and pace up front which made them always dangerous on the counter. BUT we did not revert to the hoof and Robbo stuck by the starting XI until it was too late. Our following was bellowing for the changes eventually made since the hour mark and then it was too late.
We were always "chasing" the game which again wholly suited Partick. Alex Jones, who had been wholly ineffective, popped up early in the second half to put the Whistle ahead. KEATINGS pulled one back and, at that stage, you felt that we would take over. Well we did possession and territory wise but always looked susceptible to the counter. Saunders put those thoughts to bed and Zanatta scored a third with the last kick from an incredible angle. Lets just sum things up as "so disappointing" and three valuable points chucked away.
For once I can see the comments made by both managers afterwards. McCall said – "I was really pleased, I thought it was terrific entertainment. "It could have been 5-3 to us but yes a big three points and takes us above Morton. You are only four or five points off fifth place now so we've another big game next week." It was terrific entertainment for the home fans !! Our three would have come from goalmouth scrambles and/or from dead ball situations.
Robbo replied - "It was a good game, both teams obviously had chances. I thought we were the better team in the first half, a couple of great saves from Scott Fox, a couple of great chances from set plays. And you need to take those chances." We had at least double the "chances" but they took theirs. We were the better of two bad teams at half time. I would have at least doubled our chances from set plays. And Ridgers kept us in the game in both halves with two sensational saves in both.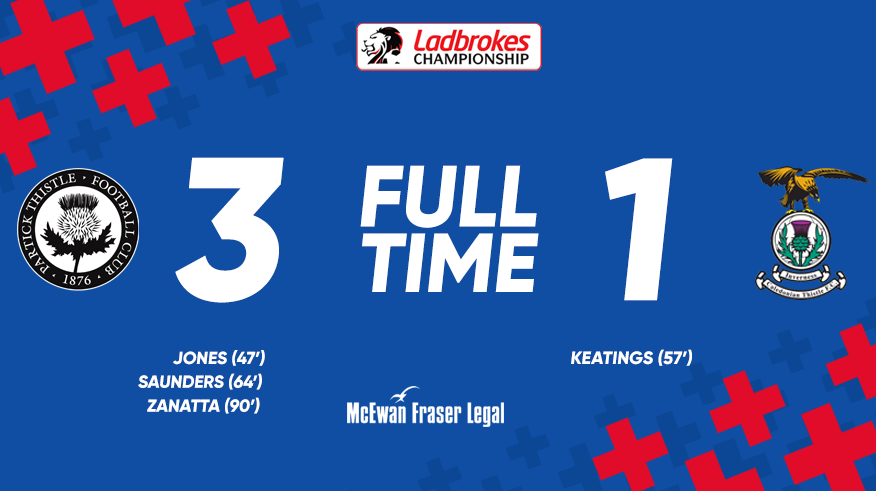 I am sure that there will be a Happy Clapper stating IF we had gone 2-1 up or IF we had taken one of those second half melee chances. There are no feckin Ifs in football. And as for McLean and the stand side linesman it is more shocking proof of the deterioration in standards this season. Although they gave strange and bad decisions against both sides. I am looking forward to seeing the replay of the alleged White "dive" which did look more like a penalty from our distant viewpoint.
Apologies if this Smileymometer is insulting and aggravating but it is a personal perspective and I dare not give points !!.
RIDGERS

– May have fecked up the third goal but he kept us in the game and is the only player close to being a MOM candidate, far less a MOM
ROONEY  ? – Wish that he had been playing wide right instead of Storey. He was the one player looking to drive forward instead of the incessant "Ray Wilkins" passing tactics.
TREMARCO ? – Looked shaded but does not exactly get much defensive support from Doran. Is Carl hitting the end of his playing days ?
DONALDSON ?– Appears to be trying to play in the Virgil Van Dyke mode. Unfortunately looked more like Dick Van Dyke at times yesterday.
McCART ? – Probably came the closest to scoring from the dead ball situations. Defensively and passing wise he was the Julie Andrews beside Dick Van Dyke. Perhaps he should have retrieved Red Cards brolly.
STOREY ? – My high hopes blew away in the Maryhill winds. Why did he not run at the defenders ? I lost count of the times that he stopped, back tracked and passed back !!
CARSON  ? – I thought that he played well and gave his all. Again he rarely got forward and tended to be another Ray Wilkins impersonator.
TRAFFORD ?– Bad day at the office. Gave his all but his distribution was poor and he made no impact.
DORAN ? – Hugged the touchline for most of the game. Did not defend at all. Most of our good stuff came down the right and even Aaron resorted to the back pass.
WHITE ? – I have really tried to give him the benefit of the doubt but he did not win anything in the air and why did we relent with trying to play the ball into his feet. In his defence who was there to play it off to ?
KEATINGS ?– If that was playing number 10 then why was he so deep ? You cant be a playmaker and a No 10. He was deep playing balls into the feet (mainly White) but then who was playing off White. Answers on a small piece of toilet paper.
ROBBO  ? – You should have changed the tactics and McCall sussed that.
Keatings Overhead. Boom !!!!!
---
a