---
No goals for six months then nine TEN in the opening pre-season fixture......
ELGIN CITY 3-7 ICT FC (Keating 3, 54pen. Todorov 22, Storey 75, 83. MacGregor 77, 85)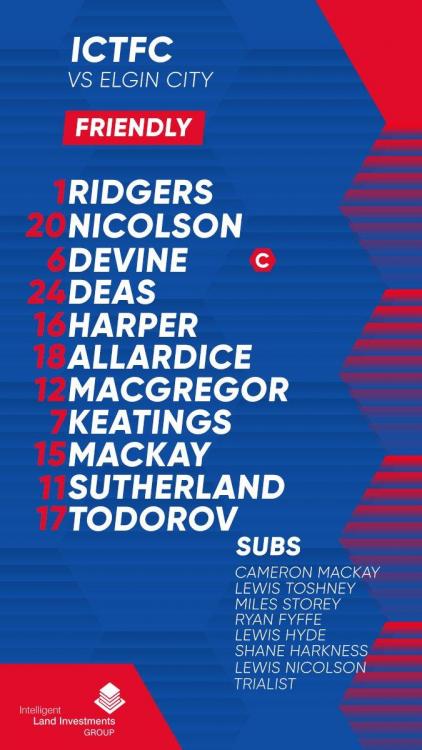 3: GOAL! We have the lead through @jameskeatings as he unleashes a great strike from about 25 yards and into the top corner! Screamer.....

12: Scott Allardice goes close for the Caley Jags but his effort is just wide after a corner made its way to him at the back post.
22: GOAL! A low finish from @NNTodorov from just outside the box makes it 2-0 to the Caley Jags! 

29: Goal! Elgin have one back as Hester cuts inside and fires a low strike past Ridgers. 

45: Almost a second for Nikolay Todorov but his effort at a tight angle is just wide. 
Half Time 1-2
54: [email protected] makes it 3-1 from the penalty spot!
70: Goal Elgin grab one back. Hester has second as he finishes from close range.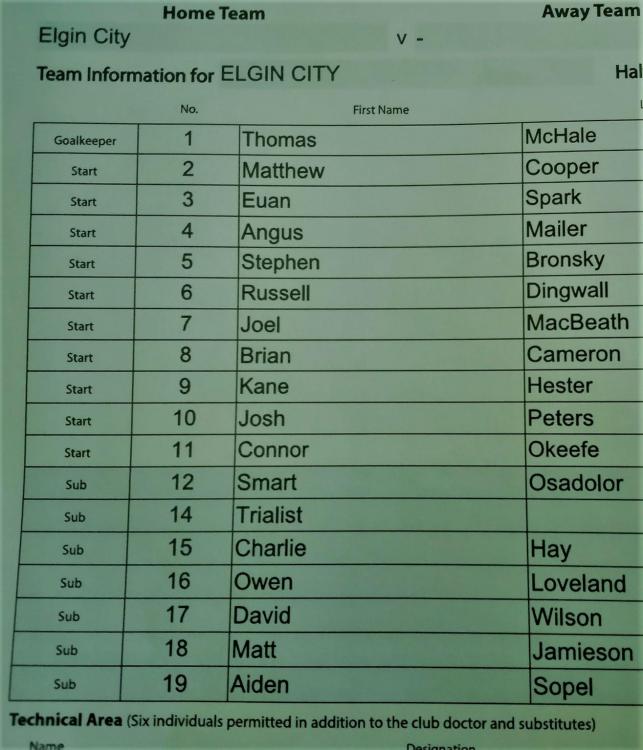 75: GOAL! Miles Storey makes it 4-2 to Caley Thistle. Great pick out from Cammy Mackay as his pass send Storey clean through and he made no mistake in front of goal.
77: Good save from Cammy Mackay as he keeps a powerful free-kick from Kane Hester who is on a hat-trick.
78: [email protected] gets Caley Thistle's 5th goal of the afternoon. Good play from Shane Sutherland in the box and his shot is deflected into MacGregor's path for a tap in!
80: Goal, Elgin get another back. Stephen Bronsky heads in from a corner to make it 5-3.
83: GOAL! Miles Storey gets his second of the afternoon after Shane Sutherland plays him through on goal.
85: The Goals are flying in here! A second goal for @MacgregorRoddy as he cuts inside in the box and finish well!
~~~~~~~~~~~~~~~~~~~~~~~~~~~~
~~~~~~~~~~~~~~~~~~~~~~~~~~~~
Highlights from Elgin City FC
#################################
Nairn County 0-7 Inverness CT
Tuesday 29th September
################################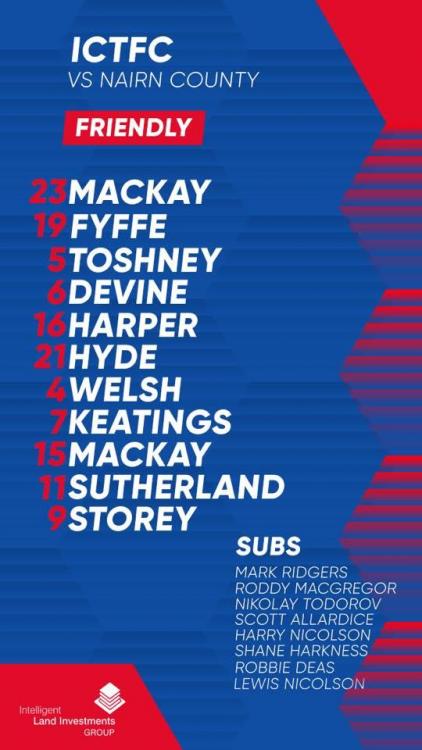 Another closed doors friendly was played at Station Park Nairn with Inverness scoring seven goals for the second game running.
Goals from Sean Welsh (3), Daniel MacKay (16), James Keatings (25), Lewis Hyde (30), Miles Storey (32), Shane Harkness (79) and Nikolay Todorov (81) rounded off a comfortable win with Inverness five ahead at the interval.
Nairn managed to live stream the game through their YouTube Channel and the game can be seen on the attached video.
OFFICIAL MATCH REPORT FROM ICTFC
"It was always about attitude in these games and the attitude on Saturday and tonight has been fantastic. That's exactly what we're looking for." ICTFC Assistant Manager Scott Kellacher gives his thoughts on tonight's 7-0 pre-season friendly win against Nairn County
Full game................. almost.
#############################
Friday 2nd October 19:30
CLACH 0-2 INVERNESS CT
ICTFC Starting XI
Cammy Mackay; Brad Mckay, Ryan Fyffe, Harry Nicolson, Lewis Nicolson, Lewis Hyde, Kane Davies, Robbie Thompson, Shane Harkness, Daniel MacKay, Harry Hennem. 
Subs: Mark Ridgers; Kenny MacInnes, Ali Riddle, Dean Boyce, Ethan Cairns, Caillean Eaglesham, Jacob Kerr.
Goals from Robbie Thompson and a Daniel Mackay penalty saw a mainly youthful Caley Jags side lead 2-0 at the break.
Everyone except Mark Ridgers got some game time but there was no further scoring after the interval.
#############################
Sat 3rd October 2:00pm 
Inverness CT V Elgin City.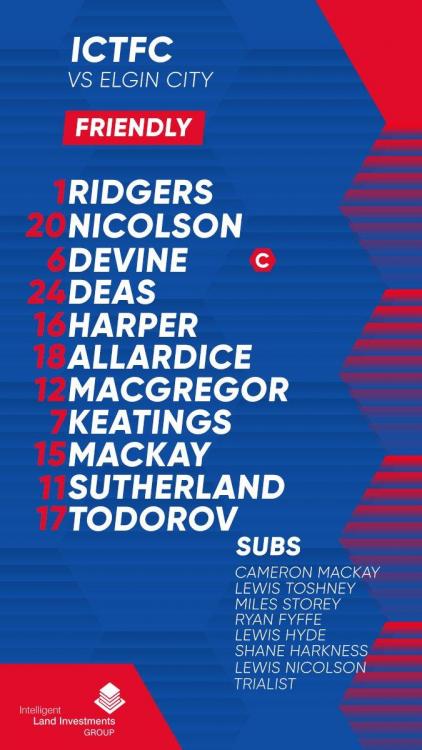 Some guys are hardier than others, and here's a socially distanced report from Sandy loon.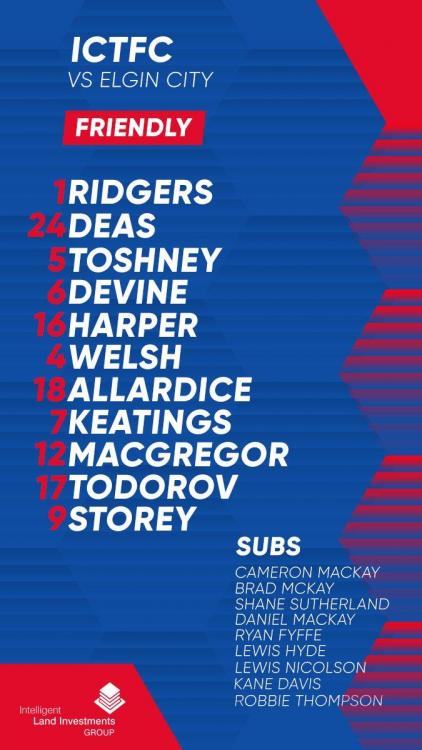 Watched from the A9. Whilst a friendly, it was our last one before competitive action. I was concerned today with our defensive frailties and lack of creativity going forward.
Early doors but my observations as I saw it today.
Defence? Deas needs to play CH. Toddy is not a CH. Devine was a bit suspect. Fyffe and Harper both did well. 
Allardice did okay but doesn't offer a lot (Trafford on his bad days). Missed a driving midfielder like Carson today. Welsh was our MoM. MacGregor is wasted out wide, had a very quiet game. Storey was his usual, 1st half when wide would create space then mess up his shot or cross. When up front, struggled to do much, would lay of when he had time to turn. Keatings had some good turns/passes but doesn't offer enough as a number 10. Think we really miss someone to run beyond the striker and give us depth/trouble the oppositions centre halfs.
Toddy did okay first half up front. Took his goal well. Dan Mackay wide left, came on a fluffed a great chance straight away but thought he looked sharp. Sutherland was pretty anonymous out wide. Brad came on at half time and was solid enough. 
Poor performance all round, City looked slicker going forwards and organised at the back. Very concerned for Tuesday night. 
Highlight of the day was a drunk Elgin fan going for a pee in the bushes, slipping, sliding down the hill and ending properly lodged upside down in the bramble bushes. Amazing moment! 



*****OFFICIAL REPORT FROM ICTFC*****
Robbo in the rain. Happy birthday by the way!
And here's Danny boy a couple of days ago.
---