Rendalls Rambles #9
The final two seasons from James in his wonderful nostalgic look at 25 years of Inverness Caledonian Thistle and more, from the first game at East Stirling to the last game at Tannadice in the play off semi-final. It's been some journey and the roller coaster that is following the Caley Jags will continue; for better or for worse.
The Inverness Caledonian Thistle Years #ICT25
No.24 (Games 1,125 to 1,204)
Old familiar: After the trauma of the previous season and the agony of the narrow margin which saw us relegated, it was good to see a sensible choice in manager come to fruition. It is said, never go back, and in the case of Craig Brewster it hadn't worked, but Robbo is folklore in Inverness, he was the man who guided us into the top flight all those years ago. Now he was tasked with ripping up the squad and starting over. It was never going to be easy, and the early results were typical of a side who had just come down. I am sure though, as October and November clicked round some of us were remembering the run we put together to get us immediately back up previously!
It was an inconspicuous start to my viewing season, a turgid 0-0 at Stirling (not the first in recent history) followed by a narrow 2-0 penalty shoot out win, the lowest penalty shoot out win in Scottish history ☺. Having taken Dunfermline apart in the League Cup at East End last season, they got early August league revenge this time around, as we went down 5-1, and we knew it was going to be a long season. Hapless Brechin were thumped 4-0 at the iconic Glebe Park, but the next time we pitched up there in late December they still hadn't won a game and ran us close, however we came from behind to win 3-2. In October a 2-0 win at Tannadice was the catalyst for thinking we were ready to go on a run! Bedding in for a point at Livingston wasn't all bad, they rather disturbingly from an ex-Meadowbank perspective were going well.
The goals dried up, but Robbo was endeavouring to get our defence more solid too, and the leaking of goals also dried up. We were becoming tougher to beat, and another 0-0 with QotS at home was case in point, then a narrow 1-0 win over Dumbarton in early December, the first time we'd met the Sons at home in a league game! Morton nibbled a 1-0 win at Cappielow, although I have a vague recollection this was a dubious penalty?! Post Glebe joy, we toughed out a draw to open the New Year 1-1 with Livi, but it was a real quality game, before losing again in Renfrewshire at the Methadome. More élan was on display as we sweep QotS aside 3-1, but going down at the Bairnabeu by the same score was making this season seem like a game of snakes and ladders, no consistency. The score was tighter but the Pars won 1-0 at Parslandia, a team that would inadvertently come back to bite us a few months later. While the league results were up and down we had found ourselves in the Challenge Cup Final having seen off Northern Ireland's Crusaders amongst others. Dumbarton were in the final too, a first final for 100+ years! They nearly took us all the way, but a late, late goal won us this gong again and sent the Sons back to the Rock with nada! That result did inject impetuous to a late charge for the play offs, and when we played the Sons in mid April the Pars management were hiding amongst the ICT fans running their eye over our form. We won that night 1-0 and four days later we were on our way leading Dunfermline 2-1 until a late equaliser meant that they had the advantage going into the last game, at home to play out bound Dumbarton, and they saw it through, we ended fifth. We'd left it too late, but signs of green shoots were visible in our play. It was encouraging, unlike my solitary peek at Scotland's continued European debacles. St Johnstone having lost out to Armenian debutants Alashkert last term went and did it again, this time with a home loss to Trakai from Lithuania! 
The most unusual friendly ever, saw Stranraer entertain Twente Enschede on a glorious day down at Stair Park. They got thumped 5-0 but that was never the point, the bandstand outside the ground was a kitchen for the evening, as food, drink, dance and friendships were made, an absolutely brilliant day. Buckie came down to Cowdenbeath in the League Cup, a sample of what might have been had the Moray boys got past East Kilbride at the end of last season. The Fifers won 3-2 but they'd have more Highland battles by the season's end. Brora were also in Fife in the Challenge Cup, they lost 3-0 but it was a cruel scoreline on a brave open performance at Raith, but in January they'd be along the road at Methil beating East Fife 1-0 in the 4th round of the Scottish Cup. Spartans were regularly viewed and CSS, Dalbeattie, Gala and Edinburgh Uni were all beaten home or away as they headed towards a terrific Championship winning season culminating in a 0-0 with East Stirlingshire, which was enough courtesy of Stirling Uni stunning East Kilbride. They also hosted Linfield in the Challenge Cup, coming up just short of a shock. The league below the Lowland, the East of Scotland League was now a step on the ladder to the league football and the inaugural Junior defectors Kelty Hearts were run close by Lothian Thistle Hutchison Vale, but when I saw them play Tweedmouth they won big 11,1! That was part of a weather hampered groundhop, which included a Burntisland home game for the first ever time for me, and a first ever Shipyard goal in a 2-1 loss to Preston Athletic. The final game of the day saw another first, my first ever indoor game at the Oriam, a cracking 2-2 draw between Heriot Watt Uni and Leith Athletic, whose equaliser still ranks amongst the best goals I have ever seen. I continued seeing Spartans on occasion as the title came closer, going down to Innerleithen and Hawick to see them win. I then found myself in Castle Douglas for the first ever South v East play off for promotion. A tight first half led to a four goal Kelty blitz in the second. Threave's trip north was a mere formality the following week, and having nipped up for the second half from Cowdenbeath, it was 6-0 to the Fifers at the break, and remarkably they failed to add to the score in the second. Cove fell short at Central Park where dubious officiating had played with the Cove heads, aiding them losing 3-2 as Dung for a second successive season had survived, just! The domestic season ended with Kelty winning the very old Kings Cup 6-5 on penalties after a 1-1 draw with Preston Athletic at Dalkeith.
~~~~~~~~~~~~~~~~~~~~~~~~~~~~~~~~~~~~~
The Inverness Caledonian Thistle Years #ICT25
No 25 2018/19 (Games 1205 to 1310)
So nearly joyous: With the 26th league campaign of the Empire starting out next Saturday, it seems appropriate the curtain comes down on a quarter of a century of memories on Mother Inverness with the final recollection here. Of course it all ended so horribly last May in Arabia, and guess where it all starts on Saturday? Yip back in the sands of Arabia, in a street we will be well familiar with by the end of August as today (Jul28th) we play Arabia's near neighbours, the Dee and again in under 4 weeks! Passport obliteration with Arabia stamps ?. But one is jumping the gun ?, lest we wind back the clock just over a year.
France hadn't lifted the World Cup yet when we trotted out at home to Cove in the League Cup! The first game of any new season, always a bunting kind of occasion, and against the crack Highland League winners so cruelly denied at Cowdenbeath a few weeks earlier. However, before a ball was kicked the first disappointment of the season? You will notice in the photo below an array of programmes, from the English 6th and 7th tier, the Scottish 5th and 6th tier and even the German 3rd tier, but not one Inverness souvenir of the season ?.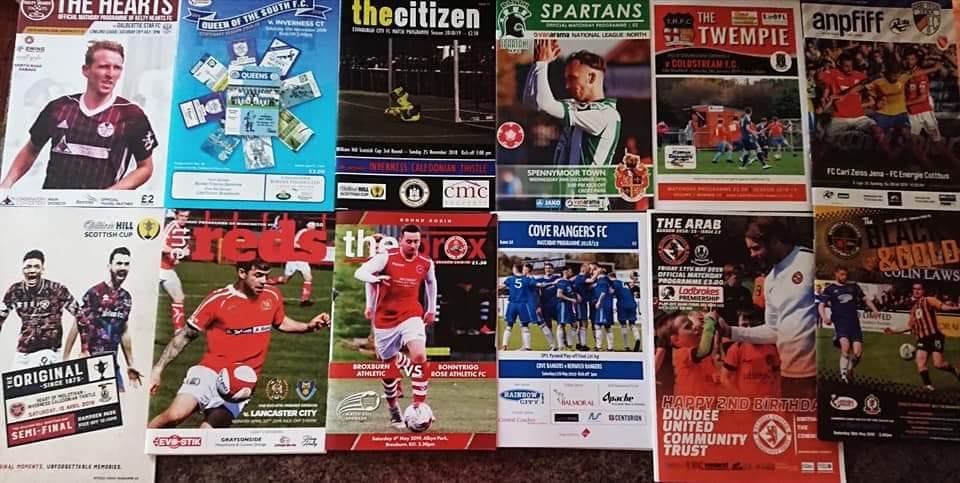 We have gone digital, and I for one am not happy. It is a cheap cop out, and a tawdry online effort too! The programme might be a diminished notion in the eyes of some, but it is still a highly treasured item for those who love their football. The club should at least offer a printed version at a cost if anyone wishes to have a hard copy, and they should at least attempt to make even the online effort worthy of people looking it up! I see this malaise continues in the north with Peterhead joining the ranks this season. But not to have a feature celebrating the first 25 years in a traditional programme, it's shabby. Rant over! ?. You'll find me contributing to the Aberdeen programme for the Euro clash with Chikhura and if they progress, Rijecka! They put together a programme together that they can rightly be proud!
So we saw off Cove 2-0 on a bright mid July day and trotted into Tynecastle with a maximum nine points having thumped Cowdenbeath 5-2, but we got a right doing that day 5-0 against a team we could benchmark ourselves against later in the campaign. The league opener saw us collect all three points from the Bairnabeu, 1-0, and a few weeks later having drawn at home with new boys Alloa and Ayr, Dunfermline were despatched convincingly 3-0 at Parslandia. The squad hadn't altered hugely, the confidence of the near play off late charge last season was still there. But it somehow got bogged down in too many draws and we started to lose touch with those who were collecting three rather than one point. By late November we were still unbeaten, and I hadn't been at an ICT game since late August due to a variety of trips and other sundry debacles, but the club record unbeaten record was close. It seemed to be going up in a puff of smoke, but remarkably the metal of the team was shown, racing back from three down at Palmerston to get a draw, indeed we nearly won it! Alas, an inability to beat QotS and struggles versus Alloa were two reasons we would fall short of challenging for the top spot. In the Scottish Cup at Edinburgh City, the drawing theme continued in a game we seemed comfortable but were ultimately hanging on. 
By the start of 2019 the unbeaten run was over, but the draws kept coming, 2-2 at the Bairns in a game that really ebbed and flowed, but the second trip to the Pars saw us lose 1-0, followed by a similar score at Arabia, albeit via a dubious penalty. It was all slipping away, enthusiasm started to dampen. When I next pitched up it was Hampden, sandwiched between trips to Italy and Germany. Hearts fans were nervous and unlike the 5-0 drubbing we were in this. Even after falling behind we came at them strong, and had it been a right footed player whom tackled Mulraney it would have been more obvious that ball came of the Hearts players foot and no offside would have denied McCart's exquisite finish. The JT keeper had a magnificent save and from then our fight back petered out as Hearts found a little confidence and ran out 3-0 winners. 
We made the play offs, a first for the club, and we kept our fine hoodoo over Ayr with a good win down at Somerset Park in the first joust 3-1. It all seemed to be coming together nicely, how marvellous would it have been to end 25 years back at the top table. Alas the officials had other ideas, and Liam Polworth's last contribution to the club was a harsh red in a tight first leg at home to Arabia. However that incident pales into insignificance along side ridiculous penalty award they got just ahead of the break in the second game. It was the straw that broke the camels back, as up until that moment we were in the game. Karma comes in a variety of forms, but Arabia missed ALL the penalties versus St Mirren after two tedious play off final encounters. We will trot out there next Saturday looking for revenge!! 
However, James is a man of many stadiums and here's an insight into how he spent his non Caley Jags time last season........
The season started for me on the 5th July at the Bairnabeu when East Stirlingshire were hosting Frickley?! And two days later Wick beat Orkney in a thriller up north!! Cove were back at Central Park for a re-match in our LC group, but this was a tame affair, the Fifers prevailing 1-0, before zipping up to Kelty to see Brora beat Clydebank 2-1, as you do! The Spartans entertained Killie in the LC too, losing 3-0 but putting in a brave shift. Hibs were in Europe and this time I saw all the goals as they roared back from 2-0 down to Greek side Asteras Tripolis to win 3-2. They then hosted Ole Gunnar Solskjaer's Molde as he showed his Man United credentials with a 0-0 in Leith ?. 
Kelty Hearts had been promoted to the Lowland League at the first time of asking and hosted Dalbeattie in their first ever game in that league. It ended 2-2, but exactly a year on, the same fixture ended 8-0 yesterday with Nathan Austin getting a brace. My Football Weekends escapades took me beyond Inverness to Golspie to cover the Scottish Cup tie with that other great Cup name Burntisland Shipyard. The Shippy are now semi professional having ditched the amateur status and won here relatively comfortably, 4-1, and I saw them host Bonnyrigg, a side who beat them 14-0 as amateurs last season. The same 4-1 score for the Rose, but it flattered the visitors. The explosion of East Juniors into the East of Scotland League spiced up the entertainment locally from that league. At the lower end of the leagues you have to admire the commitment of the players and back ground staff, as well as programme producers for the sheer effort and love of the game. As money continues to ruin the game at the top end, it is wonderful to enjoy merely a game without all the nonsense! A host of new venues were experienced. Tranent, without Ian Black lost 1-8 to Bonnyrigg, but with him, they would end the season in sweet revenge beating the Rose to win the King's Cup. By season's end Bonnyrigg were floundering, having won the most astonishing conclusion to the East of Scotland League season only to find out days later the SFA had denied them a license. It ruined a potentially significant haul of cups, but they won the league, and eventually commonsense prevailed as they were promoted. I saw the first Lowland fixture yesterday and intent was signalled with a 6-0 thumping of Vale of Leithen. It will be intriguing to see how they go at Berwick on Tuesday, teams who were two leagues apart last season! 
I was at all three of the one off title deciders in the East of Scotland League with Penicuik narrowly seeing off Broxburn, and then they lost narrowly at Bonnyrigg. The final game at Broxburn had everything! Leading 2-0 and Rose down to ten men, Broxburn were winning the title. At 2-1 Penicuik were Champions, then at 2-2 Rose ? were back on top. In the final seconds as Broxburn looked for the winner, the ten men broke free and scored to win!! 
I ventured down to Annan to see Fraserburgh beat this joke side Edusports, now moved to Strathclyde Park and called Caledonian Braves, is this some American franchise?!! Brora fell tamely 1-0 at Cowdenbeath in the cup, while the CSS stalled East Kilbride's title charge with a 3-1 win. There are too many to go through the lot, when the dust settled on last term I had been at 105 games! I had never been close to that number previously. 
Meanwhile, back to the task at hand, the celebration of 25 years of Inverness Caledonian Thistle, and James has the last words on his voyage..........
What a season that was, what a quarter of a century for ICT too! A Scottish Cup, third in the league, two Challenge Cups, playing in Europe and a host of drama aside. I hope I have caught a flavour of the times here over the last six months. Fingers crossed for a fantastic 26th season, starting soon at Dens!!




Thanks James for sharing 25 years of the Caley Jags. Here's to more success and the next 25 seasons of our club.
James' own blog of his worldwide football adventures can be found HERE.
Enjoy