Thistle be the day
Draw specialists Inverness head to Firhill on Saturday to take on Partick Thistle in the Championship.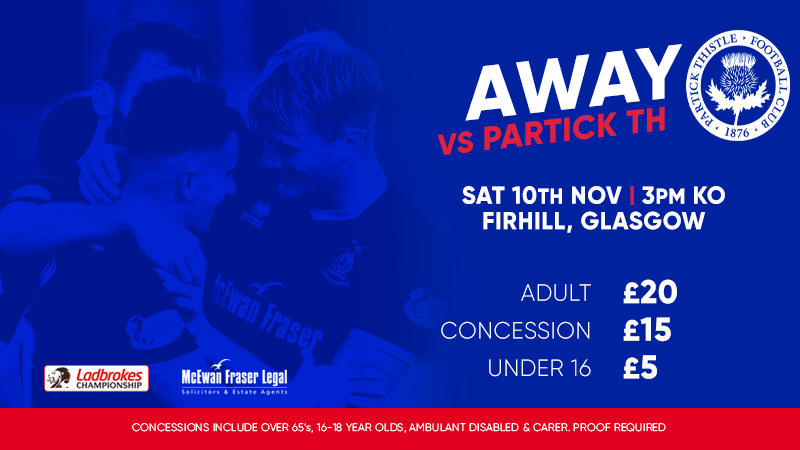 Last weeks draw against Ross County was the seventh in a row and that extended the unbeaten run to a record twenty-three games. It wasn't for the want of trying in the derby but few watching could be disappointed in the manner with which we applied ourselves and we were unfortunate not to take all three points.
Caley Stan has checked out the opposition and he has this informative preview for us...........
On my way home from Waitrose the other day, I stopped for a coffee in Artisan Roast Stockbridge and quietly pondered some way to construct an opening to this preview that included a disparaging reference to Partick Thistle fans' middle-class, hipster, bohemian, pseudo-intellectual pretensions, when who should appear out of the Mellis Cheesemonger sporting the famous red and yellow hoops, but The Hoff himself. Beyond parody.
Hassellhoff has previously sought to justify his support for Thistle on the grounds that they represent something beyond geographical or tribal identity, and they must have picked up a few fans over the years by simple virtue of not being Rangers or Celtic. But with attendances at Firhill starting to sink below the 3,000 mark, I suspect we won't see many of those folk tomorrow. I might be wrong, but I assume most Partick Thistle fans, like the rest of us, identify with the club because they grew up near the ground, or their dad came from round there.  
One thing's for sure, they're not glory hunters. With just two major honours to show in a 142-year history (the 1921 Scottish Cup, and the 1971 League Cup), they haven't been in a major final for sixty years. This is particularly surprising when you consider that they played in the top league for most of the 20th Century, never experiencing a sustained period in the second tier until the late 1980's.
 History of the Fixture
Won 11 Drawn 10 Lost 13
The teams first met in the opening game of the 1998/99 Second Division season. The Maryhill club were playing in the third tier for the first time in their history, and we came into it off the back of a mid-table debut season at that level. It was a tense affair with one moment of true quality on the hour mark when a delightful through ball from Charlie Christie was buried from an acute angle by Barry Wilson. We rode our luck for the reminder of the game, Jim Calder making a number of decent saves, and departed to a stream of Highlandphobic abuse from a home support whose club had just reached a new low. Their true nadir was to come later in that season when they avoided another relegation by a single point. Meanwhile, we were promoted comfortably, winning 3 of the 4 games against them in the process.
It was another 2 years before we saw Partick again, and by the end of that 2001/02 season we were glad to see the back of them as they ruthlessly re-established themselves as Scotland's premier Thistle, winning 3 out of the 4 league games with our solitary victory coming after they had already won the First Division. We also played them in both cups, coming out on top in the League Cup 2nd Round in Inverness on penalties after a 3-3 draw – Barry Robson notching a double and scoring the winning penalty. But it was the was Scottish Cup Quarter-Final of that season that will be remembered most of all. These were the biggest games the fixture has seen, with a crowd of 8,700 taking in the 2-2 draw at Firhill and over 5,000 attending the replay despite the SFA's controversial decision to stage the game underwater. Maryhill Mod Scott Paterson scored the only goal, a decent free-kick in fairness, though I'd like to see Nicky Walker's starting position.
After a brief skirmish in the Court of Session in the summer of 2004, the clubs reconvened on the pitch for the 4th Round of the 2005/06 Scottish Cup. The tables had turned once again, we were enjoying a second season in the SPL while they were back in the third tier after successive relegations. They came up to Inverness and kicked us off the park before Mark Roberts scored an underserved equaliser with a 93rd minute penalty that he had dived to win. The replay was turgid, on TV, and we went out on penalties.  The next meeting, another 4th Round Scottish Cup tie in 2009, saw a very different Caley team run out 3-0 home winners – Felipe Morais scoring a double. That stands out as a very strange result in retrospect – Partick were having a decent season in the First Division, and we were coming into it off the back of six straight league defeats – it was the week before 'shoes off', a seventh defeat at Hamilton, and the final departure of Craig Brewster.
The following season we shared a league for the first time in eight years, losing the first two and winning the second two in line with our form that year, and Partick joined us in the top flight for four years in 2013. Over that spell we won just two of the thirteen league ties between the sides, despite finishing above them in three of the four seasons, and, of course, knocking them out in the 5th Round of the 2014/15 Scottish Cup…….
Teams and Tactics
Partick Thistle fans seem to have given up trying to analyse performances recently and spend their time online howling for players to be removed/imprisoned/murdered etc. so it's been tricky to work out how they line up. From what I can gather, Caldwell's been playing some kind of 4-5-1. The persistence with a misfiring Miles Storey has been a particular source of frustration, while a recent injury to Kris Doolan has given opportunities to Jai Quitongo and our old friend Andrea Mutumbo, with neither making much of an impact.
Robbo has persisted with the 4-2-3-1, although he's always keen to bring on a second striker and go more direct when we're not creating. With Oakley and Austin now fit, he may find it increasingly tempting to return to the shape that he started the season with.
The termination of Riccardo Calder's contract and the ongoing absence of Carl Tremarco with a thigh injury leaves us without an experienced left back for tomorrow's game. Joe Chalmers has played there before, but it wasn't pretty, and Cameron Harper's first team experience is limited to a farcical four-minute appearance at East End Park following a team-sheet error. Robbo has stated in the past that he feels Harper is ready to step in if needed, but in the aftermath of Calder's dismissal this week, he suggested that the club may look to recruit a free agent to cover the position. Shaun Rooney has not recovered from the knock that forced him off in the derby.
The Riccardo Calder situation has been dealt with by the club and they released This Statement. In effect Riccardo has left the building.
The Official Site has a Preview with more detail and Robbo chat.....
League Form
Thistle: LLLLLLLLLLLLLLLLLLLLLLLLLLLLLLLLLLLLLLLLLLLLLLLLLLLLLLLLLLLLLLLLLLLLLLLLLLL
Thistle: DDDDDDDDDDDDDDDDDDDDDDDDDDDDDDDDDDDDDDDDDDDDDDDDDDDDDDDDDDDDDD
Prediction: zzzzzzzzzzzzzzzzzzzzzzzzzzzzzzzzzzzzzzzzzzzzzzzzzzzzzzzzzzzzzzzzzzzzzzzzzzzz