Not such a gay day
It was all hands to the pumps as Inverness hosted the LGBT march, but it was not such a joyous day at the Caledonian Stadium as we let slip another two points in a 1-1 draw with Morton. Charlie Telfer scored early doors for Morton and Jordan White replied just before the interval. Ryan Scully pulled off a string of unbelievable saves to earn a point for the Ton.
As Larry Grayson would have commented. "What a gay day", however, not so on the football pitch as Inverness once more struggled to get the better of an average Morton side who shipped five goals at home to Ayr United last weekend.
Robbo went unchanged again much to the chagrin of the meagre home support noted at just over 2000. That meant Jordan White started with Daniel Mackay, Nathan Austin and Riccardo Calder on the bench.
Morton had Michael Tidser fit enough to start, he had been a doubt prior to the weekend.
Similar to last week, Inverness took ten minutes to find their feet. By then we were a goal down after a series of defensive blunders and wayward passes opened the door for Morton to take advantage. They did just that after intercepting Brad Mckay's soft pass and a few deft touches later Charlie Telfer drilled home Michael Tidser's cut back. Sloppy stuff from Inverness as the visitors deservedly went ahead.
It was fifteen minutes before we threatened when Donalson headed wide and five minutes later a Mckay effort was deflected wide after a corner by Joe Chalmers.
The home support had seen it all before as we struggled to make much headway even when the visitors threat was on the wane. We badly needed an injection of pace and quality in the engine room, but that was sadly lacking once more as our predictability took over.
We were beginning to get on top of the game now and Scully did brilliantly to deny Aaron Doran with a low save ten minutes before half time.
With the break fast approaching a piece of genuine skill from Jordan White leveled the game. I never thought you would see those two words in the same sentence, but there you go. Coll Donaldson put a ball forward into the heart of the box where big Jordan defied the odds to control the ball, turn and flick it past Scully for a sensational goal. Eat yer heart out Messi!
Half Time 1-1
Robbo wasted no time to alter his tactics as he went 4-4-2 by removing Jo Chalmers and introducing Daniel Mackay to the proceedings for the second half.
However it was Morton that almost went back in front as Sean Welsh cleared a looping header from Tidser away from the goal line.
Riccardo Calder was then brought out, replacing Aaron Doran and the crowd sensed a bit more urgency with the two subs on the park. Unfortunately the final ball still eluded everyone and Ryan Scully was soon to be the chief villain.
Donaldson made a tremendous block to deny Gary Oliver a clear shot on target as the visitors took control of the midfield, Inverness reduced to chasing shadows at one point.
Half an hour left and we started to get back on the front foot, Calder heading over and Donaldson flashing a shot wide from outside the box.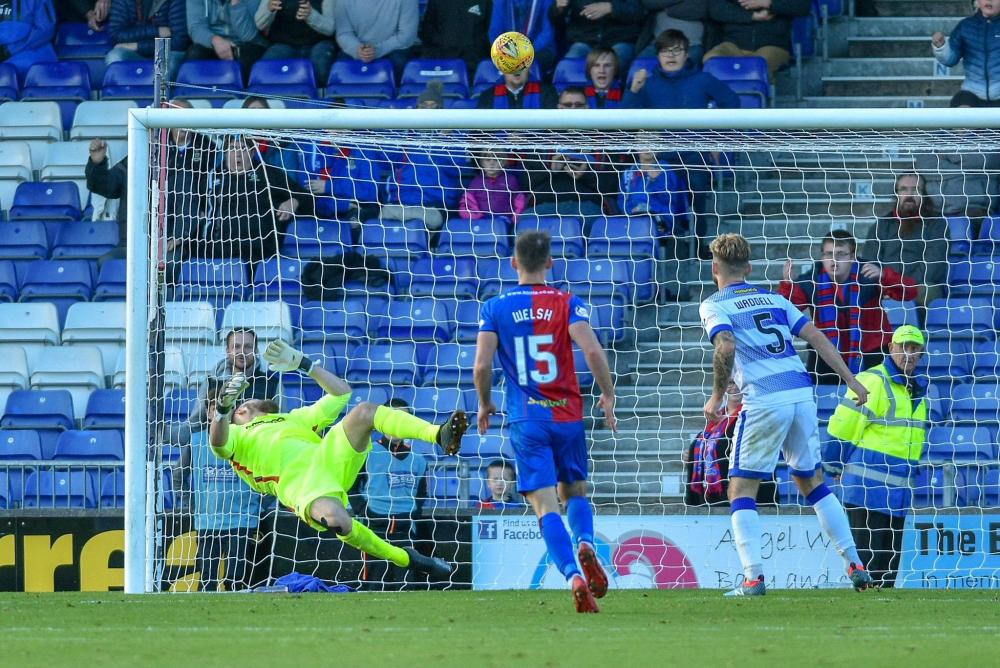 Nathan Austin joined in for a final flourish but Scully was the man of the moment as first he broke Daniel Mackay's heart with a stunning point blank save from the young strikers close range shot. Mackay could not believe it as he covered his head with his hands, Tully flying across goal to keep the ball out. What a save! He would repeat his heroic performance as he touched a Nathan Austin header over the bar when Austin ghosted onto a forward ball almost nicking it over the keeper who finger tipped the ball over for a corner. Great stuff from Scully, the North Stand crowd looking on in disbelief. What a Scullywag!
Big penalty shout at the end when Tremarco went down in the box but nothing given although Robbo confirmed after the game that Carl has stud marks down his thigh. Meh!
Full Time 1-1
We finished the game well on top but it was another case of too little too late, a bit of a recurring theme at the moment. Morton had come out of the blocks flying and were behind before we ventured forth. I reckon this was certainly an upgrade from the Queens performance, or lack of one. Had Ryan Scully not made three outstanding saves we could have won this game, but credit to the Irish keeper he was on fine form and is my MotM. Once again our best performers were in defence and Coll Donaldson was again outstanding at the back and not afraid to drift forward and have a go.
Food for thought again for Robbo and despite his stunning goal, White is maybe a bit ponderous and Austin, D Mackay and Riccardo Calder will be knocking on the managers door looking for a start next time out.
By the way, here's how the official Morton twitter account saw Scully's saves:- 84' That is extraordinary from Scully! The Ton goalkeeper somehow manager to flip Daniel Mackay's close-range snapshot up onto the bar and over. A jaw-dropping save. 86' He's at it again! Scully flips Austin's looping header over the top just as it threatens to drop over him and into the net. And a Morton fan commented thus;- "In all fairness. That save Scully made towards the end of the game in top corner from 6 yards has to be one of the best saves I've ever seen live. I believe reactions and reflexes! A save that would go viral if he was De Gea or Lloris!
Footage now available.................
Here's Robbo talking after the game........
---
a