New Year, Old Habits
These two sides have had twenty draws between them this season and it was heading that way until Tom Walsh opened the scoring with twenty minutes left. However, Queens snatched victory from the jaws of defeat when they scored twice inside a minute through Scott Mercer and Stephen Dobbie to take all three points back to Dumfries. I'm afraid we have carried last years bad habits into the New Year and look like a side lacking the confidence to go all the way.
Carl Tremarco returned to left back after injury with Brad Mckay moving to right back and Jamie McCart in central defence. George Oakley was still injured and along with Daniel Mackay was not risked.
Queens had new signings Nicky Low on from the start with Barry McGuire on the bench and Stephen Dobbie the main striker looking for his 30th goal of the season. The Dumfries men were playing in their Claret and Amber away strip for this game.
RIG has seen it all before and here is his match report...................
So predictable.
The sick twist was obviously conceding a winner but as hard as it was to take it's hard to argue with the result. The usual ICT traits from this season were evident - have a fair amount of the ball, don't create a lot of chances, miss the few chances we do create, score, start to stand off the opposition, defend deeper, defend deeper still, even more deeper, concede, try and get a winner.
Queens best chance of the first half came when Todd found himself in a bit of space in the box but his low drive was repelled by Ridgers who got down well to divert the ball round the post. ICT struggled to create much of note as we seldom were able to attack with any real pace and incision and the Queens defence easily stood firm for most of the first half. Polworth did get some space in the box and should have done better than trundle the ball straight at Martin. Shortly after, White found himself 1on1 with Martin but a lack of composure saw the keeper block his shot. The closest ICT came to scoring was when Welsh stood up a cross to the back post and Walsh arrived to header it back towards goal but the ball came off the bar and neither White or Doran were able to force it in from close range before it was cleared. A free kick from Polworth looked like it had gone in but sadly it skimmed the roof of the net. Sit down shut-up!
Into the second half and ICT started on the front foot.  Chalmers found some space on the left flank and he sent in a lovely cross which just evaded White.  An even better chance was passed up by McKay when he somehow failed to connect with a cross at the back post appearing to lose sight of the ball after Donaldson's glanced header had come back off the base of the post and landed at Brad's feet half a yard out. 
There was then a quite bizarre and hilarious moment when Dykes refused to give the ball back to Donaldson who wrestled with him for a second which left Dykes rolling around on the floor in a heap holding on to the ball. Dykes continued to roll away from Donaldson still clutching the ball delaying the free kick.
With twenty minutes remaining, Tom Walsh volleyed home after Carl Tremarco got a second bite at crossing into the box. Jordan White's head managed to guide it back into the mix and Walsh finished with aplomb.
Walsh had perhaps our best chance to extend our lead, and possibly kill the game, when he drilled a fierce shot that swerved and dipped before the Queens keeper fisted it (oo er) clear. Thereafter it was classic ICT as we decided to sit back as Queens pressured us. Out balls to White and Austin weren't sticking and any clearance from our defence was quickly retrieved and a new attacking phase started.
Eventually the Queens pressure told when Marshall skipped down the ICT right and burst into the box and his low cross was met by Mercer who had ghosted in from the right to equalise from close range. Before you knew it Queens had scored a second. McKay contrived to give the ball away in the right back area and Dobbie was on to it like a flash. Cutting inside he then shot back across goal past a despairing Ridgers who flung himself to the right but couldn't stop the ball and suddenly the Doonhamers were 2-1 up.
There was a late chance for ICT when White set up Walsh at the edge of the box but his tame effort was easily handled. Right at the death White challenged for a ball on the edge of the box, it fell kindly for Walsh with his back to goal and he whipped a fierce volley just wide and shortly after the whistle went and ICT had, as too often this season, blown a lead and have only themselves to blame.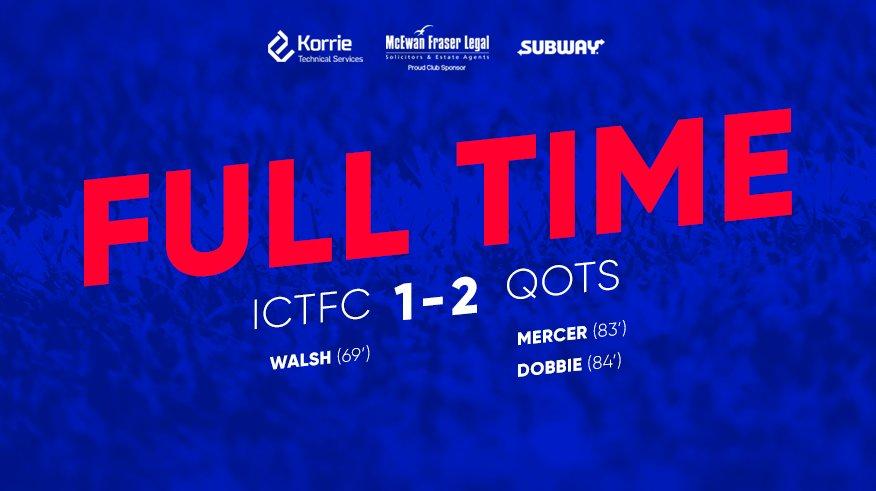 RednBlackComeback said:- Am I trapped in some kind of parallel universe where I've to sit through the same pi$$ poor, action replay, performance every other week?
Go 1-0 ahead then proceed to switch off and throw the game away. Does nobody in this team/management learn from their mistakes? Too many of this team look completely disinterested in winning games. The performance again today was ponderous and lethargic and lacked imagination, just as almost every other game I've witnessed this season. No point in raising your game for the local derbies but not bothering your ar$e for the bread-n-butter games!
 
More match reaction and video to follow...............
Barry Wilson was left to explain why we lacked conviction and belief.....
It goes without saying really, but Gary Naysmith was delighted...........
Nicky Low made his debut and was also chuffed................
---
a