Inverness progress after dramatic shootout
Inverness went through on a night of high drama after the game ended all square at 2-2. It was another bruising encounter and extra-time saw no further goals and penalties it was. Mark Ridgers saved one penalty and that was enough as Inverness went on to convert all five of their spot kicks, Nathan Austin with the final one.
Jordan White was the local hero in normal time with both Inverness goals, twice coming from behind after Ross Stewart opened the scoring and Michael Gardyne grabbed a second for County. 
County resorted to type, some bare knuckle fighting broke out before the end when Van der Weg should have been sent off.
Groundhog Derby stirs the passion.
John Robertson made three changes from the side that slumped at East End Park. In came Coll Donaldson, Liam Polworth and Sean Welsh. On to the bench went Charlie Trafford, Shaun Rooney and Darren McCauley.
County brought back five players that did not start against East Fife in the Challenge Cup. All the big boys were back in, with Scott Fox, Michael Gardyne, Billy Mckay, Keith Watson and Lewis Spence all starting. 
A great atmosphere greeted the players from both sides as they took to the park on a damp night, over 3600 were about to witness a night of high drama in the Groundhog Derby.
The hosts started brightly and Tom Walsh fired a warning shot high over the bar in the second minute. Little did he know his night would be cut short in the 15th minute as he was replaced by Anthony McDonald after picking up an injury. Liam Polworth also fired wide as we gathered momentum.
In the 22nd minute Inverness were undone as County surged down the right wing after winning the ball on the halfway line. Josh Mullin received the ball after good work by Marcus Fraser on the right and sent in a tantalising cross. Serial derby scorer Ross Stewart met the ball at the front post to head powerfully down and up and into the net via the crossbar. Good finish by Stewart, slightly against the run of play at that point.
Inverness responded well to going behind and the game was being played at a frantic pace with no quarter asked or given. Substitute Anthony McDonald dragged a shot wide from the left side of the box as we searched for a way back into the tie, a corner given for that effort. Jamie McCart missed the best chance so far as he headed over from eight yards unchallenged, he maybe should have at least made the keeper work.
Mark Ridgers was looking assured at corners and he had to save from Mullin as County tried to double their advantage.
This game was not for the faint hearted and the half time whistle went with County holding a slender lead.
Half Time 0-1
The sides swapped corners at the start of the second period and it was from another corner that Inverness were level. Joe Chalmers sent a curling ball into the heart of the box and big Jordan White rose highest to power a great header into the top corner. The North Stand liked that one, John Beaton not so much and he booked White for his celebration with the young team.
Just after the hour, Scott Fox pulled off a tremendous save low down to his right as he saved a thumping shot from Liam Polworth. Similar to Doran's goal in the first game, but this time he kept it out with some assistance from the post.
Five minutes later and County went back in front when Michael Gardyne picked up a loose headed clearance. He prodded the ball past two players before thrashing a low shot behind Ridgers from ten yards. A bit sloppy from Inverness but another good finish by Gardyne.
White was now relishing the challenge and looked like he was enjoying himself as he played his best game since joining the Caley Jags, challenging well and laying off to fellow players. He got another header on target but Fox was well positioned to grab it out of the air. However, Jordan would not be denied and when Doran cut inside and fed Polly, he slid a great ball into the path of White who took a touch before finding the bottom corner from 15 yards. Superb goal and heading for extra time.
Nathan Austin was creating havoc around the County defence with his awkward style as he poked his legs between defenders and sprinted forward. He headed one over from an inviting cross as we pressed for a winner.
It looked like there was only going to be one winner before the end of the ninety minutes as we took charge. Coll Donaldson was absolutely bossing the County forwards, strolling around like Franz Beckenbauer, and why not. Jamie McCart was his able assistant and between them County were rendered ineffective.
The ninety ended too soon for Inverness as they harassed the visitors in their own box, Fox fortunate not to concede a goal as he juggled with a ball facing his own goal, the post helping out again.
Ninety Minutes 2-2
Extra time was slightly less eventful as both sides held what they had. In the second period Coll went down injured, but he was having none of that and he returned to the battle as tackles were flying in like they were going out of fashion.
Carl Tremarco almost won it before the penalty shoot-out, his effort crashing off the bar after a scrambulation in and around the County box, great effort by the wee man and a let-off for County with Fox beaten.
A couple of late free kicks for County were wasted as referee John Beaton went card happy. Gardyne started a brawl after a bit of man hugging with Charlie Trafford as they laid on the ground. Needless stuff, but Kenny van der Weg rushed in from nowhere to start some rather dangerous shoving and pushing. For me he should have been red carded for this assault. If he did that at an Inverness night club he would be in the cells. It seems that they must get this coaching from above, what with Stuart Kettlewell sitting in the main stand and Iain Vigurs in the South Stand. Brian Graham was out though as he appeared as a second half substitute. Anyway, I digress. After the dust settled the failure that is a Scottish referee booked van der Weg and Coll Donaldson when all around were squaring up to each other. Bare knuckle fighting on the park, but it was County that would be dealt the knock-out blow.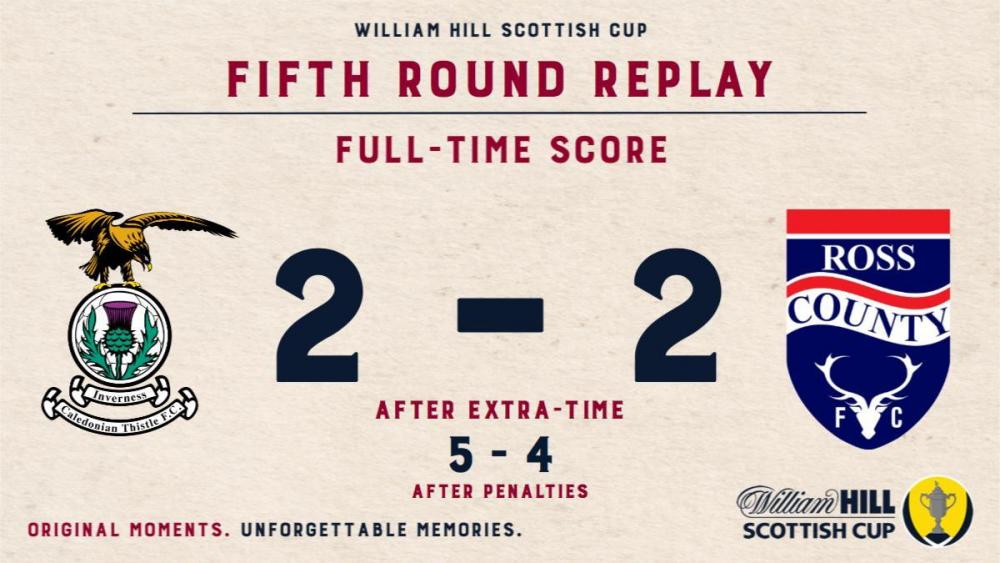 Anyway, penalties it was.
The winner will travel to Tannadice to take on Dundee United in the Quarter Final on the weekend of 2/3 March
Here's how it went, County started the process in front of the away end.
Gardyne 1-0
White 1-1
Fraser 2-1
Donaldson 2-2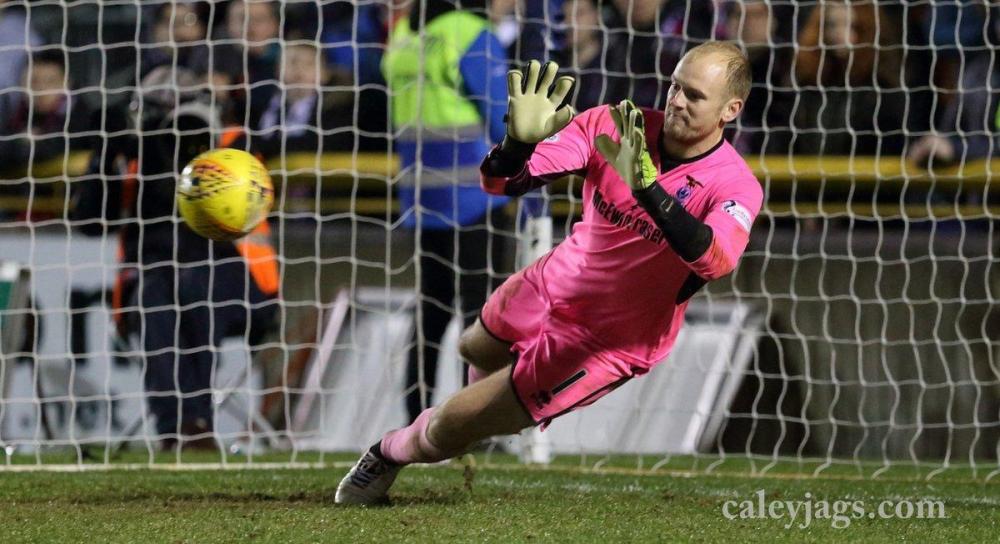 McManus, penalty brilliantly saved by Mark Ridgers, 2-2 

Welsh 2-3
Graham 3-3
Polworth 3-4
Draper 4-4
Austin for game set and match.They think it's all over..........it is now. 4-5
Coll Donaldson was my MotM for absolutely cigaring his way through the game. Jordan White was magnificent with his goals and general all round battling display. Liam Polworth was classy and showed it in abundance. Jamie McCart put in a great shift. Nathan Austin was sensational when he came on and caused County no end of problems. To be honest everyone did the fans proud and the celebrations at the end epitomised the desire and effort shown by the players. This was much appreciated by the fans who returned the favour with tremendous vocal backing, especially the young team in the North Stand. 
So, everybody, give yourselves a round of applause. 



We have had greater achievements, but this was drama of the highest order and the intensity and passion shown by both sets of players made this one of the best nights of football ever seen at the Caledonian Stadium. Players were almost on their knees long before the end of extra time and it was great to see the passion shown by our players after this well deserved win.
Passion. I'll show you some passion said Coll........ 
Speaking on BBC Sport
Inverness CT manager John Robertson: "We had the better of the game, we had the better chances. We've hit the post, we've hit the bar. There's two off the line in the last minute. Scott Fox has produced a wonder save. "We have been horrendous at penalties this season. We practised them yesterday. We actually had the players taking penalties from 15 yards out because if they can score from 15 yards, they can certainly score from 12 and all five of them scored."
Robbo was delighted with the home fans contribution.....
Ross County co-manager Steven Ferguson: "Proud of our team. It was a great cup tie and when it goes to penalties, it becomes that little bit of a lottery and somebody has to miss and it happens to be us. We accept it and we move on. "It's always disappointing to lose the lead. When it's a cup tie like that, it's to-ing and fro-ing all the time and we could've scored again and Caley could've scored again. As far as a cup tie goes, I think everything was squeezed into that."
Two goal Jordan White talking after the game.........
Night of high drama, have a look.
---
a