Firhill for Thrills
Final trip to Firhill for the season coming up on Friday night in the Championship, and if you can't get along to the game, fear not for BBC Scotland will be covering the game live with the action kicking off at 19:05. 
It won't be our last run to Glasgow though as we have a Scottish Cup semi-final to play at Hampden on April13th with a 12:15 kick-off. Who knew! Anyway, this is League business, a totally different beast.
ICT Supporters Travel Club
The ICT Supporters Travel Club are running a bus to this match and the leaving times are as follows:
Leaving the Caley Club: 1.45PM
Leaving the Caledonian Stadium: 2PM
Book on through their Facebook page or call/text 07462 218717
Unfortunately, our off-field antics are fast becoming known as the 'banter years'. The AGM has just occurred and judging by the sound of silence coming from the board, it's more Disturbed than Simon & Garfunkel. In fact it could even be a Bridge over troubled waters. Chief executive officer Yvonne Crook gone. Academy director Danny MacDonald gone. Youth coach and head of recruitment Ronnie Duncan gone. Club Secretary Jim Falconer going................ With rumours that we are heading towards a one million pound debt, what is going on inside the Boardroom and what is going to be done about it?
It's at this stage of the season that there are no such things as an easy game with teams either looking for promotion or trying to avoid relegation. This is when teams in the lower half tighten their defences and battle for everything. A drop into league two would be a disaster for most clubs. At the top end, it seems to be all over bar the shouting, but United made it more interesting with a win over County in midweek.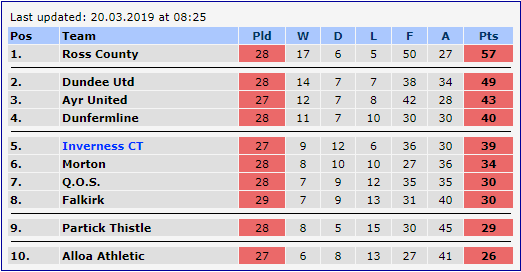 As it stands at the moment, we are just outside the play-off's albeit with a home game in hand over the Pars, (Alloa). In our absence last weekend, Dunfermline were supposed to take on Dundee United at East End Park but the weather decimated the Championship fixtures. Our realistic goal is to make the top four although it's well within the grasp of Dunfermline and ourselves to topple Ayr should they continue to falter. Incidentally, out of our grasp but, Dundee United closed the gap at the top to eight points after beating Ross County at Tannadice thanks to an early headed goal from Calum Butcher. With County playing in the fizzy pop final this weekend, there is the potential for that gap to be further reduced. Getting interesting up there.
Partick's last game saw them in a relegation threatened tussle with Falkirk, the only game to beat the weather and it ended in stalemate at 1-1. Scott McDonald put Partick ahead but Ian McShane squared it for the Bairns. Partick have also bowed out of the Scottish Cup, narrowly losing 2-1 in the replay against our next opponents, Hearts.
The previous games this season will show that we hold the upper hand, just. A 3-2 home win back in September was followed by a barely deserved 1-0 win at Firhill in November, Tom Walsh nicking the winner in the 71st minute and Mark Ridgers making a penalty save. Partick came North at the beginning of February and first half goals from loan signing Steven Anderson and Aiden Fitzpatrick was just enough for them to edge the game 2-1 despite a late Darren McCauley goal. 
Here's the Walsh goal last time at Firhill
The only good to come out of last weekends downtime is that our injured players had more recovery time. So Tom Walsh, Anthony McDonald, Kevin McHattie and Daniel Mckay let's be havin you, we have a Scottish Cup Semi coming up!
Young Brazilian wing back Matheus Machado has shown up well in the Turkish training camp and will be included in the squad. Also returning after injury are Tom Walsh and Kevin McHattie.
Partick's recent get out of jail signing 35 year old Scott McDonald has been doing his best to help Partick beat the drop and scored his third goal in six appearances. His experience will present a danger to our stuttering promotion aspirations. Gary Harkins is another experienced player drafted in to take the strain and he has skill in abundance. In our favour, they still have the misfiring Miles Storey.
Here's what Partick Manager Gary Caldwell had to say to BBC Sport after the Falkirk game.............
 "That was frustrating because we played better than Falkirk and should have been more than one goal in front before losing a sloppy goal.
"We were the only team trying to win the game in the second half, but we created our own problems. There was a lack of cutting edge from us and a lack of killing a team off when were were on top."
Ooft, sounds familiar Gary...........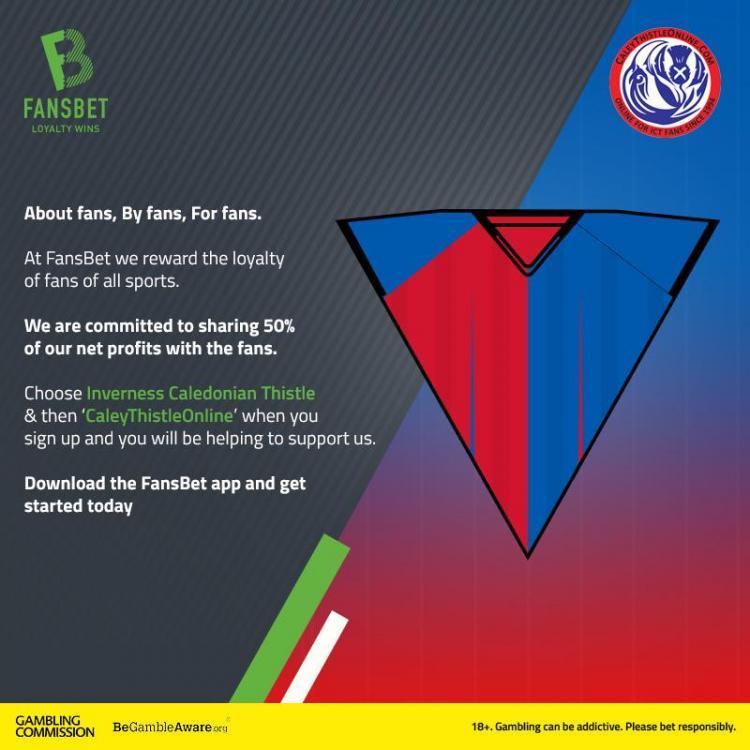 If you like a wee flutter, our partnership with FansBet can offer you something. Just click on FansBet to get started.  "Remember to select CaleyThistleOnline when you register and you'll be helping us support ICT fan causes."
FansBet are partners with Supporters Direct Scotland and already have many impressive stories of giving back to and empowering fans, ranging from funding away travel, share purchases, backing safe standing projects and many more. You can read some of FansBet's Giving Back stories on their blog at https://blog.fansbet.com/fansbet-giving-back/partners/fan/
Draw with goals 3/1.............. fair bet!
Always remember to adopt safe gambling and responsible policies.