No Shock, Aitken & Water man..
Inverness progress to the final of the Chocolate Biscuit Cup despite Storm Dennis and referee Greg Aitken doing their best to ensure that the team from the Highlands would not line up in the final against Raith Rovers at the end of March. A torrential downpour and Gael force winds turned the game into a lottery. Mebude opened the scoring early in the first half as he was given time and space to turn and drill a low shot beyond Ridgers. Substitute James Keatings volleyed home from the edge of the box to level matters just before the break. Keatings was wrongly sent off by the inept Greg Aitken as, not for the first time this season, he made our task more difficult. However, the ten men prevailed when Miles Storey crashed a loose ball into the net with twenty minutes left. Despite late pressure from the young Gers, Inverness held firm and move into the final. Mebude should have added a second for Rangers before we scored but he smacked his effort off the bar when a goal looked easier. Both sides had chances to score more but it ended at 2-1 for the hosts.
Aitken got little right as he angered the home support and management. What appeared to be a perfectly legitimate 'goal' by Tom Walsh was ruled offside and the sending off of Keatings was just a joke. It's little surprise to hear that Inverness will be looking to get the red card rescinded.
I'm sure the Rangers youngsters will be embarrassed by the assistance they were offered from the officials. They certainly did not need any of it as they showed good quality without the need for these clowns to intervene.
The goals.......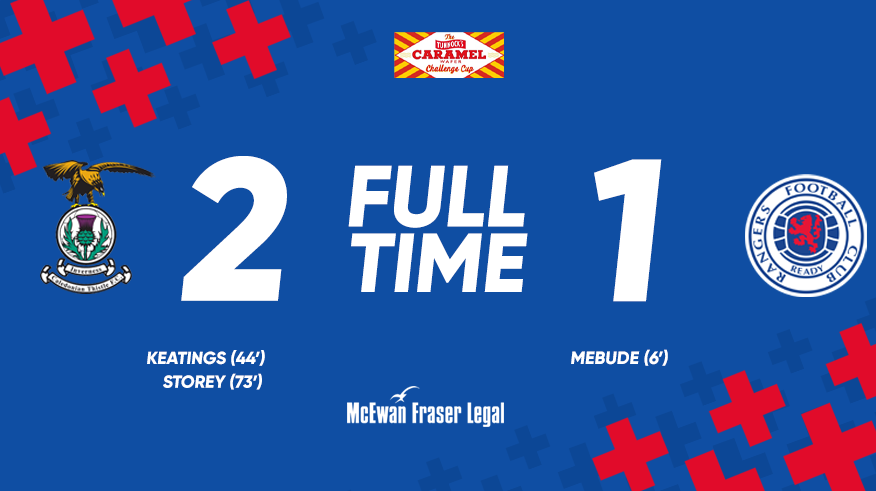 ---
a