Rendall's Rambles #3
If you have been following James on his ICT journey, here's the next three seasons. He's a well travelled football connoisseur who has been following the Caley Jags from the start. He has put together a fascinating nostalgic review of Inverness Caledonian Thistle's first 25 years as witnessed through his own eyes. Thanks James, a remarkable commitment to the beautiful game.
The Inverness Caledonian Thistle Years #ICT25
No. 7 2000/01 (Games 216 to 252)
Bedding into the second tier: In the second season of life in Division One as it was known, was largely a dull mid table affair, but there were a few highs, one controversy and one angst ridden end. The first full season of the noughties was upon us, and it brought two new clubs to the league in Elgin City and Peterhead, amongst the last clubs to be 'voted' in following a summer of tweaking the roster. I was at the first Elgin game at Glebe Park, Brechin a 2-1 loss for the new boys. Indeed, edging close to twenty years in the league, Elgin have never kicked on, stuck perpetually in the bottom tier, which is a shame as they have true fan based potential to be a northern Queen of the South. 
The centre pieces of an up and down ICT season was our never say die attitude, especially in the New Year derby at home to County, when we trailed 3-1 going into injury time. Three minutes later, a Dennis Wyness brace had the regularly morgue like Caledonian Stadium in a lather! A little bit of payback on one of the Falkirk hammers of Caley in any given August (yes we lost 2-3 this season), Owen Coyle, tried to dribble to the corner flag at 2-3, he lost the ball, belted forward and our very own deadly Dennis the menace did the rest ?.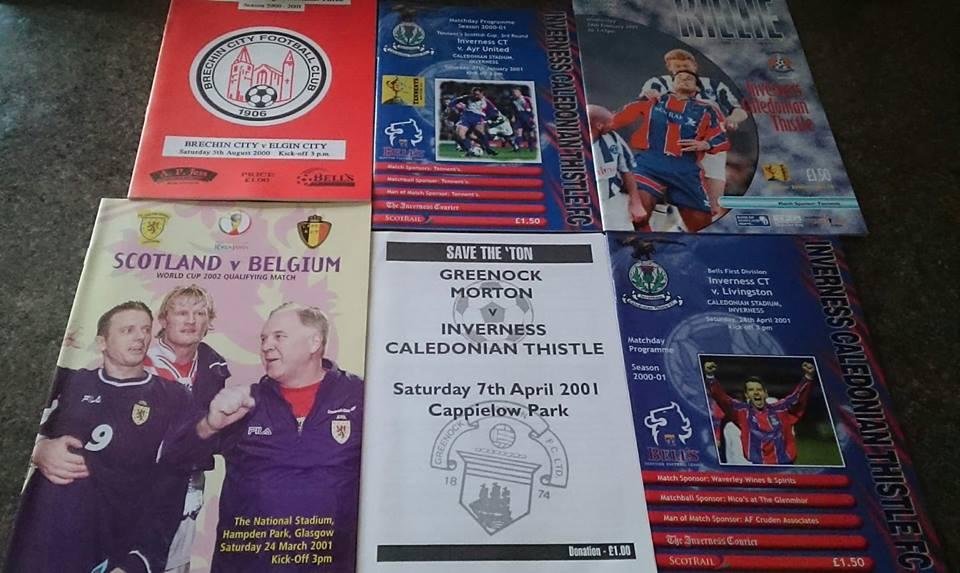 A few weeks later we were at it again! Ayr United raced away to a three nil lead in the Scottish Cup, taking advantage of our hopeless cross catching/line glued goalie Les Fridge. The chap beside me was so disgusted he left at half time! But this was the last hoorah days of our increasingly alcohol fuelled boss Steve Paterson, and his sides never knew when they were beaten. Paul Sheerin, Davide Xausa, Bobby Mann and Dennis 'he used to be shite, but now he's alright' had us in a Wyness wonderland!! We were 4-3 up with 25 minutes to play!! 
This win brought us a home game with the other Ayrshire mob, Kilmarnock, and after a 1-1 draw the replay brought another shocking top flight howler, a midweek abandonment because Killie switched off their undersoil heating so as not to disturb the neighbours!! The re-run a week later saw us narrowly knocked out 2-1. The season fizzled out and in the "what goes around, comes around" fashion, Livingston got a secondary doze of revenge for us denying them a promotion four years earlier. This time a 2-3 away win saw them clinch promotion to the top table for the first time. I rarely leave early, but a club wearing my old teams shirt with Livingston written over Meadowbank in crayon, I wasn't for watching them celebrate on our patch. Meadowbank under its own steam came within a whiff of the Premier League, but the SFA sent a ref to a home game with Clyde to clip our wings, and second top was the giddy high we achieved.
The Inverness Caledonian Thistle Years #ICT25
No.8 2001/02 (Games 253 to 289)
A tale more of travels: It was almost as if I had foreseen a quiet season on the horizon for ICT as I was on the move around the globe more in this season than at any other point in my life, see below.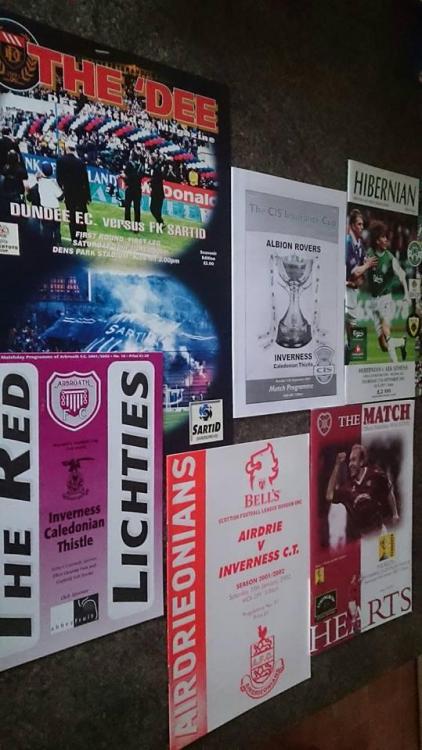 Somethings were never changing, and August had developed into a real stumbling block for the club. The annual late loss to Falkirk was there, 1-2, as well as a loss to Partick, a place I have rarely ever seen us win, and a couple of draws at Clyde and St Mirren, oh, and a Challenge Cup loss to Alloa, again!! Before the season hit a true low with a league record 6-0 horsing at Airdrie, I was at a game that spooks me to this day! 11th September 2001 will go down in history as one of the worst days ever, the day of the Twin Towers collapse and terror was everywhere across the pond. I knew it had happened, and post work, I listened intently on the radio as I drove to Coatbridge, but only after a fairly routine 2-0 Caley Thistle win, seeing it on the TV back home, did the full horror sink in. All games were cancelled the next night, and while Cliftonhill is never a throng of lively atmosphere, that night it was eerily quiet and the players seemed to be just going through the motions. 
On a more positive note, three days earlier I took my nephew to his first ever game of football, a 5-1 first win of the season at home to Arbroath. When we scored initially the poor lad got a fright when everybody stood up cheering, and then he sat on the ground failing to realise the seat had sprung up! In time he would choose rugby as his sport, but he may have a rare claim to fame in that he has seen more football in Uruguay than anywhere else in the world!!
The highlight of the season was winning our first ever game as a club in Edinburgh, a 3-1 win at Hearts on a dreich day in the Scottish Cup. Indeed, with such a sizeable following Martin and I were stuck in our third row seats getting soaked! A first ever game in my own city, a big win, and I ended up home under the shower to warm up by 5:30!! Mid table and a cup Quarter Final was as good as the season got.
The Inverness Caledonian Thistle Years No9 #ICT25
2002/03 (Games 290 to 343)
A Semi-final season: By now we were a well established second tier side, and in this our 4th season in the Championship as it is now, we were starting to knock on the door of the top end. It didn't start well losing our only ever game at Berwick Rangers, 1-0 in the Challenge Cup, followed by a first ever league win in the first encounter versus St Johnstone, also 1-0, and then the obligatory fifth season on the trot August home loss to Falkirk 1-2, who then won the second in Inverness 3-4!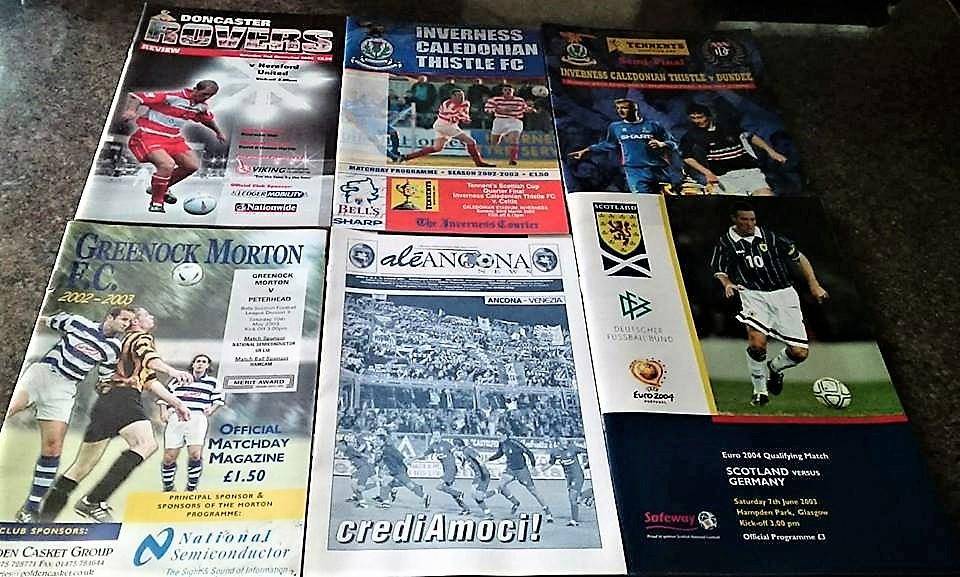 Beating St Mirren 4-0 was a real treat, then Arbroath were despatched 5-0 before two hat tricks by Paul Ritchie and Dennis Wyness saw us run riot 6-0 at Alloa, and we'd win 5-1 there later in the campaign. 
It was maybe another great Scottish Cup run that took our focus away from the league, first we beat Raith 2-0, and while I was in South America for the next round, I was in my seat for a 6:30 ko on a Sunday night for the Quarter Final versus Celtic. They had a shed load of chances, Larsson et all, but we did it again, with Dennis blasting the club into a first ever Scottish Cup Semi Final. One sour note was bad tempered Martin O'Neil's refusal to shake John Robertson and Donald Park's hands, he just stormed down the tunnel!!
The semi final versus Dundee at Hampden was the wrong venue in terms of the size of the crowd, but it was good to be involved in such a prestigious event. We lost 1-0 and we didn't do ourselves justice, but little did I know then we'd get a few more opportunities!
Thanks James, some great memories in there.
More to come from James, the next three seasons coming along next week.
You can read all about James' worldwide footballing travels in his own excellent blog FOOTBALL ADVENTURES WITH JAMES RENDALL