RENDALLS RAMBLES #7
And it's here in this threesome, the cup final season from James. He's been everywhere man! And he has been following the Caley Jags from the start. He has put together this fascinating nostalgic recap of Inverness Caledonian Thistle's first 25 years and more, as witnessed through his own eyes. Thanks James, a remarkable commitment to the beautiful game.
The Inverness Caledonian Thistle Years #ICT25
No19 (Games 830 to 887)
Runaround now!! The wanderlust was starting all over again, but trekking outwith the confines of Britain still hadn't recovered its mojo, and it's only in looking back now, how did such an avid World football fan go two seasons without such adventures? Never again!! The variety on offer however was as ever eclectic ☺.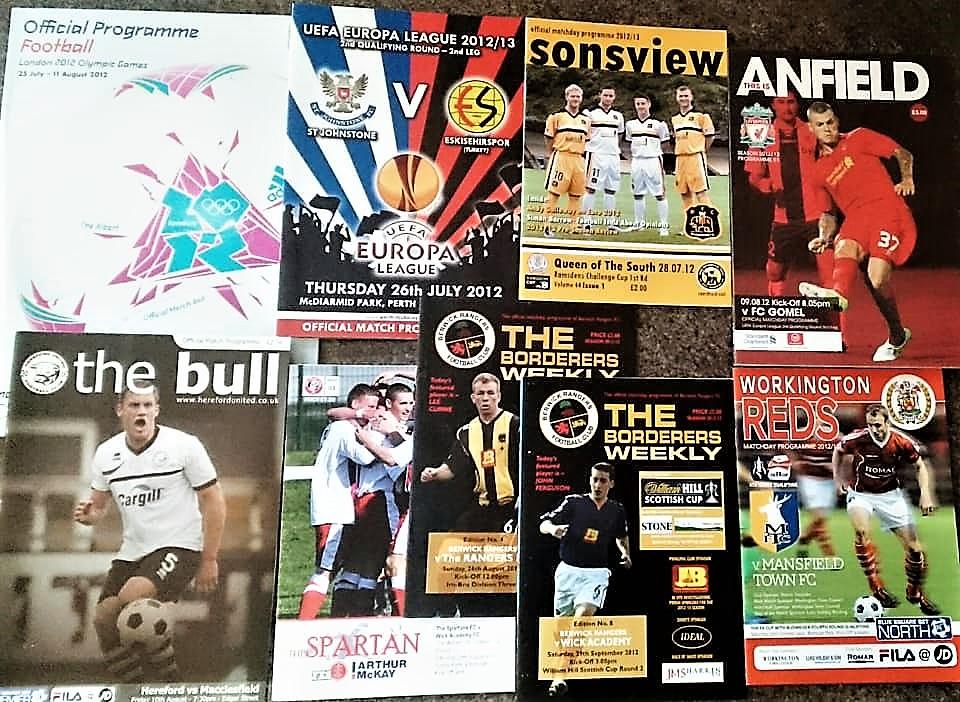 The ICT start to the campaign was fairly dreadful, but their were new names being tried out, and while the quality seemed to suggest we were going to struggle, hey, what do I know!! They say even when playing badly, if you can tough out results then you will succeed, and two horror show 2-2 draws at Edinburgh's duo was case in point. The draw at the Cabbage was especially memorable for one extra moment! Hibs had played us off the park for 40 minutes and led 2-0, but in pulling one back just before half time out of nothing, the Hibs fans booed their team off!! It was hilarious as well as doubtlessly galling for the home players, who never recovered the same superiority and we might have nicked all three points. League Cup progression was equally stuttering seeing off the maroons of Arbroath and Stenhousemuir, 0-2 and 5-6 on penalties after a turgid 1-1 draw. 
County came to Inverness for the first time in the top league in early October and left with a good 3-1 spanking, complete with a raging Derek Adams, lovely! This was the pivotal moment, confidence started to rise. Dundee were slapped about 4-1 at Dens, and we held Hearts to a 1-1 at home. As Christmas approached I was witness to another of those absolutely remarkable games. Trailing 3-0 in Arabia a Billy Mckay triple and another from Gary Warren put us 4-3 up! Alas, an Arabian took a tumble in the box late in the game (this sounds familiar!) and the conversion made it 4-4. We walked out feeling we'd lost!! An angry Inverness bagged another four versus the other half of Dundee the following week with just two from Billy, but Owain Tudor-Jones and Andrew Shinnie (remember them!) got amongst the goals, whereas the D got merely one ?.
The feeling of joy in Inverness' play was such a contrast to the start of the season the Festive draws with St Midden and Les Johnoise seemed anti-climatic, but we were ticking up the points and the top six, that mythical waste of time engineered merely for the greedy to get more greed was in sight, and when Aberdeen were screaming murder after a 3-0 Highland capital thwacking, ambition nudged into new realms!! 
Alas the progress to a first ever Big Cup Final was tempered for another season with a third Semi final loss, this time in the League Cup and only going down on penalties 4-5 to Hearts at Fester Road after a 1-1 draw. The moment the last of our penalty takers stepped forward, their was a collective need to hide in our stand. The on loan lad from Arsenal (I have forgotten his name! Or airbrushed it out! ((Phillip)Roberts, I think), an absolutely over confident misfit who was only going to miss, did ?. The ship wobbled at Les Buddoise who beat us at the Methadome 2-1 in midweek, then Killie and Well added to our misery. These would be important losses at the end of the campaign.
We finally got back on the horse ? with a morsel of revenge for the LC loss by seeing off Hearts 2-3 at their own pavilion. Two draws with County and Dees away, was followed by another derby win at home to Moss Co, and we were in the top six, but so were they!! By the time we got a rare home win versus Motherwell in a belter of a last home game, the possibility of finishing 4th and qualifying for Europe seemed on! But on that fateful day, the last game of the season in Dingwall, it almost seemed that the whole thing was too much for the club, and we feebly allowed Moss to beat us in the top flight for the first ever time 1-0. Finishing fifth was the highest we had ever been, but I didn't hang around to applaud at the end, my dream of European football had died, and I felt that we didn't want it, which annoyed me!! 


~~~~~~~~~~~~~~~~~~~~~~~~~~~~~~~~~~~~

The Inverness Caledonian Thistle Years #ICT25
No.20 2013/14 (Games 888 to 935)
Back on the travel game. While it may be close season for the domestic football game, just in Italy with the last game last night, but our journey through the first twenty five years will nearly be over as ICT step out in the League Cup of 2019/20 and the start of the 26th year of the Empire!
The 20th year was another stepping stone on the upwardly mobile progression of Inverness, and we took full advantage of the "natural order" being shot to bits. We even managed to send a Trojan Horse to another club, and by the end of campaign, three of Scotland's biggest clubs were in the second tier!
Even the time honoured tradition of being rubbish in August was cast asunder with an opening day trashing of St Midden, followed up by three points at Arabia before ending the month with another win against troubled Hearts, all three without loss of a goal. Terry Butcher's team was beginning to mould wonderful into a solid, and at times, exciting unit. In September, despite a narrow loss at Aberdeen, we thrashed Hibs in Inverness 3-0 by which time our boss was starting to attract attention. Indeed, while I scampered off to Armenia, the curiosities of the Scottish fixtures meant in early November upon my return, we played Hibs away with no manager, as he sat in the stand as Hibs manager in waiting. The small, but vocal away support made sure that he knew he was making a mistake, and the players did it too, winning the game 2-0. By seasons end he'd done it again, taking a 7th placed side post split down, albeit via a Hamilton penalty shoot out success. The winning feeling kept going, seeing off the Johnnies, and the Jambos, but County ruined New Year's Day winning 2-1 at our place, however a rare win at Pittodrie was the perfect tonic.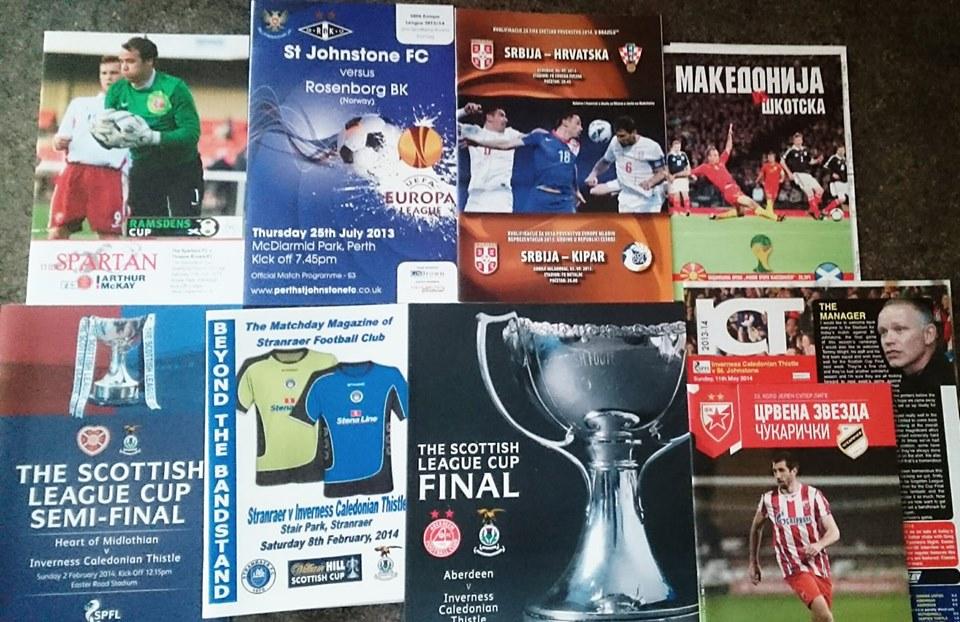 John 'Yogi' Hughes had of course moved in to the hot seat, a relatively easy position to take over as the team were very familiar with each other and the formula was already tried and tested. In many regards, what happened in the next two seasons was built by Butcher, and merely pushed on by Yogi. My own thoughts on his legacy, statistically our most successful boss, but when we needed fresh faces and the unit started breaking up, his ability to replace like with like was at times questionable. By the time we played Hibs in a cup replay, the year after we won the cup, we were a shambles! But I am getting ahead of myself. In his first real test, a groundhog League Cup semi v Hearts at Fester went all the way this time, holding out with nine men valiantly for a penalty shoot out win. We were going to our first 'big' final, but before that, the very next week down at Stair Park, Stranraer, we were brought down to earth having to fight so hard for a 2-2 draw. 
The League Cup saw a near full Celtic Park a riot of Northern passion and colour for the game with the Dons. Yogi set us up in a very defensive way, a failing he would regularly trot out especially when visiting the same stadium for league action. We took some horror thumping here, and likewise against Aberdeen we rarely threatened. Looking back I can't recall one moment when you could say, 'if only'. We cancelled Aberdeen well, but never looked like scoring, and even in the penalty shoot out we weren't at the races, missing the first two kicks, losing 4-2. This loss shook the confidence and while we made the top six, no mean feat in itself, but it had all been threatening so much more glory laden earlier in the campaign. Undoubtedly expectations had risen, and just being one of the top tier teams didn't seem enough, and yet that was where it was all wrong, we were riding the crest of our own wave, and it was going to get higher yet!! 

___________________________________

The season had started with the unique one off double header between Spartans and Threave for a place in the Challenge Cup. This was the start of the Lowland League, a bedding in season before the new pyramid system came into play the following year. Spartans saw off Threave and went on to win the inaugural Lowland League title, and I saw a few of the home games along the way. Brora came down to Clyde in the cup with Munro and Tokely at the back, but lost out narrowly 2-1. Fraserburgh made it one round further but lost heavier 3-0 at Stenhousemuir. Raith Rovers had made the Quarter Finals and hosted St Johnstone in front of a big crowd losing 3-1 as the Perth team went on to win the trophy for the first ever time! Earlier in the season they had a fabulous European win over Rosenborg, a cracking win, the night Malmo were slapping the Cabbage about 7-0!! 
Having had innumerable treks south over the last two years, this season I only had an Easter scamper, Accrington v Mansfield (1-1), Doncaster v Derby (0-2) and Halifax v Macclesfield (2-1), all entertaining jousts.
~~~~~~~~~~~~~~~~~~~~~~~~~~~~~~~~~~~~~~~~
The Inverness Caledonian Thistle Years #ICT25
No.21 2014/15 (Games 936 to 992)
The Castle ? on the Hill: There are seasons in football that are instantly forgettable, but every now and again, an absolute golden nugget of a season comes along, maybe just once in a lifetime. Roy of the Rovers could not have written the script any differently, Inverness reached two incredible milestones, finishing third in the league, and winning the Scottish Cup. Delightfully, in the week leading up to this article, our Cup winning goal hero James Vincent has returned to the club. Wow, just remembering the moment Jamie MacDonald palmed a trundler from Marley into his path. He had ran the length of the field, boof, unbridled joy! We had been in survival mode, a man light, but the spirit of this team was it's gritty determination. Even in the semi, we were pegged back twice against Celtic, but we never stopped believing. Will we ever see the likes again? You know, we can always dream, but it doesn't matter, those who were there will never forget it, and long after we are gone, the longest name in Scottish football will forever be engraved on the Scottish Cup! It was absolutely amazing. Jamie of course entered the pantheon of the Inverness song book, and it is always nice to sing that he won us the cup!! ?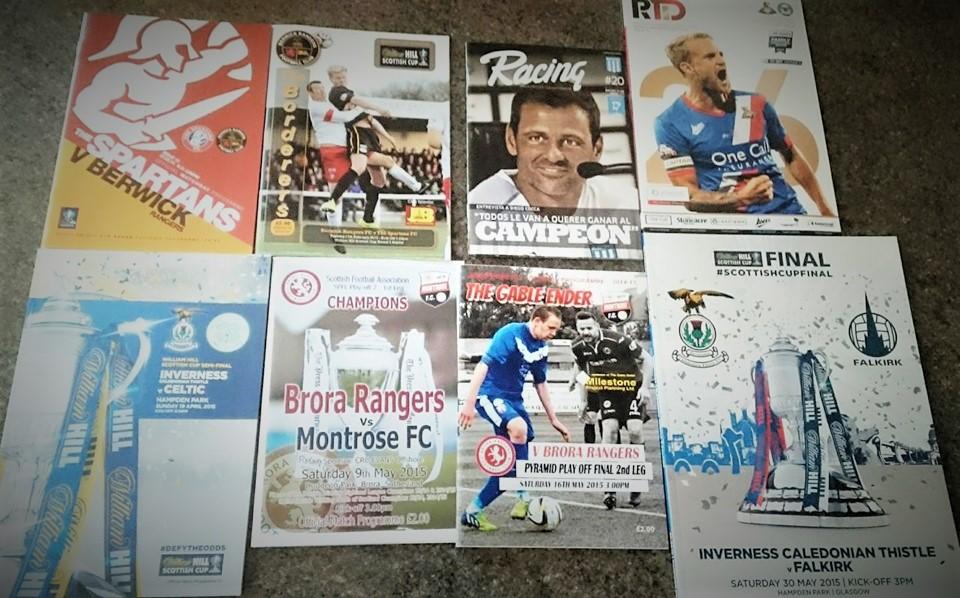 Right under our name on the trophy sits the name of Hibernian, a club who had craved a cup win for 114 years! That monkey is off their back, and they did it in dramatic style too, but their fans genuinely think winning the cup was a bigger thing than an Inverness success?! I would suggest having to wait that long as one of the lands 'bigger' clubs is more embarrassing than anything! No matter, these two Cup successes were the last before tedium returned to predictable trophy hand outs. At one point, more Scottish teams had won trophies than any other country!! 
It all started somewhat late for me with a 23rd July friendly at Banff, complete with Mariano, an Argentine chum who'd whisky sampled his way off the A9 along to Deveronvale v ICT for a routine 0-3 win, he was deliriously happy. August didn't start badly either with a 2-0 success at Hamilton, followed by a disappointing 0-0 against strategically placed Dundee dustbins "15 points and you ****ed it up' ringing in their ears, still!! 
Life was changing for me, my dear mum was starting to need more help, something that continues to this day, so "staying local" has been a necessity of my football ⚽ days, which resulted in less travelling to Inverness. In September we lost to Partick away, we always lose at Firhill when I am there! A 1-1 draw with County in early November suggests we still hadn't kicked into gear, but a month later "15 points" was back in vogue as we won at Dens 2-1, always a good hunting ground for us, but back to back 1-0 losses at Perth and home to the Dons made for a disappointing Christmas. That scoreline was reversed as we saw off the Darling Buds of Chic in the first game of 2015, "our year". Accies were despatched 2-0 again away before those resolute and pesky neighbours ran over the Kessock Bridge ? with another draw. My season is always interspersed with trips abroad, when I can get cover for mum, I am off, and in 2015 after a long 5 year gap I was back in Argentina and Uruguay, meaning by late March when I returned it was back to the Maryhill Magyars, and we lost, again! Dundee held us again. Looking at these repeat games now, every one of them had the same outcome?!! Celtic were beaten in the Scottish Cup for a third time in a third different venue, (do we get to keep them), and the rest is history. My only regret is staying away from the last league games of that remarkable run that got us third place, just so that the Cup Final would be my 500th game! But what a game ? ?.
~~~~~~~~~~~~~~~~~~~~~~~~~~~
Here's Graeme Shinnie holding the Scottish Cup aloft as painted by local artist Sophie Robb?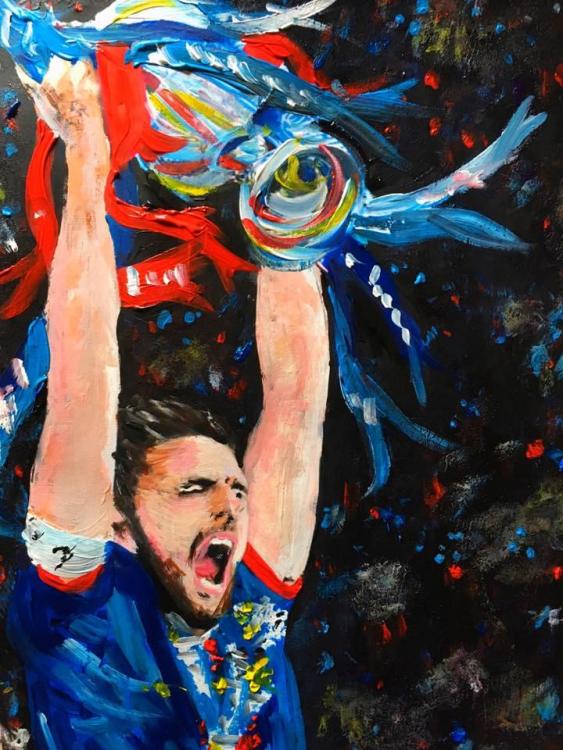 Eclectic is how you would describe my increasingly here, there and everywhere viewing! With my great Italian friend Stefano we plundered Carlisle for a 0-2 loss to Derby, followed by a similar score as Rochdale lost to PNE. I would be back at Carlisle a few months later for a belter, 4-4 with Wimbledon, and again the day Falkirk beat Hibs in the cup semi. In order to settle cup nerves I watched Carlisle beat Plymouth 2-0. The 4-4 wasn't the biggest goal fest of the season with Bo'ness beating Elgin in the cup 5-4. In late August when I went to the coastal Angus derby at Arbroath, the visitors from Montrose were top of the league having won all three games. By seasons end I was watching them toil to see off Brora in the first ever relegation/promotion play off having finished bottom! St Johnstone provided my sole Scottish Euro encounter, edging out Luzerne 5-4 on pens, but an impressive and rare scalp! Fraserburgh were close by at Linlithgow but went down 2-1 in the cup, and then I was at Elgin v Forres in the cup too, but it ended 0-0. Spartans were regularly viewed, and they caused a shock knocking out Morton, and scoring late to grab a replay with Berwick. I was down at the second game, by which time the winners knew that they were going to Easter Road. A huge Spartans support went down, but the team rarely threatened, losing 1-0. Remarkable to think that this will be a league fixture next season! Edinburgh City, who won the Lowland League hosted Brora twice, losing 2-3 in the cup, and drawing 1-1 in the first ever Lowland v Highland promotion play off! The most eclectic game of the season was the Highland League bottom of the table joust at Rothes, with Strathspey in town, a game that ended 1-1. 
More wonderful memories in there once again. 
And there's more to come from James, the next three seasons coming along soon. Prepare yourself for less memorable times. It happens..............

You can read all about James' worldwide footballing travels in his own excellent blog FOOTBALL ADVENTURES WITH JAMES RENDALL