Astra-nomical days in Romania
People often refer to an extraordinary, yet fleeting occurrence as a JFK moment. When Inverness CT went in a bowl in Switzerland for the Europa League draw in June 2015, it was hardly a life changing event, but I will never forget where I was when the news filtered through from home as to who we had drawn, and where we were headed. I was sitting in a square in Salzburg having lunch as you do! European qualification had already been guaranteed before the Scottish Cup Final, a draw at Dundee clinched our historic third place. Will we ever see the likes again? Perhaps in hindsight I shouldn't have stayed away from Dens Park, but I was obsessed with my 500th ICT game being the Cup Final, and that was what happened. I wrote about the joy of that Cup Final in an article "It's my club", which was printed in Football Weekends magazine in 2016, and can also be found elsewhere on my blog. The first paragraph of that piece is well with recounting here;
"A man down, pegged back by an equaliser, Inverness were struggling, it felt like we were on the ropes. Was the Scottish Cup dream about to end? It was Falkirk we were playing after all, a known bogey team in years past. They traditionally beat us in most August encounters and had knocked us out of both cups, as well as relegating us in one season. Indeed that painful occasion was the last game between the two teams in May 2008, seven years ago. However, this was May 2015, a different generation of player with none of the mental blocks that we the fans associate with the name Falkirk! The clock was ticking down on a sun drenched Hampden, when suddenly the ball broke to Marley Watkins, still well inside our half, but he started to run, and run with the ball toward the goal he sped. A little turn inside, he shot, it wasn't his best ever effort, a trundler, but the pace caught out the Bairns keeper Jamie MacDonald who merely diverted the ball into the path of the on rushing James Vincent, who had sprinted from our box! It fell beautifully for him; Goooooooooal!! We had just won the Scottish Cup! A club just 21 years old at that stage had just won the oldest trophy in world football! (FA Cup is an older competition, but the Scottish Cup trophy is older!). It's a trophy bigger clubs have craved for 114 years without success, or waited more than 100 years to win for the first time ever". Nearly five years on it still seems incredible, a boy's own story, something they can never take away from us.
That cup victory was undoubtedly the pinnacle for the club, but for a more global citizen, one obsessed with football in certain lands around the world, getting to see my team in Europe had always been my dream. So much so, when Inverness went to Denmark in 2007 for pre-season training and a couple of games, I had to be there. So one July evening I sped down the railway tracks from Copenhagen to Sjaelland, and the quaint town of Nykobing Falster for the clubs first ever game on foreign soil. We were five strong that night (Don Taylor, his wife and son amongst us) as Liam Fox claimed the first ever ICT goal outside Britain in a 2-1 loss to Nykobing Falster Alliance. A few days later, our number had grown by one as David Proctor scored the only goal of the game against much tougher opponents in FC Nordsjaelland from Farum near the capital, a club who would not only end up playing Queen of the South in Europe five years later, but continue a journey towards being one of Denmark's top teams.
Given I was in Denmark for friendly matches, (I have only ever been at one ICT friendly in Banff!) you can imagine how keyed up I was when I knew my club name was going into a UEFA draw. I was prepared to go almost anywhere (Israel was my only no go at that time, Kosovo has been subsequently added to the list), but I was more dreaming of Almaty in Kazakhstan (as far east as we could go!), or any of our Nordic neighbours especially Iceland or the Faroe Islands, the possibilities were endless, all very exciting as the Welsh would say. Having won the Scottish Cup we were nibbled onto the Second Round directly, and with so many "and/or" potential pitfalls from Round One we could have drawn, it would make for very short notice booking. As it was, I was sitting quaffing a glass of chilled white wine over lunch in the Plaza de Mozart in Salzburg when the news filtered through the Tyrolean mountains to my mobile that we hadn't drawn and and/or" but Astra Giurgiu. I hadn't a clue where in România Giurgiu was, but the club name was familiar to me as they'd had a few European outings previously, one with Celtic rang a bell. I also learned that St Johnstone were going to Armenia, information of amusement for the sender as he knew I was travelling with an Armenian lass. My boss back in Edinburgh is a huge St Johnstone fan, both home and away, as well as every European game he could possibly get too (He has only missed one in Minsk, Belarus because of the lack of time to get a visa!). While I had no direct number for him, I was immediately messaging a colleague back home in the office with information to pass on, as St Johnstone were Yerevan bound in just over two weeks, a lot sooner than our tie. He called me that night and took more information and was all booked long before I walked back into the office the following week.
I had always regretted that none of my bunch of fellow ICT fans had been up for going to Denmark, but okay those were friendly matches. I was more dismayed that none of them could go to Romania. I knew there was going to be a fine away support but I started to have second thoughts as I didn't really fancy the Bucharest to the banks of the Danube and Giurgiu on my own, having by then looked at a map and discovered the location of Astra's home town. Then my luck started to turn, and from a most unlikely source. Luciano, a Brazilian friend from Porto Alegre, who works as a translator for FIFA amongst others, wrote to me to say he had a Romanian colleague who would be more than willing to help me. By the end of that day we hadn't just arranged that Razvan was picking me up at the airport, but he'd happily drive me down to Giurgiu, nip across to Bulgaria for a meal, as well as share the game with me, and he wasn't even into football! Wonderful little things like this keep happening to me through life, football opens doors and starts new friendships, I am a lucky man. I went ahead and booked my trip, Thursday to Monday, and as luck would have it, two Romanian top tier games were scheduled for that weekend in the capital, I was going to get my fill of football in a country I had never set foot in before.
Romania was a land I was reasonably well versed with courtesy of my dad's brother and his wife, who worked at the British Embassy in Bucharest during the Ceausescu years, and some of the stories they told left a marked impression on a young lad! One that always amused me was that they used take advantage of the "diplomatic bag" to run a well stocked shop in the basement for the embassy families as the Bucharest shops were largely bereft of anything worthy of eating! I have for a longtime sighted my aunt and uncle as the pioneers of my love for travel. They led a fascinating life, having met and married in Beirut during the '50's, a city they described like Paris back then, as well as working in Baghdad well before it disintegrated. Unfortunately I would only had the pleasure of visiting them at his last posting ahead of his retirement, much nearer to home in Lille, long before the Euro Tunnel had breathed life into this northern French city.
Ahead of flying out, the 2015/16 campaign for Scottish clubs had got underway and my boss had enjoyed his time in the Armenian capital even if the heat was searing, but his team had come home with a fine 1-0 win. The following Thursday in Perth though, Scottish football hit a new low when Euro novices Alashkert won 2,1 and went through on the away goal rule. Another week on, and a car load of us sped up the A9 from Edinburgh for the first leg of Inverness v Astra tie. Looking back, it still feels a slightly surreal thing that we hosted European football, but a good crowd had turned out for the occasion. The lack of commercial exploitation of this game, or indeed the cup final has always rankled with me. The club produced a half and half scarf for an embarrassing debacle, when the visitors were some sort of Liverpool kids team, unworthy opponents for the Testimonial of Barry Wilson. A huge crowd turned out that night in the rain, many to pay Barry respects, but others believing they were going to see at least one or two well known Reds players. The Anfield kids got a right good going over with a 5-0 home win! A similar scarf or even a pennant would have been good, a worthy souvenir to mark the game, but instead the club decided to merely ramp up the price of a normal edition of the programme by two pounds, and that was it. Then before the game, we were faced with the slightly odd scenario of a newly signed goalkeeper thrown straight into the team, Owain Fon Williams. Somehow this became the news which rather overshadowed the game itself. Those who'd taken us to glory the season just past were worthy of their moment on the European stage was my opinion, and remains that way to this day!
Astra were skillful, cute, streetwise and downright depressing in the art of time wasting and game management, "skills" that developed from periodically tumbles to an almost constant occurrence every time someone got too close or dared to tackle, as we powered up the second half pressure. Astra are not known as Darcii Negri (the black devils) for nothing! Their manager Marius Sumudicahad, (who was subsequently banned for two months that season for his involvement in match fixing) had been a bit mouthy in the run up to the game, and that side of the gamesmanship continued in the days afterwards too. The whole occasion sits with me in the pantheon of dull memories, like the League Cup Final with Aberdeen, both games occasions where the fans didn't have a whole lot to hold onto and think, "If only". Yet we were by no means second best, and matched the Romanians in every department without manufacturing any absolutely glaring opportunities, but we did have more shots on target. As it was, the game was decided by a dubious free kick awarded midway through the first half on the edge of our box, where Constantin Budescu, who jostled with our Ryan Christie as man of the match, whipped an exquisitely taken free kick up and over the wall into the net beyond the flailing new keeper. Owain had been too far to one side of the goal, offering Budescu an all too tempting large slice of the goal, but it was a great strike, even if the feeling at the time was this was a goalkeeping error.
Before anyone was packing their bag for Romania, the day after the first leg in Inverness, we were back in a pot in Neon for the next round of the competition, part of an "and/or" duo with Astra that paired us with West Ham United. Given this was our first Euro campaign I can honestly say this brought a feeling of disappointment, after all who wanted an Anglo-Scottish clash, albeit a high profile clash! I am sure I wasn't alone in wanting somewhere more exotic than London, where we'd already been for a friendly with Charlton Athletic. Of course, we could only concern ourselves with any such travel arrangements if we could get by Astra, and that was going to be a tall order. The full Europa League draw had also brought the possibility of my Kazakh charges Kairat coming to Scotland for the first time to play Aberdeen. They had shown St Johnstone the way absolutely thumping Alashkert 3,0 in Almaty and were almost certainly looking to be in the next round. The Dons just had to do their part of the bargain and see off Croatian side Rijeka, a tricky tie without doubt, but they had stunningly won the away leg by a similar score, so the Kazakhs were coming, barring a total collapse by one of the three-nil winners!
It was an early morning start with a 6am flight to Amsterdam to catch a connection onward to Bucharest on the morning of the game. With the time difference it was technically an 8am start Romanian time, just 11 hours before the kick off. I have never set off abroad wearing a football shirt before, but the pride in this instance, knowing my team were playing that day in some far off land was wonderful. Sods law of course that the only person who made any comment to me before I boarded the plane was a Falkirk fan, still looking to vent about how we taken their cup away! Once I was in my seat I did see two more Caley Thistle lads board the plane, and I can only assume they were on the next leg too, but I never saw them again!
The entire journey had gone without a hitch, and upon clearing customs at Bucharest airport, Razvan was already awaiting my arrival. Timescales even allowed for us to swing by my hotel to check in, drop my luggage in the room etc after all it would be a late return following the game. The drive down to the Danube seemed to whizz by, we had plenty of chat, but burning away within me was anticipation and excitement about the game. Everything had been going smoothly until we hit the city limit of Giurgiu, (pronounced -jure jew) where the entire inside lane was wall to wall trucks, and this continued in such a line all the way to the Romanian border post just before the bridge across the Danube to Bulgaria. The problem was, this old crossing was in the process of being upgraded, and the road was down to a single track, meaning only one side could move at a time. The odd way they had chosen to do that was to allow traffic to move for around 30 minutes in one direction at a time! While cars weren't even attempting to go across as much, once we were through passport control it was a case of switching off the engine and waiting for four lanes of traffic to fight it out to merge into one solitary line for the crossing. It was boiling hot, and with the windows down it was no use, thank goodness for the air conditioning. There was no turning back, we were technically in no man's land between the two countries and I was already fretting that if it was like this on the way back, how ironic would it be to miss the kick off stuck in a traffic jam so close and yet so far.
Once it was our turn to move we eventually manoeuvred between two juggernauts, but generally you weren't going to argue with them. With the border formalities on the Bulgarian side complete, we were off in the direction of nearby Ruse, the town on the opposite bank to Giurgiu. This was first venture to Bulgaria, but little did I know at that time, my next partner would be from here, but not only that, she had spent a lot of her earlier life in Ruse. A little more than fifteen months later she'd be sitting with me at Fir Park, Motherwell cheering on Inverness! The world revolves around small coincidences and fates, making them part of the magic of life. Razvan and I had time to walk around Ruse a little, the centre was nice, if not spectacular, followed by a rather splendid meal sitting outside near the town square, with my one beer of the day! I suspect I was the only fan taking in the pre-match rituals in Bulgaria!
I was always conscious of the time, nervous about getting stuck on the bridge going back, but thankfully the queue was considerably less going north and we were headed for the Stadionul Marin Anastasovici with plenty of time to spare. The stadium was actually on the outskirts of Giurgiu, quite close to the main Bulgaria – Bucharest highway, so I never did see any more of the town other than the football ground. We parked up and initially headed round behind the main stand, but the only place for the visiting fans was two caged areas on the opposite side of the ground, so we joined a queue of happy ICT fans to buy our tickets from a wee garden shed at the end of the road. Ticket prices, like the meal in Ruse, were jolly cheap.
I have no recollection exactly how early it was that we arrived, maybe 30/45 minutes before kick off, but the whole Invernessian gang were here and in absolutely fine voice they were too. Many were a wee bit worse for wear, as I am sure the combination of beer and the heat had taken its toll a bit on some. I am unsure if anyone actually knows the exact number of visiting fans, somewhere between 500-600 I reckon, maybe circa 500 travelling under official parties, but the Bucharest newspaper the day after put it down as 600. After all, if the club were only counting official party fans we had the odd rogue DIY traveller like me, coupled with my very own Romanian ICT fan for the night in Razvan. The cage was a frustrating nonsense and trying to take some keepsakes was a bit of a nightmare through the wire, but going outside the cage near the pitch only brought admonishment from the stewards if you lingered too long. Thinking about it, were any Astra fans, save the official party in Inverness? They certainly didn't make themselves heard. Here in Giurgiu, the club quickly realised that bringing souvenirs round from the club shop in the main stand to the juice bar for the away fans was going to render significant sales. We for sure drank the fridge dry and pretty much cleared them out of shirts and scarves!
I have to confess as Gary Warren led the team out from the far corner beside the Astra lads (see cover photo), I had a lump in my throat, this occasion was more magical for me than the cup final. Never in my football supporting days, spanning 47 years now, did I ever think I would see my team playing competitively in Europe, and the pride was swelling an emotion within me. The game started at an extraordinarily sedate pace, perhaps given the heat and how early it was in the season, but we settled immediately, passing the ball around without fear or intimidation. Indeed, while Astra fans were here in reasonable numbers, it was the away fans who were making all the noise. In the first half, had VAR been around Warren would have won us a penalty, wrestled to the ground in the box, but as usual the ref just played on in those days. Minutes later, just ahead of half-time, Ryan Christie had a brilliant shot that was just tipped over the crossbar superbly by the keeper. Christie, still a youthful lad, grew into this game and commanded the midfield ahead of more illustrious players on the Astra team. We continued to press for that all important goal to level the aggregate, and a lot of the danger was stemming from Ryan. He found himself sandwiched between two Astra defenders in the second half having taken the ball down exquisitely in the box, but this time it was no penalty.
In the end Astra held firm, it ended 0-0.There was absolutely no disgrace in narrowly going out to this Romanian side who were on the way to the greatest season in the clubs history, winning the league title for the first time. West Ham were sent packing in the next round, not just in 2015/16, but the very next year too, and in all 4 games the Hammers couldn't beat Astra once. The applause at the end of the game for our Euro heroes was loud and passionate, the players came over to thank us and stayed longer than normal applauding back all with a mixture of pride and frustration written all over their faces, we had come that close.
It was a relatively quick transfer back to Bucharest, with a hug and all my thanks of gratitude to Razvan, who had been incredible. He would call me occasionally in the coming days to make sure things were going well, and even invited me on a trip to the Carpathian mountains to visit his father, but I needed to see Bucharest before venturing any further. I slept like a log that night, disappointed that we had gone out, but we are still unbeaten away from home in Europe!
I had earmarked Friday as my Bucharest culture day, and the city has a lot to enjoy and see. I had read that it has been described as Paris of the East, and aside from a smaller Arc de Triomphe, which was under maintenance scaffolding in 2015, a lot of the central areas buildings had a whiff of Paris. One building that certainly didn't feel Parisian was the Palace of Parliament, the enormous construction undertaken to appease the megalomania of the Ceaucescu's, a place that was at one time merely their home! I really enjoyed my days in the city, it had a wonderfully relaxed feel, wonderful restaurants too. On Saturday night I had arranged to meet a longstanding Bucharest friend Alexandra and her partner. While I had danced around many buildings in the area of the old town, I hadn't been down these narrow streets before I met them, and it was only subsequent to my trip and seeing videos of the Inverness fans that I realise that this was where the Caley Thistle fans had all congregated, enjoying the relaxed traffic free, cafe society and the fine selection of local and International beers, as well as giving the locals a few recitals of the Highlanders song book, "Sweet Caroline" et all. By Saturday night, if any ICT fans were still in the city, I never saw any. Earlier in the day I had met two lads in a cafe who'd actually stayed in Giurgiu and they described it as "dusty"! I was on my way to Dinamo's stadium when I bumped into them, but they weren't up for coming to see the Saturday afternoon game between FC Voluntari and Pandurii Targu Jiu! Voluntari were new into the top flight, and although not from Bucharest, they were sharing with Dinamo Bucharest for the season because their own ground didn't meet the necessary requirements. The Dinamo stadium was where our very own Romanian hero Marius Nicolae was playing his football at the time. The two lads who'd decline a game in the sun were probably the wise ones as this was a horrible 0-0 draw.
On Sunday night, I decided to unearth another ICT shirt, wearing it to the Stadionul National to see Steau Bucharest v CFR Cluj. If any ICT fans were still hanging around my shirt would have been a way of starting a conversation, but it also helped to blend in with the Steau faithful whose colour scheme is similar, if a tad more red. Alas I suspect that Sunday night I was maybe the last Inverness fan in the city, as no ICT shirts were spotted, but our TV appearances in Romania had made the locals become familiar with our story, and most spoke great English! I was disappointed when the teams were read out, upon discovering that another Caley Thistle "cult" player of yesteryear, Gregory Tade wasn't playing. Asking the guy next to me about him, he told me Gregory was being rested by the manager so he could play in the Champion's League in midweek against Partizan Belgrade! Our Gregory had done well for himself! I still recall him, long before he played for ICT as an awkward lad trying his best up front for Stranraer, but he always seemed to miss more opportunities than he scored. Gregory had just joined Steau that summer having transferred ironically from tonight's opponents Cluj. I used the zoom on my camera and spotted him loafing in the posh seats in the main stand. It was a pity I hadn't seen either Marius or Gregory play, but what were the chances of the two big clubs of Bucharest seeing their attacks being led by ex-ICT players at the time we played in Romania! Did either of them head down to Giurgiu to watch us? More likely they watched on TV as it was live in Romania, unlike in Scotland, which was scandalous, but should we be surprised? For the record, I watched my third draw in four days, but at least this time the game had goals in an entertaining 1,1 draw played out in a fantastic stadium.
At breakfast in the hotel ahead of going to the airport the next day, the news was playing quietly in the corner and scenes of Inverness fans in Bucharest appeared, as well as clips of us in the stadium in Giurgiu, as part of the morning sports bulletin. I asked the waitress what they were saying, so she stopped and listened to the last seconds of the piece and turned to me and said "they are in awe that so many people had come from such a small city to cheer their team". I flew out of Bucharest with a very wide smile.
The footnote to all these European games in June/July 2015 was two weeks later in Aberdeen, where I had written a piece on Kazakh football for the programme and was given free tickets for the centre stand. I finally got to see and meet some Kairat fans as they held firm amid a Dons whirlwind of efforts near the end to knock the home team out. My yellow and black jacket and broad smile gave me away at the end as people scowled out!
Somehow I had played witness to three Scottish teams going out of Europe that summer, and none were as unlucky as Inverness. Will we ever see the likes again? That is why we are football fans, the strength to dream is hidden in the unknown variables of our beautiful game. This piece is dedicated to all the Caley Thistle fans who ventured to Romania, and Denmark in 2007. These were days to remember.
Thanks to James Rendall for this look back at our greatest achievement to date.
Football adventures with James Rendall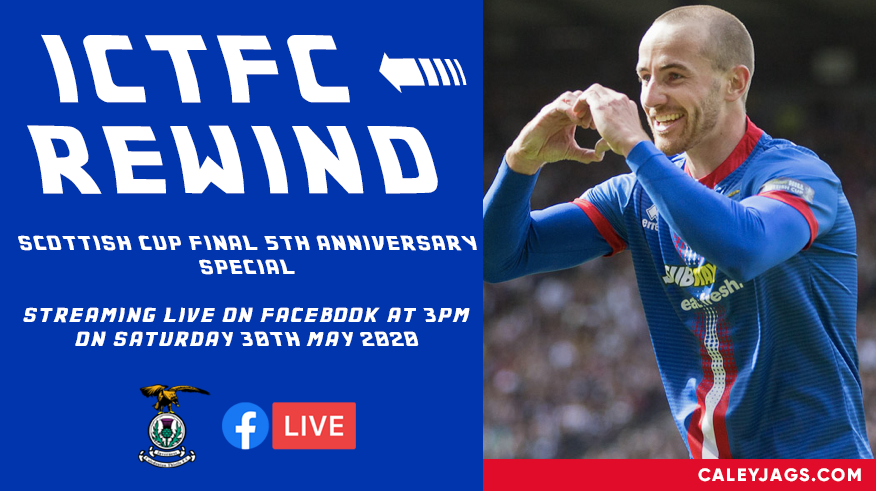 And, just for an extra celebration, you can relive the Scottish Cup Final on Saturday as Inverness go to Hampden to play Falkirk.
The game can be found on the Inverness Caledonian Thistle facebook page with Kick Off at 15:00