Play Off 1st Leg at Ayr.
Having qualified for the Premiership Play-Offs, we have the daunting task of playing Ayr United once more. By virtue of finishing third in the table, we get the benefit of a home tie in the second leg. Some say that's not maybe for the best given our random home form, and even moreso as Ayr have proved to be better away from Somerset park as well. 
~~~~~~~~~~~~~~~~~~~~~~~~~~~~~~~~~~~~~~~~~~~~~~~~~~
ICT Supporters Travel Club ? ? ?
PLAYOFF BUS TO AYR ON TUES 7TH MAY LEAVES ...CALEY CLUB 1.45 &  STADIUM 2Pm
BOOK ON FACEBOOK OR PHONE/TEXT 07462 218717
~~~~~~~~~~~~~~~~~~~~~~~~~~~~~~~~~~~~~~~~~~~~~~~~~~
Matchday 36 ended with a wee present from Dunfermline. They gifted us a goal to help us into third place and Alloa Athletic did the rest by drawing with Ayr. Nathan Austin was the beneficiary of a defensive mistake that saw a suicidal head high pass back bouncing off keeper Cammy Gill into the path of Austin who accepted the gift and stroked the ball into the empty net. One sour note was that Coll Donaldson came off at half time feeling his thigh and Jamie McCart replaced him for the second half.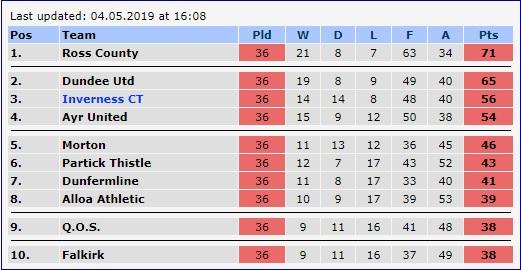 Whilst we were beating Dunfermline, Ayr United were being held to a 1-1 draw at home by Championship team of the season Alloa Athletic. Connor Shields opened the scoring for the Wasps but top striker Lawrence Shankland levelled four minutes later and that's how it ended, leaving Inverness third with United dropping down to fourth.
So it all boils down to this, the play-offs, where it's all designed to favour the teams in the order they finished in the league. That means home advantage in the return leg, and the 3rd & 4th placed teams having the most to do. Another thing to remember is that away goals do not count in the event of the games finishing level over the two legs. The team that scores the most goals over the two legs goes through to the next round. If the scores are level over the two legs then there will be extra-time and then penalties if required.
In the four meetings between the clubs this season, there has been one draw and three wins for Inverness. The first game in the Highlands saw newly promoted Ayr come away with a deserved 0-0 draw. The next game at Ayr was postponed in December due to high winds before we played them again in the North, running out winners thanks to a Jordan White goal. Down to Somerset Park at the end of January where we won an extraordinary game 3-2, having led 3-0 after 18 minutes. A Nathan Austin brace and a Liam Polworth goal had us cruising, but goals from Declan McDaid and Lawrence Shankland made it a tense finish. The final game was played only four weeks ago and a Brad Mckay goal was enough to win the points. So, Inverness getting the better of these games, but to be honest, very little between the sides.
There's not much more to be said regarding the onfield news. Carl Tremarco missed the Dunfermline game with a calf injury. Coll Donaldson strained his hammy and was replaced, hopefully just precautionary but Sean Welsh is out long term. Mark Ridgers returned at the weekend and came through the game without concern. Kevin McHattie will replace Tremarco should he not make it.
Ayr had Lawrence Shankland in their team against Alloa, and that is a worry for any defence. Manager Ian McCall has some concerns over a few players. Steven Bell and Craig Moore are out for the season. Defender Liam Smith has tweaked his hamstring and midfielders Jamie Adams and Andy Geggan are in the doubtful category.
~~~~~~~~~~~~~~~~~~~~~~~~~~~~~~~~~~~~~~~~~~~~~~~~
Ticket prices for the games home and away against Ayr have been set at £12, the minimum price dictated by the SPFL rules. Further Information can be found on the OFFICIAL SITE.
Here's another tidy offer. Hospitality is £35 plus VAT at the Caledonian Stadium. Unfortunately, there is no season ticket discount rate as the SPFL have confirmed we have to charge for every ticket. Boooo @ spfl 

Email [email protected] to book your place or call the club on 01463 222880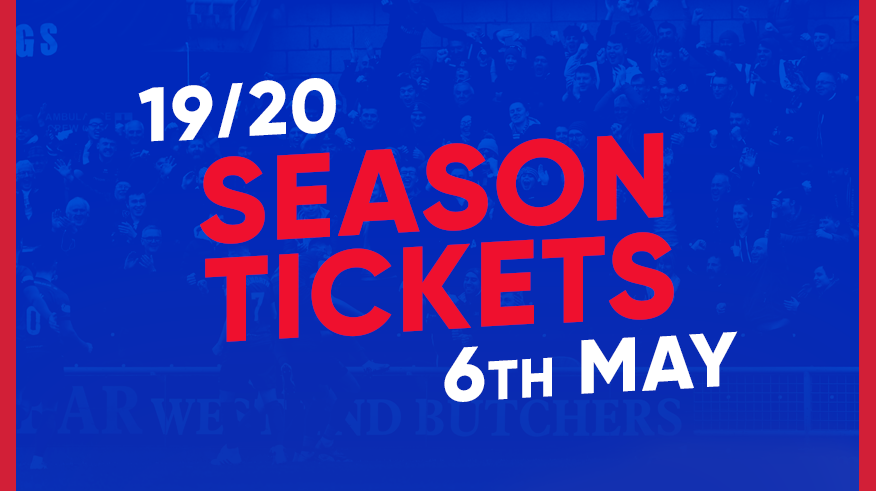 With a new season looming, the club have opened the early bird offers for Season tickets. If purchased within the window allocated, season tickets will be frozen at last years prices and any tickets bought now will be honoured for the Premiership should we be successful in the Play-Off finals. At present, the window is 6th May to 26th May. See OFFICIAL SITE for detailed information regarding season tickets.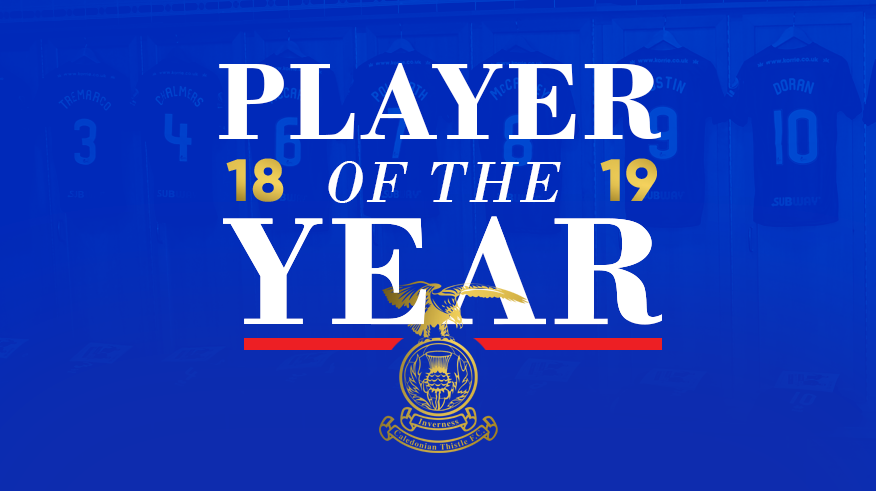 It's been a challenging season for all at Inverness this year and it's pastures new for some, notably Liam Polworth heading to Motherwell after eight seasons with us. Others are sure to follow as money talks and Roy comes calling with cheque book in hand. Mark Ridgers is one that will be staying for another couple of seasons and local lad Mark has had a tremendous season after winning over the fans with some breathtaking saves to become one of the top keepers in the Championship.
PLAYER of the YEAR awards were handed out after the Dunfermline game. Various trophy's dished out and you can see the full array of photo's taken by CaleyJags.com. on the Official Site.  Here's the gist of it below, but head over to ICTFC for full details.
Aaron Doran was voted the Fans PotY.
Tom Walsh was voted the fans Young PotY
Sean Welsh & Joe Chalmers were voted Players PotY
Jamie McCart was voted Players Young PotY
Roddy MacGregor was voted u18 PotY
Coll Donaldson was voted Caley Jags Away PotY
Joe Chalmers was voted Press PotY
Coll Donaldson can be seen receiving his trophy from CTO and Caley Jags Away member Adamskibeats.
Coll is also the front runner in the CTO polls.
~~~~~~~~~~~~~~~~~~~~~~~~~~~~~~~~~~~~~~~~~~~~~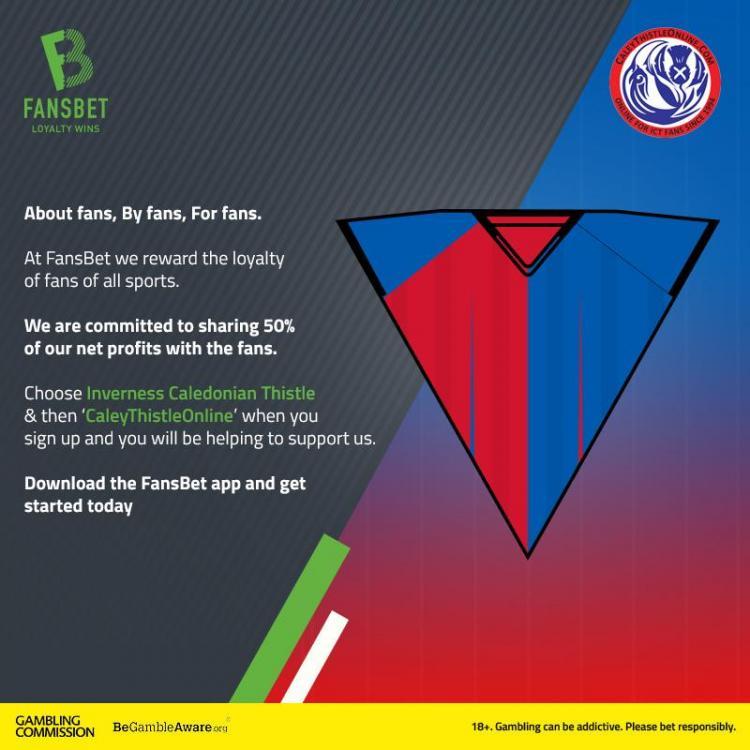 If you like a wee flutter, our new partnership with FansBet can offer you something. Just click on FansBet to get started.  "Remember to select CaleyThistleOnline when you register and you'll be helping us support ICT fan causes."
FansBet are partners with Supporters Direct Scotland and already have many impressive stories of giving back to and empowering fans, ranging from funding away travel, share purchases, backing safe standing projects and many more. You can read some of FansBet's Giving Back stories on their blog at https://blog.fansbet.com/fansbet-giving-back/partners/fan/
Always remember to adopt safe gambling and responsible policies.