Robbo Burns 
As Rabbie once said to me....
The best laid schemes o' mice an' men Gang aft a-gley, An' lea'e us nought but grief an' pain For promis'd joy.
On the day of the Bard of Ayrshire, Inverness faced the Honest Men at Somerset Park with a new look defence after Coll Donaldson jumped ship, with Lewis Toshney joining Tom Walsh and Sean Welsh on the bench. The departing Jamie McCart was also benched again.There was the added incentive of Dundee crashing 2-0 at East End Park last night and three points for either side would be a huge bonus.
Stephen Kelly scored the only goal of the game after an hour and both sides hit the woodwork, but it was no more than Ayr deserved as they closed the gap on Inverness to just one point. Our new defence got in a fankle at the goal allowing Kelly to take advantage.
From the quill of the Bard himself, and so true......
There is no such uncertainty as a sure thing.
RIG was on hand to see the wee sleekit courin timerous beastie, also known as the referee......
I think whilst we were on the end of some pretty debatable calls from the referee, Ayr were the better team throughout the 90 minutes and deserved the win. Kerr seemed to set Ayr up a bit more defensively than previous match ups and they let us carry the ball forward with little pressure but we were swarmed as we entered the Ayr half and forced to thread balls through a well organised Ayr midfield and defence (which we couldn't do) or try and dink a ball up to White and later Todorov (which we also couldn't do).
When Ayr seized the ball they broke with real pace and direction quickly feeding the ball wide to Forrest or Moffat on the flanks or looking to play a pass in behind the ICT centre backs and a lot of their good chances game from this. Only a triple block/save combination from McHattie and Ridgers stopped Ayr opening the scoring in the first half which saw wave after wave of attacks threaten the ICT rearguard. Fortunately we held them off and had the ball in the net when Keatings lifted a free kick in for White who beat Doohan to the ball and flicked it in but the referee gave a free kick for a foul by White. Seemed pretty soft but it would have been hard on Ayr had we gone ahead (though thoroughly pleasing obviously).
Second half and there seemed to be a strong claim for a penalty when Doran broke into the box and looked like he was pushed in the back sending him to the ground but the referee waved play on. Not long after this Ayr scored. I didn't see what happened but after I had stopped admiring my new trainers I looked up to see Trafford on his arse and Kelly seizing on a loose ball, heading for goal before calmly slotting past Ridgers. No more than Ayr deserved in fairness but frustrating nonetheless from an ICT point of view.
Ayr had more chances after this to extend their lead before Doran went down under another challenge however this time he got straight back up to chase the ball before Aitken blew for a foul and cautioned Doran for diving which seemed a bit odd given he didn't seem to be looking for anything. We went with 2 strikers for the final few minutes with Todorov coming on to partner White but we didn't really create anything of note until the final kick of the game when Ayr threw bodies to block a couple of ICT efforts from close range  (these might even have been our only shots on target...).
Bizarre to see us end the game with a couple of big lads up front and our two best crossers of the ball on the wings yet we persevered with little dinked balls up towards White and Todorov which almost never found them. Any ICT fan not bothered about losing Donaldson AND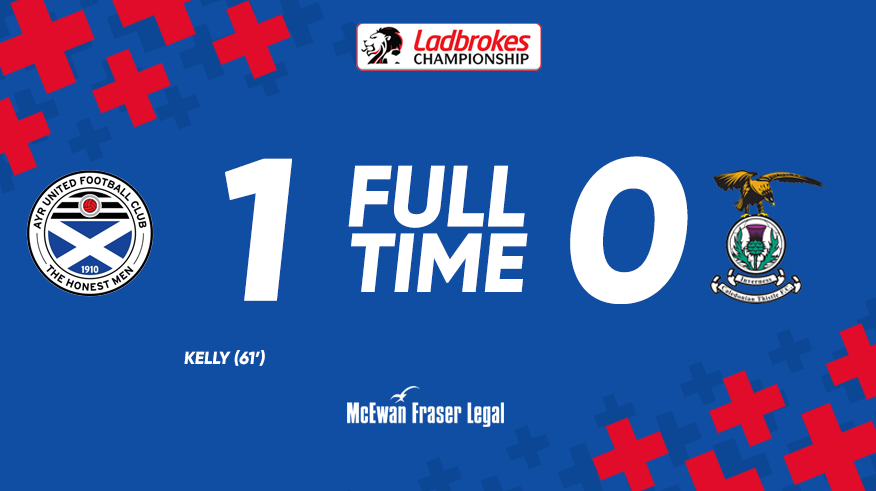 McCart should be worried after today's defensive showing. Whilst McHattie was solid enough Mckay with the ball at his feet was an absolute bombscare. Vincent was decent for us, possibly closest to ICT MotM. Kerr and Moffat looked good for Ayr and Drinan really gave Mckay and McHattie a torrid time. 
We have a real battle on to maintain second spot which could be huge come the end of the season..
Highlights from Ayr United TV
Eagle4Caley left Crystal Palace behind for the weekend to go to Somerset Park and enjoyed the ambience......
The highlights suggest a close game, although I felt Ayr had more chances, but we hit the bar, and quite why our goal was disallowed is beyond me...White at no time is looking at the goalie only at the ball, and I'm not convinced he even touches him. Also Doran was clearly pushed over in the penalty area, and then next time he gets a booking for going down, when you can see he catches the defender legs and is trying to regain his feet. Their goal was a bit of a bummer, at first I thought that McHattie was at fault but credit to the Ayr player who actually closes Charlie Trafford down very quickly. I thought McHattie had a decent game, as did McKay...strange how quickly our CB pairing has changed (presumably to make ends meet). For me our midfielders were the pick of the bunch, plus Walsh when he came on. Our forwards were very much powder-puff, Doran was quieter than expected, Storey didn't offer much apart from two/three decent crosses, I'm not sure what Keatings was doing and White looks like he is the Centre Forward because he's tall, because he seemed unable to anticipate where high balls were going nor jump at the right time (except for the disallowed goal), he's definitely better with his feet!
For me 2nd place is probably between us and Ayr, so this was a disappointing reverse, but I guess we can't win every match against them.
Robbo's the man for a' that....
---
a