CTO Player of the Year 2018/19 - COLL DONALDSON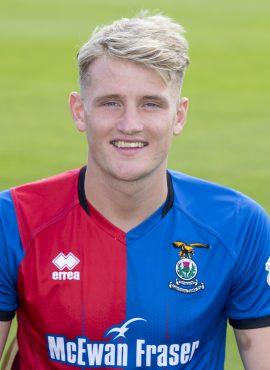 Players of the Month
| Month |   | Player |
| --- | --- | --- |
| August | | R.Calder / Tom Walsh |
| September | | Mark Ridgers |
| October | | Coll Donaldson |
| November | | C.Donaldson / M.Ridgers |
| December | | Tom Walsh |
| January | | Tom Walsh |
| February | | Coll Donaldson |
| March | | Aaron Doran |
| April | | Jamie McCart |
| May | | Charlie Trafford |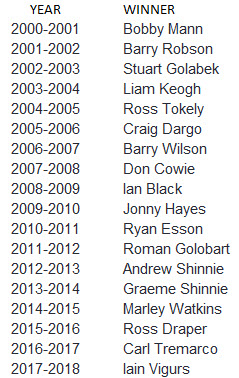 The CaleyThistleOnline.com player of the year awards started back in season 2000-2001, and is one of only two external supporter awards recognised by the club and also recorded in Ian Broadfoot's official club stats. We take great pride in that and continue to seek to ensure the voting process is handled with fairness and integrity.
The results over the last 18 years have usually been a pretty good indicator of the season that had just passed and this season's votes seem no different than previous years in that respect.
From reading the forums and the supporter assessments of the players on a weekly basis, I would hazard a guess that most fans would easily be able to rhyme off the top 5 or 6 names quite easily. 
This year however was the first time we had the little wrinkle that is the playoffs to add some spice to the run-in. With a 7 point lead going into the last official league game of the season, last year's runner-up Coll Donaldson was in pole position to take the plaudits. Could he maintain that or could someone catch him?   
There were a total of 2981 votes cast this season which was an 22% increase on last year. These votes were cast for a total of 23 different players over the course of the season. The season covered 10 months and two players each won 'Player of the Month' three times (Donaldson & Walsh), one player (Ridgers) earned it twice, and 4 other players took it for a single month (Calder, Doran, McCart and Trafford). If you are thinking that that adds up to 12 you are right !!! In August, the Player of the Month plaudits were shared between Walsh and Calder and in November it was shared between Donaldson and Ridgers !  The graphic below shows the number of votes cast each month regardless of 5/3/1 point value. We use this total number of votes cast to determine the player of the month standings. 
Over the course of the season the player with the highest number of votes cast for them (regardless of the value of the votes 5/3/1) was Coll Donaldson with 390 votes. Last year he finished in second spot with 338 votes so a very consistent young man in his Caley Thistle career so far. Second spot this year goes to Tom Walsh with 282 votes with the next three spots being taken up by Doran, Polworth and Ridgers who are all over the 250 vote mark.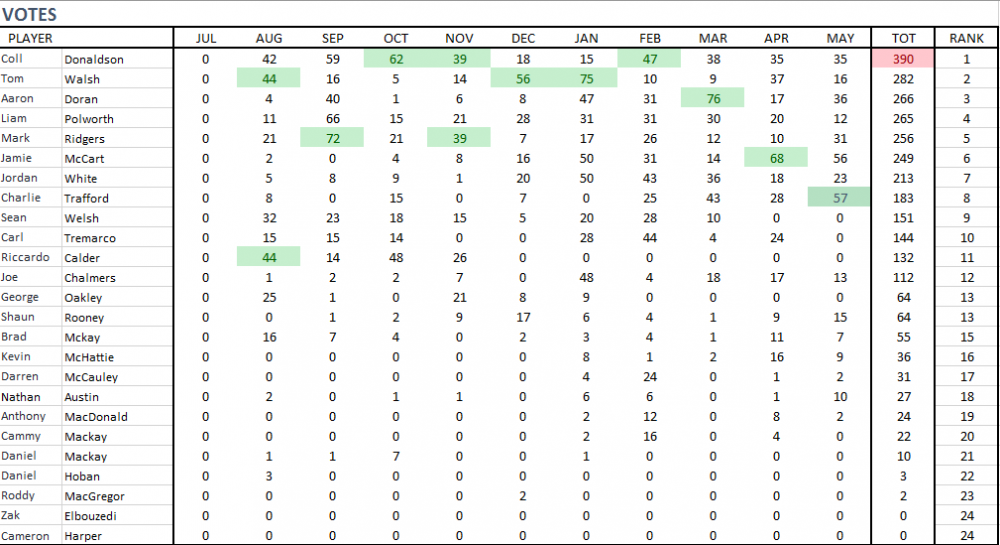 We noted last year that Iain Vigurs had been very dominant in pickling up POY points every month and that this wasnt a regular occurence .... Well, as if to prove us wrong, it happened again this year ! Of course it is easy to guess who did it, yup, Coll Donaldson picked up POY points every month and has equalled the Vigurs achievement of last year.
A special mention has to go to Jamie McCart though .... Having amassed a grand total of 11 POY points through the first 8 months of the season he earned 26 in the months of April and May to shoot up the rankings and finish fifth. If the season had lasted a month longer he might have even caught up with the leaders. 
The final total for the year has Coll Donaldson retaining the lead he has held all season and finishing with 62 points. In second place is Aaron Doran with 52 and the next three are Liam Polworth and Tom Walsh in 3rd equal spot and Jamie McCart as mentioned pushing Mark Ridgers out of 5th spot to claim it for himself. 
Well done Coll, and to all the boys for a season where we almost got there on two fronts ... onwards and upwards and hopefully one step further next year.