Rendall's Rambles #4
If you have been following James on his ICT journey, here's the next three seasons. He's a well travelled football connoisseur who has been following the Caley Jags from the start. He has put together a fascinating nostalgic recap of Inverness Caledonian Thistle's first 25 years as witnessed through his own eyes. Thanks James, a remarkable commitment to the beautiful game.
Inverness Caledonian Thistle Years No.10 #ICT25
2003/04 (Games 344 to 396)
First floor perfumery, stationery and leather goods, going up 😎: And so it came to pass, that upon the last kick of the 10th year of the empire, Mother Inverness were going to the top table! It started in exquisite fashion back in early August with a 5-0 win over Gretna in the Challenge Cup, our only ever visit to Raydale well ahead of the Border team making its brief mark on the world of Scottish football.
Did we lose to Falkirk in August? What do you think?!!

 2-1 for the Bairns, and even in the closing games of the season they held us 0-0 in the third last game of the season, a result that kept us off the top of the league, but only for one more week! Aside from the Bairns bogey, other teams were put to the swords with 4-0 away wins over Raith, St Mirren, and Queen of the South beaten 4-1 at home. We had never hit the top of the league until the penultimate day when we went to Cumbernauld to play long time leaders Clyde! That was the closest the Bully Wee came to the top flight in the modern three or four tier era. It didn't start well, as Clyde took the lead, but their was a momentum to us, and the equaliser when it came from the most unlikely scorer in Liam Keogh saw a celebration akin to Marco Tardelli scoring versus West Germany in a World Cup Final! The winner came from our at times frustrating but equally reliable Steve Hislop, and we didn't just win the game, we went top!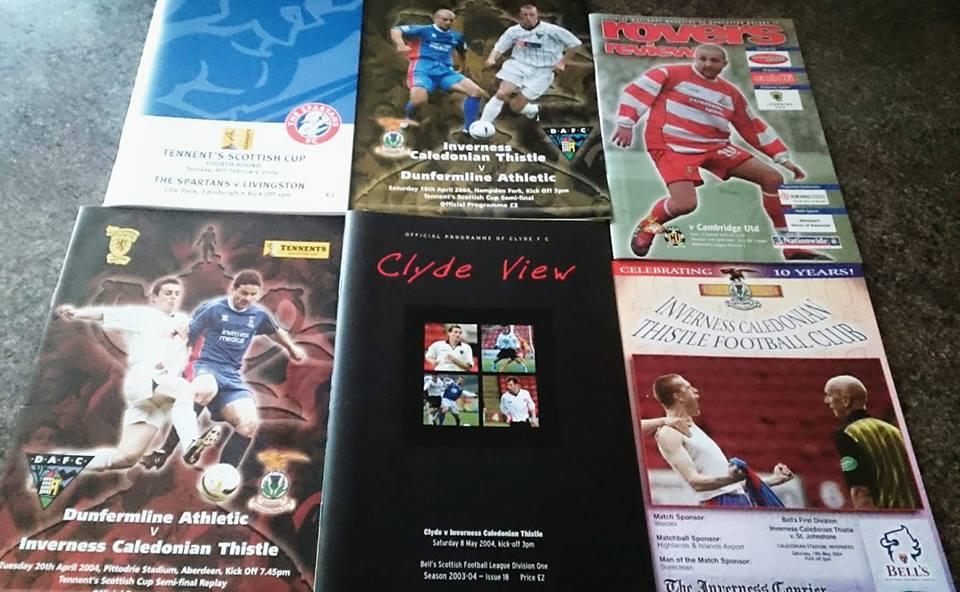 They had a "helicopter" Saturday the following week, but in truth the Championship was never in doubt, David Bingham settled the nerves, Paul Ritchie got the second, and Barry Wilson blasted a late penalty to see off St Johnstone 3-1 with a pitch invasion of riotous joy ahead of the trophy arriving. I am sure Partick Thistle thought our Championship would see us denied promotion, but assurances were made, and while we played a lot of the next season in Aberdeen, when we came home the stadium met all the necessary requirements.
The cups were joyful too this term, with the club winning it's first Scottish knock out trophy with a 2-0 win over Airdrie United in the Challenge Cup Final in Perth. We reached a second consecutive Scottish Cup Semi Final, with Dunfermline our opponents at Hampden. A 1-1 draw saw maybe the last ever semi final replay, which took place at Pittodrie. We lost a cracking match 3-2 but I am still haunted by a near miss by Paul Ritchie that might have made all the difference. We would get used to Pittodrie the following year, and we would take our revenge on the Pars, but that's next week's tale!
The Inverness Caledonian Thistle Years #ICT25
No 11 2004/05 (Games 397 to 453)
Nibbling at the top table: Life in the Premier, the top league in Scotland, they say it doesn't get any better than that! In our eleventh year, we had scaled the whole way up the leagues, and while I am sure many were relishing the challenge, I was both shocked and terrified! Yes in 1973 when I first went to a game with my dad it was a top flight game, but Hearts v Arbroath in a league on 18. We only ever went against the lesser lights, and with fan violence on the increase, by 1978 I had rebelled and I had gone off to find my own adventures, far from any such goings on. In the fifteen years I was a Meadowbank fan, only once did we even get vaguely close to the Premier League, finishing second behind Hamilton. Only once before I walked out in 1993, sickened by the hijacking of the club and the protests, did we play in Glasgow against either of the Old Firm, a League Cup semi final first leg at Ibrox. We lost 4-0 but stuff was being hurled at us, and it was a very uncomfortable night. For ICT playing in the Premier League, I needed my own ground rules, and that was banning myself from going to Ibrox or Celtic Park for any league game! Having made that decision, I relaxed and I have stuck to it to this day, and even though we played The Rangers in a League Cup tie at Ibrox and won, I didn't. I have never seen us play at Ibrox, but I have been at Celtic Park for Cup ties just twice, once rather memorably!
The start of the campaign didn't have a very top table feel too it, Livi away, and Dunfermline 'home' at Aberdeen, much to Partick Thistle's disgruntlement!!
We were absolutely horrible on debut, going down meekly 3-0, just as we had been a few years earlier in our first game in the Championship, a 4-0 loss at the Pars. Oddly the last time we played Dunfermline had also been at Aberdeen, the cup semi replay loss, but this time we got things right, and game two of the season brought us a 2-0 win, with the honour of our first ever Premier League goal going to an unlikely scorer, Stuart Golabek! It was never going to be an easy season, doubly so playing so many games away from Inverness, but this early win was vital.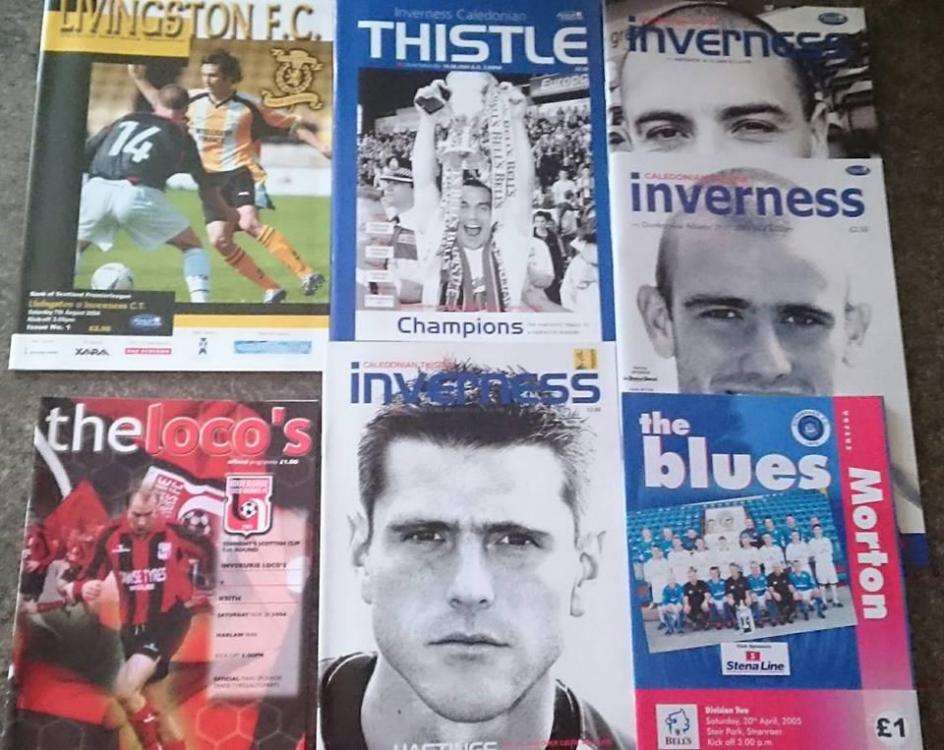 Our next Pittodrie home match was versus Celtic and we were competing terrifically well and then came a sickening moment that I will never forget, and while many seem to dislike Neil Lennon for a variety of idiotic reasons, the utter shameful gamesmanship of going down holding his face when Juanjo nudged his chest was one of the worst moments of cheating I have ever witnessed. Juanjo was sent off, Lennon never received any retrospective punishment (it probably didn't exist then) and the dynamic of the game changed, from 1-1 we lost 3-1.

Hosting Aberdeen at Pittodrie was always going to be a unique and funny thing. We got the home stand and doubtlessly the home dressing room. It was a terrific atmosphere, and while hardly a derby, we are two northern teams. We did get the chance to keep the wee team firmly in its place too, winning 1-0 in Dingwall in the League Cup.
We ended up playing home games in three stadiums that season, with our Scottish Cup win over St Johnstone coming shortly after the last game at Aberdeen, with this one being played in Dingwall with a 1-0 ICT win. On the 29th January we were home finally and we did the home double over the Pars with another 2-0 win, Barry Wilson scoring our first proper home top flight goal!
A March into April series of wins were enough to see us clear of trouble at the bottom, starting with a fine 2-0 win at Tynecastle, then a rare win at Kilmarnock and a stirring 3-2 win over Dundee. The Dees neighbours came to Inverness on the last day of the season in their thousands, where a dubious penalty saw mayhem erupt at the away end, scored by Barry Robson. The Arabs had saved themselves but it was a portent of things to come!
It was never going to be anything other than a hard season, but we made it!! We'd even get a wee trip abroad before we knuckled down to life at the top table again the following season, stay tuned for the next instalment next week! 
I was doubtlessly missing trips to Inverness as I found myself at Clachnacuddin versus Brora in November, on a day when ICT were making a league debut at Celtic Park. It ended in a 3-0 home win for the Lilywhites, a result that wouldn't happen now! Oddly, I was to see two more Highland teams the very next week! I was just entering Aberdeen for our match with Dundee United when the radio informed me that the game was off. No one had cleared the snow off the pitch! As luck would have it, Inverurie were playing Keith in the Scottish Cup, so I headed there. The referee was none other than my old work mate and Pomona player Crawford Allan. It was an odd appointment for an Edinburgh ref, and in chatting to him, the last thing he wanted was a replay. Well nothing like a dubious last minute penalty to save the journey north again, with Keith the happy recipients winning 2-1 courtesy of the spot kick! 
The Inverness Caledonian Thistle Years #ICT25
No12 2005/06 (Games 455 to 511
Five dots to Farum ..... 🚂The second campaign in the top flight was always going to have an anti-climax feel to it for me after the season started with Inverness in action abroad!
The train down to South Denmark from Copenhagen to Nykobing wasn't exactly with the same anticipation as the trek to Giurgiu, but in 2005 who could have envisaged that ICT would ever play competitive International football! 
Walking around the quaint Danish town I was beginning to fear I might be the only visiting fan! The small posse never bumped into each other ahead of the game, but we were ultimately a collected gathering of five at the first ever ICT game abroad with Don Taylor, his wife and son as well as another lass lending our support. Nykobing Falsters Alliancen was the rather cumbersome name of an allegedly new Danish super club, but as far as I am aware they have never troubled the top tier. They were to beat ICT on our European bow 2-1 with Liam Fox claiming our first overseas goal. 
We all spent some quality time in Copenhagen, which really is a fabulous city, joined as we were by one more fan, Alex ahead of the local metro train out to Farum. It was a well heeled sleepy hedgerow suburban town at the end of the metro line. It took an age, but we eventually got down to five dots on the train map in the carriage, a phrase that stuck in the legend of the trip! Nordsjaelland's stadium had a hotel, where the team were staying, complete with a bar/restaurant. The pre and post match tipples were scooped here, latterly with the team chomping a meal ahead of having a night on the town in the city. This was a well earned night out as we had just beaten an up and coming top flight Danish team 1-0 on a very warm afternoon. David Proctor gave us the win, as we all enjoyed cinema-esque padded seats, albeit they were getting rather hot! Nordsjaelland would crop up in competitive European football versus Queen of the South a few years later, and only one fan travelled to Scotland, so respect to the six of us who went to Denmark for friendlies!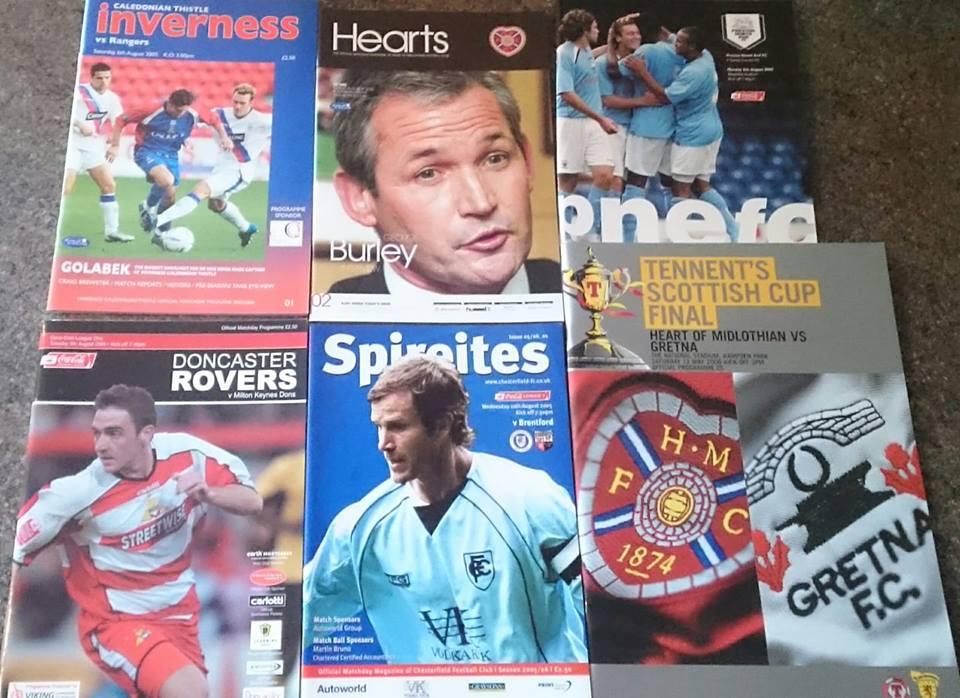 Back to the bread and butter Premier League football we started with a moment of reverse history defeating Falkirk in their back yard in August as a welcome to the top flight! We didn't suffer too badly from second season syndrome and picked up points regularly to keep the bottom well below, but never enough to make the top six. A 2-1 win at Easter Road was a notable early result, which eventually became a treble over the Leith side winning 2-0 in Inverness, and 2-0 on our second visit to Easter Road. We nibbled a home point off Celtic in a 1-1 draw as well as thrashing the Bairns 4-1 at home too. Ridiculously we played at Livingston four times away including a League Cup Quarter Final loss, finally winning one of these jousts to keep us safe in the top flight in late April. 
This was the season where George Burley's Hearts won the first ten games of the season including a 1-0 success at Caledonian Stadium, but then he was sacked, and where did he disappear to after that? Hearts did have something to celebrate at the end of the season, just, when third tier village sensations Gretna nearly won it, and maybe only a perfectly timed Robbie Neilson tackle saved them from losing ahead of winning the penalty shoot out! 
Hibs had a horrible season when I was in the stadium, murdered 4-0 at Tynecastle and in the only game I saw that they didn't lose was a feeble 0-0 with Dnipropetrovsk from Ukraine. I was at three English games in three days at Preston, Doncaster (the first of three in the season), then Chesterfield, a chance to see Saltergate before it disappeared with the bees of Brentford winning 1-3. Scotland very nearly beat Italy but a controversial late free kick for Italy brought their goal in a 1-1 draw, but we then lost to Belarus at home 0-1. Typical modern day Scotland!
~~~~~~~~~~~~~~~~~~~~~~~~~~~~~~~~~~~~~~
Thanks James, some great memories in there. Five dots to Farum? When asked how far to go, I looked at the electronic display in the carriage and that's where the five dots to Farum came from, each dot representing a station. Mee was the other fan, all the way from Foyers. Farum was home to FC Nordsjælland, managed at the time by former Celtic player Morten Wieghorst, really nice guy. The floodlights were not visible as we strolled to the ground en mass, all six of us, and the reason became clear when we got there. The ground was close to a flight path and the floodlights were on hydraulics enabling them to be retracted when not in use. The Stadium was 10,000 all seated with leather seats and beer cup holders on each one. Wonderful!
More to come from James, the next three seasons coming along next week.
You can read all about James' worldwide footballing travels in his own excellent blog FOOTBALL ADVENTURES WITH JAMES RENDALL