Rendall's Rambles #5
If you have been following James on his ICT journey, here's the next three seasons. He's a well travelled football connoisseur who has been following the Caley Jags from the start. He has put together a fascinating nostalgic recap of Inverness Caledonian Thistle's first 25 years as witnessed through his own eyes. Thanks James, a remarkable commitment to the beautiful game.
Inverness Caledonian Thistle Years No.13 #ICT25
Season 2006/07 (Games 512 to 578)
A very European feel season. Football in eight countries!! The third season of Caley Thistle at the top table. While the essence of each campaign was survival, the general feeling amongst the fans seemed to be more insistent that cheap Pomagne was traded in for a drop of the proper stuff. Reaching for the fabled top six was the want, but the reality for a brilliantly run club on a shoestring, they can't just switch up and splash the cash. Our 13th season wasn't unlucky but it wasn't one that lives long in the memory. That said, I was here, there and everywhere so I may have missed a classic memorable game or four!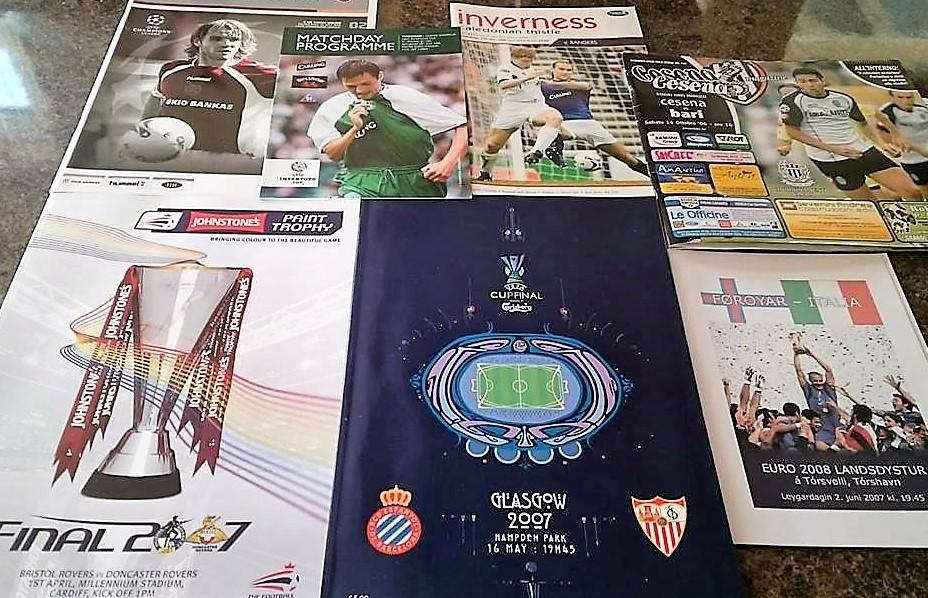 Before the season started Neil Warlock brought Sheffield United to Inverness for Ross Tokely's Testimonial. It was a good crowd, a worthy attendance for a wonderful servant of the club, who many years later was poorly dealt with by Terry Butcher. In this game, the Blades were flashing past us, and ran out 3-0 winners. The league didn't start brilliantly, it rarely does, and losing at home to St Mirren was a poor opening gambit. A brave point at Aberdeen, as well as home points versus the green duo steadied the ship somewhat, but it was the 29th September before I saw us win a game, a narrow 1-0 at home to the Pars. Falkirk were then beaten at home 3-2, a rare moment of joy versus the Bairns in the Highland Capital. A bag of struggles ensued, but Christmas came with a morsel of festive cheer, a 2-1 versus Rangers. This remains to this day, the only time I have ever seen Rangers lose!! Darren Dods and a John Rankin screamer won the day. The biggest win of the season that I saw was a 3-0 thumping of Hibs, who rarely enjoyed their trip up the A9. Ultimately it was the bottom six again, but with limited chance of going down, and perhaps with a relaxed, let's enjoy life attitude, we beat Motherwell, Dunfermline and St Mirren before the curtain came down.

~~~~~~~~~~~~~~~~~~~~~~~~~~~~~~~~~~~~~~~~~~~~~~~~~~

The Inverness Caledonian Thistle Years #ICT25
No. 14 2007/2008 (Games 579 to 631)
Fourth top table safety secured: August is still a month I dread when it comes to ICT even if we have marginally improved in learning to hit the ground running! In this particular season we absolutely hit rock bottom with four straight defeats, two home 0-3 biffings by Rangers and Arabia, with narrower 2-1 losses on the road at Well and Les Buddoise sandwiched in between. I was so hacked off I scampered off to Italy and Doncaster before casting eyes on a win finally, 2-1 on the 22 September at home to Hearts. A bit like buses another win came the following weekend with a 4-2 with over the Bairns also at the Caledonian Stadium. A rare moment of home joy against a team that had previously inflected such painful home losses, but the monkey was far from gone as next season will tell ?. 
In truth this season quickly panned out as a walk in the park, even for the less ambitious teams. Gretna had overstretched in too quick a time, and having to play 'home' games at Fir Park for a small village team, it was the financial straw that broke the camels back, and indeed, maybe it exacerbated Miles Brookson's illness. His investments in the USA were collapsing, his health was deteriorating and his family were trying to hold onto what family legacy hadn't been pumped into Gretna, and to a lesser extent Workington. Miles was a good egg, his heart was in the right place, Gretna was the mouse that briefly roared, but despite completing the season, they would fold by the summer. The new Gretna doesn't ever wish to be associated with the old one which I find sad.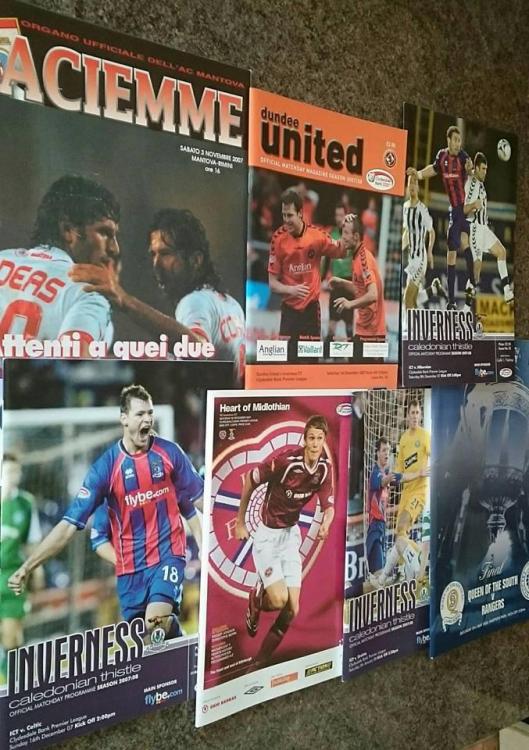 As mentioned previously seeing Miramar Misiones beat Central Español in Montevideo the previous season, one of the stars of that win would end up at Gretna, Fabian Yantorno. ICT had already thumped them 4-0 away, but when they came to Inverness on the 5th January, my programme article on the Uruguayan game would start a beautiful friendship, and I hope I will get to see him play one last time before he hangs up his boots when I head across to South America in late Feb next year! We won that encounter 3-0 but prior to that from late November, we won four games on the trot making up for August loses to St Mirren and Dundee United before back to back home wins versus the green duo, 2-0 v Hibs and more memorably 3-2 versus the hoops, John Rankin, David Proctor and Don Cowie with the goals. The day before that I had watched third tier Moss County struggle to beat Berwick Rangers 2-1. Ironic that next weekend the Dingwall mob will be promoted to the top table again, and Berwick could well be sent to walk the plank versus East Kilbride or Cove! Scotland could lose it's English club ?. 
It kind of dribbled away after that home win v Gretna, I scampered off to South America and Donny again but did catch a close run 3-4 home loss to Aberdeen, but following a 6-1 clubbing of poor Gretna again, the 0-0 last day draw at home to St Mirren kind of summed it all up. There would be no Gretna the following season, were we ready for the fight? Find out in next week's gripping instalment!! 
My neutral games in Scotland hit an all time low in this season! I never saw any European games, save a Murrayfield friendly between Hearts and Barcelona. I will let you work out who won ?. I finally got a league game at Borough Briggs Elgin, a 2-1 home win versus Dumbarton. What I didn't know then was that this Sons goal would be the only one I had seen to this day since they pulped Hearts 5-2 at Tynecastle!! There was a fire drill that day ?.

~~~~~~~~~~~~~~~~~~~~~~~~~~~~~~~~~~~~~~~~~~~~~~~~~~~~

The Inverness Caledonian Thistle Years #ICT25 
No.15 - 2008/09 (Games 632 to 696)
That sinking feeling! August, usually that perennial bad month for ICT started so well, a 2-0 win at Pittodrie, but a week later, the new boys Hamilton Kaccies, beat us 1-0. However this was to be a different first month of the season, but before any more league hostilities, Liverpool duped 7,000+ at the Caley Stadium for Barry Wilson's Testimonial into thinking an 'XI' might include a star or two, but they were in my opinion disrespectful in sending a bunch of kids, and they got what they deserved in a 5-0 home win! Things settled down nicely, a 1-1 versus Hibs was followed by a rare August win versus Falkirk, albeit away, and it merely acted as a poking of a well oiled bear that would haunt the rest of this season. Sandwiched in between these league games was an uninspiring 2-2 (4-2 pens) win at Arbroath, although Gayfield is always one of the great wee stadium of this land!
We were still picking up points here and there, beating Killie 3-1 at home days after getting the better of Morton in the League Cup. Narrow losses at Arabia and at home to Well, who had a cracking record versus us in Inverness in those days, sadly, before we were back at the Bairnabeu for the League Cup Quarter-final, going down 1-0. Somewhere soon after that game Craig Brewster departed, and Terence Butcher arrived! 
We bounced back in the league with a 2-1 over Hibs at Fester Road. We had a habit of winning there at this juncture, but what is more remarkable is that my mate Fabian played his only full game for Hibs that day! Sorry hombre ☺. The tale end of the year was fairly torrid, Les Jambons, the Darling Buds of Chic, Dons, Arabia and the Castle Greyskull tenants all stuffed us without us even as much as tickling their under carriage so to speak! The new year started in better fettle with a fine 3-0 dismantling of the Maryhill Magyar, before I scampered off to South America a few weeks earlier than normal.
Upon my return, a draw at Tannadice and another win against the Cabbage saw us nearing a top six place, but we would fall short, as well as exit the Scottish Cup in a bad tempered home fixture to Falkirk. Two weeks later they murdered us 4-0 down at their place, but we ended the regular campaign comfortably clear of the bottom. Alas, Butcher would experience this post split demise not only with us, but Hibs a few years later. We just couldn't get the win that would keep us safe, and other results conspired to drag us further and further into the muck. Two points from twelve meant we were 11th just above Falkirk going into the last game. They had already thrashed us 4-0 and knocked us out of both cups, the sense of foreboding was prevalent before we kicked a ball. Hughes had moulded a street fighting unit, marshalled by one Steven Pressley, who would fall down holding his head so often after a corner it was embarrassing. When he did it in the cup match and winked at the crowd, the normally passive home crowd were positively foaming. Bad blood was overflowing on the last day, six games in a season playing each other was taking it's toll.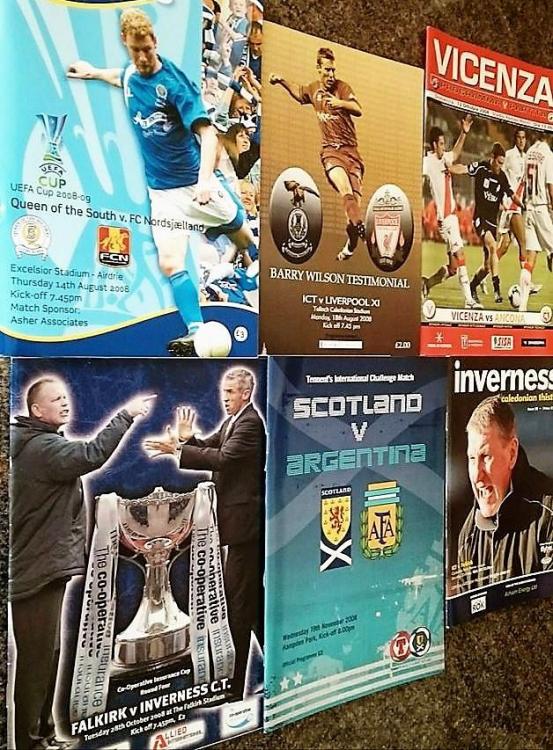 Tokely's red card was central belt decision making and the game was up. Hughes ran on the field at the end like a demented flea and we were down. His antics that day never left me, and while he might have overseen ICT highs in latter years, he was never fully embraced by a good number of Caley Thistle fans. The one crumb of comfort from a real fall from grace might have been we were, and still are, the team relegated with the highest ever points total, only ran close by our second relegation! But hey, what fun we had the next season, and it would be years before we ever had to play the Bairns again, and despite having ten men that day too, oh what joy ?. 
European games in Scotland numbered two viewings, Hibs were eased aside by Swedish team Elfsborg 2-0 in the Intertoto to kick off the season on the 6th July, but Queen of the South put in a braver effort against Nordsjaelland, going down 0-1 to the Danish outfit on one soggy Airdrie night!
South America called me and the curtain came down on futbol Sud America across in Greater Bueños Aires, with Lanus playing out a 1-1 draw with the Goats (Chivas) of Guadalajara in the Libertadores! All done before heading home for the hangman's noose and our first demotion in the fifteen year history of ICT.  
'Fifteen points and you f***ed up' next time out ?
Thanks James, some great memories in there once again. Not all of them enjoyable, but thems the breaks

More to come from James, the next three seasons coming along next week.
You can read all about James' worldwide footballing travels in his own excellent blog FOOTBALL ADVENTURES WITH JAMES RENDALL