Rendalls Rambles#8
Another couple of seasons from James' remarkable lookback at our first 25 years in existence, and in his own words, the good, the bad and the ugly............
The Inverness Caledonian Thistle Years #ICT25
No.22 2015/16 (Games 993 to 1053)
The Good, the Bad and the quite frankly ugly! Since I became interested in football on the other side of the seas surrounding this island it has been a longstanding dream of mine to watch my team play in Europe. At Meadowbank this was merely a pipe dream, and in 1994 who would have thought it could ever happen for Inverness, but it did. It brought up a JFK moment, I will always remember where I was when the news broke of the Europa League draw, do you?! 
I was in Salzburg supping coffee ☕ with an Armenian lass, as you do, when a message from home brought the news we were headed to Romania and Giurgiu. I knew the club, but hadn't a clue where it was. St Johnstone had drawn a club from Yerevan as it happens in an earlier round, and I was immediately writing to a colleague in the office to pass information on to my boss regarding getting there and where to stay. He went, had a great time, but in the return leg Alashkert playing their inaugural Euro ties beat St J, who were out before we'd got started.
It became apparent that none of my wee ICT gang were going to Romania sadly, but I was determined not to miss out, after all I had been in Denmark for the first friendly! Giurgiu was south of Bucharest, tucked away on the Romanian side of the Danube. My stroke of luck came in the form of a Brazilian friend, Luciano who had a translation buddy in Bucharest who was willing to meet me at the airport and head south. I booked my passage for the day of the game! 
In the first leg in Inverness, it kind of demonstrated again the lack of any club organisation or undue pride in this momentos occasion. They'd printed half and half scarves for a game versus a Liverpool third string, but when Euro football came to town, it was just like any other game, aside from the usual sized programme being ramped up to a fiver! Odd quirk number one saw a goalkeeper, just signed that day, starting the game! Owain Fon Williams would prove his worth in the coming months, but their still remains a nagging doubt that the goal Astra scored that night was stoppable. They were slightly better on the night, if too willing to take a tumble holding limbs. It was disappointing to have lost at home but at one down, it wasn't an impossible position. 
Before we headed to Romania, it was known that West Ham or a Maltese side would play the winners, Astra had knocked the Hammers out last season! It was an early flight to Amsterdam and then Bucharest, complete with a loss of two hours in the time difference, making it all the more remarkable that Razvan had time to take me to my Bucharest hotel, before heading south, through Giurgiu into a major roadworks traffic jam to cross the Danube and eat in Ruse in Bulgaria before the game! We managed it easily and joined the away throng in the 'cage'. It was a fantastic away support, circa 600, and we so nearly got the goal that would have forced extra time, but alas despite a few near things, Astra held on for 0-0. It was back to the capital late that evening, but two more games were on my roster, at stadiums where ex-Caley centre forwards were plying there trade!! 
Going out having failed to score was disappointing, but we could have pride in the away display against a useful and experienced team. 
Before the season had started Yogi had gone to the board and got them to pay Russell Latpay's contract up until the end and release him. He was hellbent on getting Brian Rice in, and while we didn't know it then, he would oversee some of the worst moments in the club's history. This script gets reproduced on Caleythistleonline and by virtue I am unwilling to regale the tale of what I was told regarding the circumstances of this disturbing replacement of our assistant manager, suffice is to say, it still leaves a bad taste and further diminished my limited admiration of Yogi, who by the season's end did a runner before his stock fell too dramatically, but oddly no one has taken him on since! 
Post Europe, a 1-1 draw in the league at Perth was a tedious affair, and a chance to trade "what if" stories with another early Euro exitee! Livingston were recovering from financial woes but we saw them off 2-0 down in West Lothian in the League Cup. By November a 3-1 win at Motherwell was a welcome three points, but once again we lost at Partick with me in the stadium! But the year ended with a bizarre 4-3 win at Hamilton. Cruising 2-0 up we nearly blew the whole thing, save Liam Polworth and a late, late pile driver that will stay forever in the memory. 
By early January, the defending Cup holders trotted out at Stirling Albion and in the end we were hanging on for 0-0! Kilmarnock beat us 2-1 at Rugby Park, a regular away loss, followed by another win at Motherwell by the same score reversed. Dens is rarely a bad hunting ground but merely got a point ahead of a 2-0 loss at Tynecastle. We had been spluttering and the lofty high of last term might have set the bar too high but shambolic displays with no forward thinking prowess was beginning to become common place. Somehow we toughed out a 1-1 draw in the cup at Easter Road, and before the replay in Inverness another toothless loss at Perth was endured. Both these games had seen a huge centre forward from Cambridge called Hughes play, and he was absolutely useless, making Andy Barrowman seem like a great signing a few years back. The growing unrest and disquiet 'boiled' over among the usually calm centre stand crowd at the replay versus Hibs. Remember, they were a Championship team at the time and we were second best for long spells of the game. I have rarely seen such animation at a home game. An incident in the second half involving the Hibs keeper that went on for nearly ten minutes drew foam from our usually passive fans! You know, I am unsure if that goalie ever played again for Hibs!
It merely acted as a mask for the discontent of our own teams display, and while some late bluster nearly brought an equaliser, at full time our Cup had gone, not that we expected to retain it, but the manner of the loss drew knives in the angry booos at the end. It was a night that signalled a changing of attitude in my opinion. If Yogi had enjoyed a honeymoon start, it was over now, and he knew it. It all fell flat after that, losses here, there and everywhere. By the summer, doubtlessly unable to find the right players to replace the departing heroes of yesteryear, Yogi blamed the board and scampered. Things were never his fault!!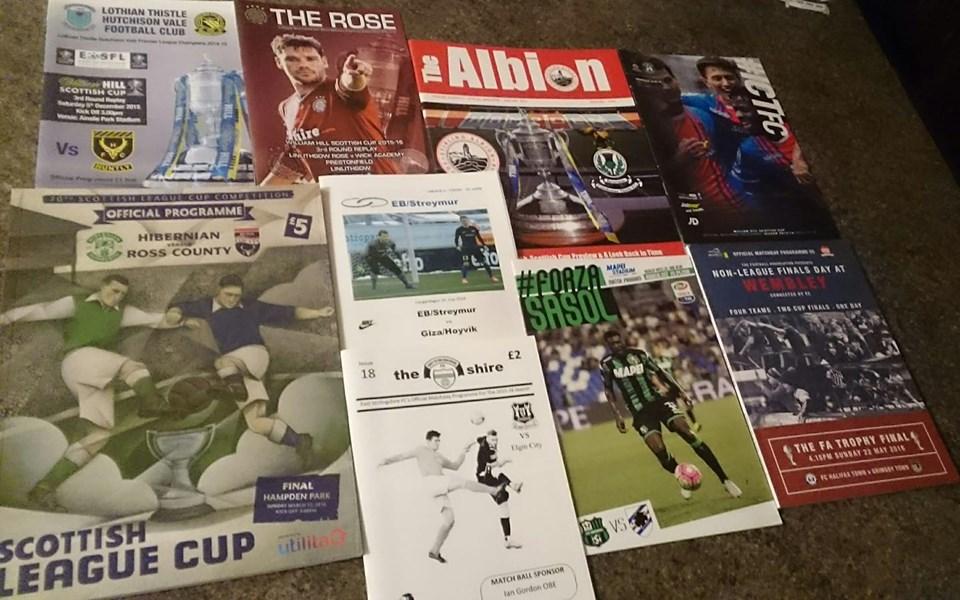 Elsewhere, Kairat Almaty were in Aberdeen on European duty, and I did the programme notes for the Reds magazine, getting a couple of tickets for the game for my trouble. I sat in the back row of the old stand just in front of Richard Gordon and Co in my yellow and black tracksuit top chuffed to bits with how Kairat managed the game, a 1-1 draw and a 2-3 aggregate success for the Kazakhs. Forres Mechanics were at East Kilbride in Cup, so I went through and had the joy of telling the Can Can directors that they had missed the equaliser from Forres, caught over doing the hospitality at half time!! Another Cup tie brought Fort W to Prestonpans, and you will never guess, they won 3-2!! I have a 100% win record with the Fort ☺. Huntly ended up along at Spartans twice, winning a pre season friendly 2-0, but going down 3-0 in December in a cup replay with sixth tier LTHV. Fraserburgh were in the central belt in a later round, but Falkirk were to good, winning 4-1, as were Linlithgow Rose who thrashed Wick 5-1 but some horrible officiating aided the result as Wick ended with 9 men. Hibs, perennial Cup Final blowers did it again, Ross County getting top silverware in winning 2-1, but a trophy that brings no Euro place these days. We will always have that wee extra over them ☺. I was inadvertently at Shires last ever league match, a 3-0 drubbing by Elgin, but I missed the relegation against Edinburgh City as I was on the Faroe Islands! 
English escapes took me to Holker Street, where Barrow saw off Southport, and an Easter duo, with Accrington beating Orient, and FC Halifax getting the better of Altrincham on a day they thought they'd done enough to survive, but a late missed penalty on the last day sent them down to the sixth tier, a week before the highlight of the Shaymens history. I was at Wembley to see them beat Grimsby to win the FA Trophy amid tears still lingering from the week before. Morpeth thrashed Hereford to win the FA Vase before hand, but the Bulls were the best supported of them all! 
The day after the Inverness game in Giurgiu, I was at Dinamo Bucharest's stadium, home for Marius Nicolae! Alas, a newly promoted side FC Voluntari from outside the capital were ground sharing while their home was being buffed up. A healthy Voluntari crowd saw a second 0-0 draw for me against Targu Jiu. The following night I was in the national stadium in my Caley shirt hoping to see any ICT stragglers like me, but none were spotted, aside Gregory Tade, rested by Steau ahead of Champions League qualifier versus Partizan Belgrade! This game brought two goals in a 1-1 draw with Cluj. After a few years away I was back in Italy with the top draw, the third tier 'friendly' between Ancona and SPAL, a 1-2 away win that took the Ferrara club to within touching distance of promotion. Ahead of this game I watched a turgid encounter between Bologna and Torino, and followed by Modena thrashing Perugia creating a false dawn before relegation, and a third 0-0 draw on my CV involving Sampdoria, this time at Sassuolo. The curtain on my Euro travels came down in the unlikely village of Stremnes on the Faroes where EB/Streymur beat Giza/Hoyvik 3-0 in the Faroese second tier as Whit Sunday had moved the top tier fixtures to the day I was flying home ?. 
The final game of the season was in early June, a first ever Junior league match for me with Kelty Hearts ahead of jumping codes beating Linlithgow.
~~~~~~~~~~~~~~~~~~~~~~~~~~~~~~~~~~~~~~~~~~~~~~~~
The Inverness Caledonian Thistle Years #ICT25
No. 23 2016/17 (Games 993 to 1,053)
New depths: It was a brave move, doubtlessly a cheap option, but the moment we appointed one of our footballing heroes of the modern era, Richie Foran to the lofty position of manager, I knew it was a risk. With no experience, and left with Brian Rice as his only experience, the downward spiral sadly continued. In the end, after the dust settled, down we went, but it ended up frustratingly close! A litany of missed penalties would cost us, as well as Hamilton having gained three points, just, after two St Johnstone players decided to have a fight at the half time whistle! Dundee couldn't do us a favour on the last day, and we were relegated a mere one point behind Accies. The only consolation was we had accumulated the second highest points for a side going down, second to our first demotion!! 
Yet it all started reasonably well, winning narrowly at bumpy Central Park, Cowdenbeath in the new group stage League Cup, and continued along the road at Dunfermline in a fabulous 5-1. Driving home that night, Richard Gordon on BBC Radio Scotland said, 'Inverness are going to be fun to watch this season'! But while July moments of joy gave rise to possibilities all to briefly, reality hit home came as early as the opening gambits of August! We lost at Partick, again, and even worse, weakly submitted to Alloa, then a third tier team 1-0 in the League Cup, followed by a pathetic 5-1 mauling at Hearts. It wasn't a crisis yet, but Richie hadn't found the secret of getting a better link up between midfield and attack. 
It was fairly clear we would be fighting a battle at the bottom end of the table, and a crucial joust at Hamilton in October ended 1-1, then post a trip to Italy a return to Lanarkshire saw maybe the high point of the season, an imperious 3-0 win at Motherwell. Had we turned the corner? It spluttered on.
In January we had a first competitive game at Elgin as a merged club, a renewal of old rivalries. It was a cracking day, and a competitive game, where we prevailed narrowly 2-1. Losing 3-0 at Hamilton was a sore one, but they showed fighting spirit at Tynecastle in a 1-1 draw. We even managed a similar score at Maryhill, a rare moment for me there where we didn't lose! Wins were needed, and another 1-1 at home to Ross County was further frustration, as was yet another at home to Killie. This sequence of draws would be another reason we went down. At least we weren't losing, but like last season, draws killed us! 
We couldn't repeat the success at Motherwell, going down 4-2, a too late in the day last hoorah at Kilmarnock failed to bring us a point, losing 2-1. I didn't head north for the last game, I just had lost faith, and with Dundee down so quickly at Hamilton their was no excitement in the possibility of getting the play off place. 
With my own charges a difficult watch, the wanderlust to other venues was always more relaxing.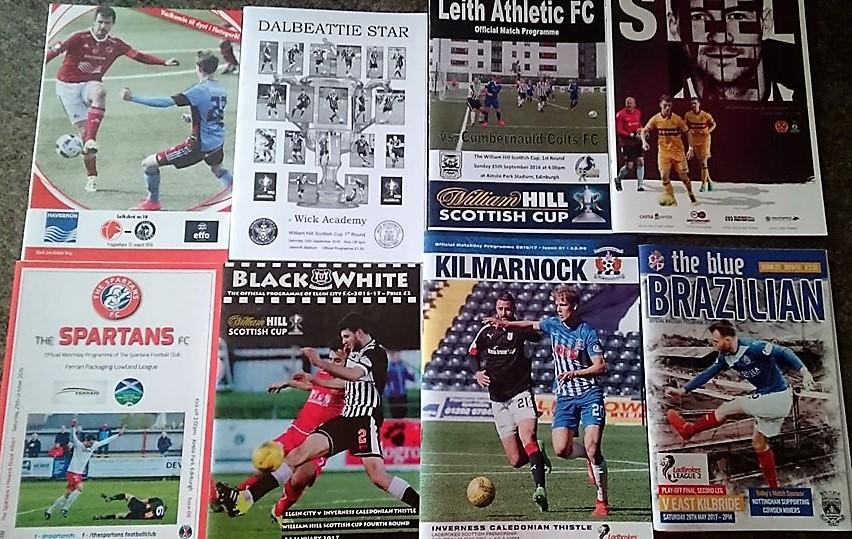 Hearts and Hibs were both in Europe. The JT struggled to beat FC Infonet Tallinn, who subsequently merged with Levadia in Estonia. Hibs were hosting Brondby, and I was going to the game with one of my Hibby chums. He was late, and as he had tickets I was stood outside as a roar went up to welcome to the teams, followed by immediate silence. I checked my phone, and sure enough the Danes had scored. When we eventually found the right stand, it was a quarter of an hour in, and we'd missed the only goal! There was a giddy week in late August into September, when East Stirlingshire were 7-3 up at HT at CSS, a new high of ten goals in a half! They only scored one more, winning 8-3. The following Saturday Bonnyrigg Rose ? thrashed Burntisland Shipyard in the Scottish Cup 14-0, the biggest win of my football viewing! They only managed nine goals in a half though ?. Wick were down in Dalbeattie in September, and with a horrendous wind howling down the pitch, it was a game of two halves, with Wick seeing it through 3-1. The next day, Leith Athletic were making a rare Scottish Cup appearance, a 0-0 draw with Cumbernauld. At Christmas time I saw Buckie beat Cove 1-0 as the fishing port town nibbled it's way to a Highland League success sandwiched in between braces by Brora and Cove to come! They would lose out to East Kilbride in the promotion play off, and the west side ran Cowdenbeath very close, but one missed penalty in a downpour saved the Fifers. A quick whisk in land saw Alloa's excellent start to the season count for nothing as Brechin forced penalties as well after a brilliant 4-3 lose, but 5-5 aggregate. City wouldn't necessarily regret going up, but they set a whole bunch of new records!
~~~~~~~~~~~~~~~~~~~~~~~~~~~~~~~~~~~~~~~~~~~~~~~
Thanks James, nearly there..............
You can read all about James' worldwide footballing travels in his own excellent blog FOOTBALL ADVENTURES WITH JAMES RENDALL