Lets Work Together
It'a double header against United this week in the play-off semi-finals, a place in the Premiership still up for grabs after we disposed of Ayr United at the weekend on a 4-2 aggregate score. Its certainly worth the effort to get behind the lads and give them as much backing as possible as we look to take an advantage down to Tannadice for what will be a difficult game considering the gruelling schedule of the play-offs. So, come on now people, lets work together, every boy, girl, woman and man!
~~~~~~~~~~~~~~~~~~~~~~~~~~~~~~~~~~~~~~~~~~~~
TICKET PRICES FOR Dundee United  ARE AS FOLLOWS:
Adult: £15
Concession: £8
Tickets can be bought online HERE
~~~~~~~~~~~~~~~~~~~~~~~~~~~~~~~~~~~~~~~~~~~~
Whilst the Arabs have been sitting back relaxing for a couple of weeks, we have been kind of busy. A 3-1 win at Ayr with Charlie Trafford and Jordan White (2) doing the damage to set us up nicely for the return leg four days later. Ayr sniffed an opportunity after scoring a goal in the first leg through Michael Rose to offer them a glimmer of hope, and that hope became reality after Luke McCowan scored early in the first half at the Caledonian Stadium. The home fans were treated to some entertaining football, unfortunately most of that came from the Honest Men. However, we did eradicate the squeaky bums when Coll Donaldson claimed the goal to ease the tension and see us safely through to meet his chums, Dundee United. And breathe.
It had been a tremendous season for Ayr, but it was all over for them at the final whistle as their vocal fans were mutually applauded at the end by manager and players alike. They will know that the likes of Michael Rose and top scorer Lawrence Shankland will be moving on, such is the price to pay for relative success in a league where survival is a threat for all but the most affluent of clubs. Shankland has around thirty clubs tracking him. He is a wonderful striker and how I wish we were one of the clubs after him, but I'm afraid he will be looking for a much bigger wage than we could offer so that'll be a no.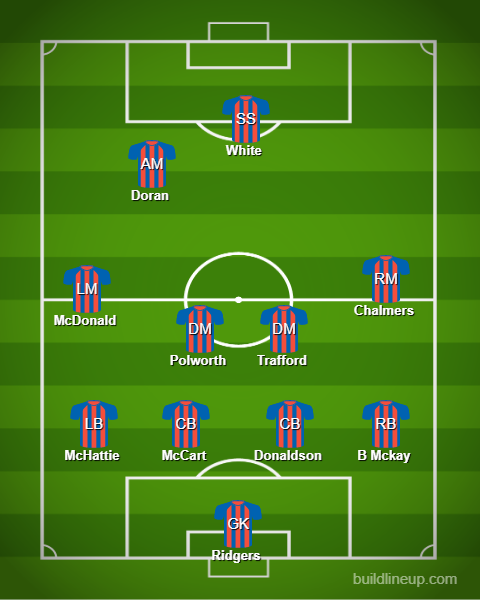 For Inverness, playing our 50th game of the season, the torture goes on and after a season of draws (15 now), we are still in with a chance of promotion albeit having to do this by the long route. Never before has a team that finished third or fourth been able to get through the punishing schedule designed to assist the top flight teams and run the legs off the rest.
I imagine we will line up something like this.
We have a couple of worries ahead of this game with Tom Walsh going off before the hour against Ayr feeling his thigh. He looked slightly off the pace on Saturday and might need to rest up. Anthony McDonald replaced him and did very well when he came on, snapping at the heels and making darting runs, something we missed in the first hour. Captain Carl Tremarco was not involved at all as he recovers from a calf injury and rest is the only cure. Other than that no further injuries that Robbo is willing to mention ahead of this encounter.
Key players in this tie will be mainly in defence. Mark Ridgers, Coll Donaldson and Jamie McCart will be crucial to our success as a United side brimming with quality players look to avoid the Dundee derby next season. Aaron Doran and Jordan White will be our main goal threat and if ever we needed Liam Polworth to produce his best, then Tuesday night would be a great time for it.
Some good news, James Keatings has signed a two year deal with the Caley Jags. He has played for both Hearts and Hibs and was at Celtic in his early days. His most productive days were at the two Edinbutgh clubs and Hamilton Accies where he scored a total of 41 times. Read more on this at ICTFC.
Pavol Safranko and Paul McMullan will be on our radar. But incisive midfielders like Peter Pawlett and Nicky Clark are dangerous on the break. We all know that McMullan is prone to fall inside the area, and maybe get away with handing the ball sometimes, but what we also know is that hidden behind his scheming exterior is a quality player with an eye for goal, definitely one to watch. Are you listening ref!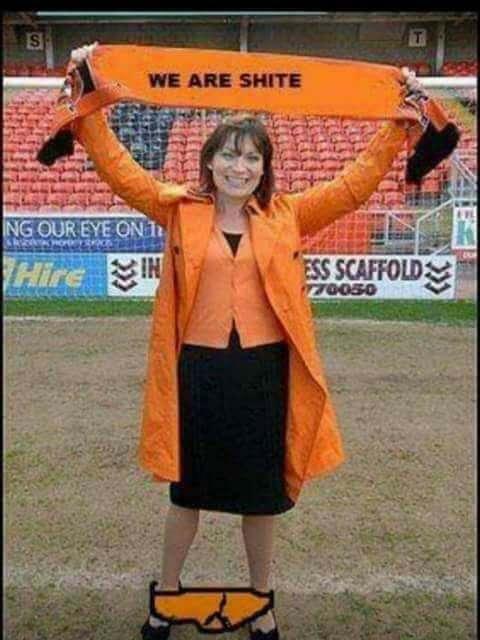 The Arabs have had the luxury of a ten day break since losing to Morton on the 4th of May and even then they afforded some of their players the day off as there was nothing at stake for them. Robbie Neilson was happy enough with that given he has no injuries or red cards to deal with ahead of the play-off. That's the luxury that Robbo is not too happy about, but we knew the rules so let's get on with it.
Lastly, The Arabs have a secret weapon in their ranks. The lovely Lorraine Kelly has thrown her hat , scarf and knickers into the ring and is firmly behind the Tangerines in their bid to get back into the Premiership. Or is she? Lorraine had been a lifelong fan of United but since we knocked them out of the Scottish Cup she has changed her allegiance to Inverness. Good on you girl, I'll buy you a breakfast for that.
An interesting game in Paisley tonight and I'm sure Robertson and Neilson will be keeping an eye on the outcome as one of these teams will be in the play-off final. At the moment St Mirren are favourites to enter the play-offs being four points behind Hamilton with only two games to go. Cue music from the Great Escape! *** UPDATE ST Mirren 2-0 Hamilton. *** Hello George!
Another striker made the Championship headlines this season and it's congratulations to the evergreen Stephen Dobbie who scored a hat-trick at the weekend for his 43rd goal of the campaign. That is a seasons best for a Queen of the South player, Nicky Clark and Jimmy Rutherford jointly having the previous best at 41.
As big Bob Hite one said to Johndo: Together we stand, divided we fall. So, Lets work together, every boy, girl, woman and man