Alloa, chapter three
We are off to Recreation Park Alloa this Saturday to face the Wasps on match day 15 in the Championship. The Wasps will be well acquainted with the Caley Jags before the end of the season as we will have met a minimum of six times after we have been drawn against each other in the Challenge Cup and the Scottish Cup.
~~~~~~~~~~~~~~~~~~~~~~
CLUB NEWS
Annual General Meeting (AGM):  
The AGM of Inverness Thistle and Caledonian FC Ltd will be held at Caledonian Stadium on Thursday 19th December at 7.30pm and today we have issued notice to shareholders, which includes the Club's annual report and financial statements.
~~~~~~~~~~~~~~~~~~~~~~
Before I let Johndo loose with his nostalgiaitis, here's the tale of the tape so far this season.
The first encounter this season saw a much changed Inverness get a somewhat flattering 3-0 win in the Challenge Cup game with Alloa hitting woodwork twice. The league game a week later saw us struggle to get a draw after our defence went AWOL, allowing Alan Trouten space and time to level the game at 2-2. We had fought back from an early Buchanan goal but found it difficult to break down a well organised Wasps defence.
After getting our noses in front four minutes from the end through a Carl Tremaro special and an excellent Jordan White flying header, which incidentally put us top of the league for four minutes, we then proceeded to shoot ourselves in the foot. Such is life! It's been mostly downhill since then until we put in the effort to record a good 1-0 win over Dundee last week, Aaron Doran the scorer.
Other games this weekend: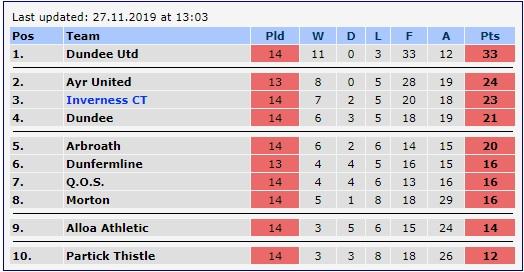 Ayr v Arbroath
Dundee v Queen of the South
Dunfermline v Partick Thistle
Morton v Dundee United
Now pin yer ears back and listen to the Immortal Howden Ender
So it is a sojourn to Clackmannanshire and the grand olde Recreation Park, on St Andrews Day, to face Alloa Athletic. Will our depleted, flu stricken squad have recovered well enough to bring back a well needed three point haul and maintain our renewed place in the Top Four. Lets hope that the Wasps are slumbering in their Winter hibernation and do not have enough sting left to inflict another defeat on us. Perhaps two games in a week may be too much for them as well ?
It would be nice to hear of others Away Day experiences at the Recreation Park. Was anyone in attendance during our first season (September 1994) when we came away with a point in a 1-1 draw ?  My first Alloa Away experience (or non-experience) was in December 1996 and also one of my early returns from Refusnikism. Drove all the way from Lancashire in blue skies, sunshine and mild temperatures – grooving to the recently released "Bring It On Home" – then sitting in the pub to be informed that the game had been called off. Were you there?
And then on to November 1999 and probably the most disappointed and gutted that I have felt at the final whistle. Airdrie was the venue for the Challenge Cup Final with Alloa. We were strong favourites and had amassed a following of 2000 + Highlanders. It may have been a great game for neutrals but 4-4 after extra time led to a 5-4 defeat from the penalty spot. I still have an image of the skinhead (Martin Cameron) clenching his fist at the end.
October 2002 was the opposite and as good an away performance as there has been over the years. A hat-trick each for Paul Ritchie and Denis Wyness landed us a very enjoyable 6-0 thrashing. And I know of a few who lamented our League Cup exit in August 2016 when we lost 1-0 – again despite being clear favourites.
There always seems to be goals at Alloa – apart from the 0-0 draw next season. So being a betting man I would go for an ICT Win with Both Teams To Score. BUT our rollercoaster displays this season means that we cannot predict what kind of performance will be produced. In the league this season we beat them 3-0 at home in the Chocolate Biscuit Trophy with a "weakened" team but then drew 2-2 at home in the next game with the "preferred starting X1".
As for Alloa I have to congratulate then for hoofing Hellgin out of the Scottish Cup. And I also have to admit that I have always had a "liking" for Peter Grant, both as a player and a coach. To be blunt I would have thought that Alloa was below his potential. Alloa are capable of grabbing points at home from anyone, as they proved against us and Plastic Whistle. Being in a tight relegation zone probably makes them more dangerous - and Alloa has no links to any Lottery Winners. It looks like the players to look out for against us are Alan Trouten, Kevin O'Hara and Kevin Cawley. Although the one time ICT "target" (Liam Buchanan) is still alive and kicking and unfortunately still capable of netting against Inverness. Alloa are once more showing their resilience and earned a point in midweek at Firhill. They led Patrick Thistle early in the first half through Alan Trouten before former player Dario Zanatta equalised before the break. Despite Thistle dominating, there was no further scoring with on loan keeper Jamie MacDonald denying Partick a few times. That saw the points shared at the relegation end of the table and it keeps Patrick at the bottom with Alloa two points above them.
It has become more of a case of picking 11 players fit enuff to play rather than the preferred first choices. It may well be a case of few changes from the starting 11 against Dundee. The potential changes could be Rooney back in for Brad McKay and possibly Keatings for McHattie. Tremarco has trained all week and MacGregor and Curry will come back into contention. Robbo appears to have felt that we tactically outsmarted Dundee and heralded a 4-1-4-1 formation. Hopefully that will not be followed at Alloa and we discard the "hoof" tactics that appear to be unfortunately followed away from home.
So I will be travelling by train from Stirling, having a pre-match aperitif in "Bobbing Johns" and an Asda carryoot on the way home. Hopefully the 90 + minutes on the terraces will be as enjoyable as the rest of the day.
Like Johndo, I'm sure we will all be looking to consolidate on the hard earned points from last weekend against Dundee that ended a run of poor results and performances. Something to build on, at least the passion was back and maybe, just maybe, this virus is on it's way out of the Caledonian Stadium.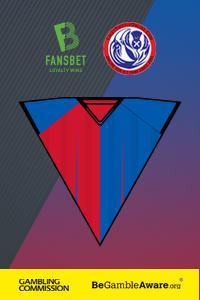 If you like a wee flutter, our partnership with FansBet can offer you something. Just click on FansBet to get started.  "Remember to select CaleyThistleOnline when you register and you'll be helping us support ICT fan causes."
FansBet are partners with Supporters Direct Scotland and already have many impressive stories of giving back to and empowering fans, ranging from funding away travel, share purchases, backing safe standing projects and many more. You can read some of FansBet's Giving Back stories on their blog at https://blog.fansbet.com/fansbet-giving-back/partners/fan/
Always remember to adopt safe gambling and responsible policies.