2020 Vision


We are the first footers at Dens Park in 2020 as second takes on third in the Ladbrokes Championship. So take your piece of coal and a wee Whyte & Mackay with you as we take on Dundee.

Last time out, Dundee battled hard for a point at Tannadice on the Friday night whilst a day later we slumped badly at home to Arbroath, going down to a flattering one goal defeat in what has been described as a decade ending debacle.

Despite this, a good New Year to you all and our resident seer, Immortal Howden Ender will take us through the first game of 2020. Call it a vision if you like! A seer with a vision.
 
Preview by Immortal Howden Ender
Well initially let's go back to April 20th 2003 and our initial Hampden Park appearance when we met Dundee in the Scottish Cup Semi-Final.  We had gone ballistic again in the Quarter Final when a memorable Denis Wyness winner put Celtic to the sword yet again. We were dreaming of our first Scottish Cup Final against the other half of the now extinct "Old Firm" !! In those days we lauded the likes of Wyness, Bobby Mann, Charlie Christie, Richie Hart and Barry Robson. But, in those Mafiosi days, Dundee were fielding Julian Speroni, Fabian Caballero, Georgi Nemsadze, Zurab Khizanishvili and Nacho Novo !!! Unfortunately we went down to a 1-0 defeat but we held our heads high.
Dundee may well have done the rest of the division a favour if they had managed to beat their noisy neighbours recently. They probably deserved to win but only came away with a point. There may not be a collection of obscure "superstars" any more but Graham Dorrans and Kane Hemmings are recognizable names and of course their "capitano" is one Josh "VAR" Meekings.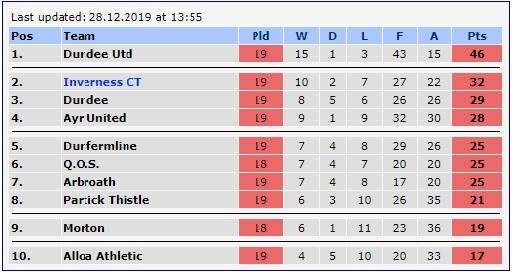 This could well be looked at as an undoubtable "six pointer" as an ICT win would put us six points clear whereas Dundee would have to win 3-0 (no chance) to take over second place. Personally I would prefer the former, although a draw would suffice.
Other Championship fixtures:
Alloa v Partick; Arbroath v Morton; Pars v Ayr; Queens v Arabs
We have not enjoyed the best of luck at Dens or bizarrely the "Kilmac Stadium at Dens Park" recently. We fought out a drab, goaless fixture in August but Dundee knocked us out of the Scottish Cup last season and they inflicted a 1-0 defeat on us in the League Cup in late July 2019. Our last meeting resulted in a 1-0 home win in Sneck as a 16th minute Aaron Doran goal won us the three points. There was a frantic, heated last 15 minutes when six yellow cards were shown by the impetuous Davy Munro. This weekend we have Don "Robbo" Robertson in the middle.
I can see the starting XI as being pretty close to the team that started at home in late November – apart from Rooney and Keatings starting in preference to McKay and McHattie. Perhaps there may be a James Vincent return to enable him to prove Dundee wrong? Personally I would change the over familiar selection and change the predictable system. Doubt if there is any feckin chance of that though?
Ridgers
Rooney  Donaldson McCart Tremarco
Keatings      Carson  Trafford       Doran
McGregor
Storey
So I will be in amongst the thousands of marauding Highlanders in the Bob Shankly Stand !! I presume that the "Trades House" will be the meeting point. I note that the latest review on "Trip Advisor" is not a positive one – "I have attended matches here for years and can honestly say the place is a death trap. Unhygienic dirty and would not recommend a visit." 

Sounds great!
***Latest News***
Defender Cameron Harper has gone on loan to Elgin City with keeper Daniel Hoban returning to Inverness from the League 2 side. Sean Welsh and Tom Walsh are back training but neither will feature this weekend.
Robbo talking ahead of the game.........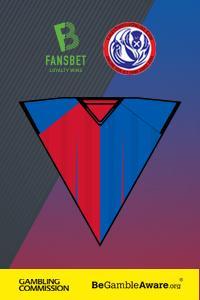 If you like a wee flutter, our partnership with FansBet can offer you something. Just click on FansBet to get started.  "Remember to select CaleyThistleOnline when you register and you'll be helping us support ICT fan causes."
FansBet are partners with Supporters Direct Scotland and already have many impressive stories of giving back to and empowering fans, ranging from funding away travel, share purchases, backing safe standing projects and many more. You can read some of FansBet's Giving Back stories on their blog at https://blog.fansbet.com/fansbet-giving-back/partners/fan/