Raise a glass for Bronson
One of the Championship's form teams venture North on Tuesday night in the shape of Greenock Morton. With 10 points from their last six games, only Arbroath can better that with 12 points. Our tally over the last six is a mere 7 points. The game has a 7:45 kick-off time as our hectic schedule kicks in.

We went down heavily at Easter Road as the last Championship side standing. It ended 5-2 and we finished the game down to ten men, beaten, but not bowed.

Morton made the most of their Saturday game as they thrashed Queen of the South 4-0. The goals came from Tumilty, Nesbitt, Cadden and McGuffie, that's 12 goals in their last four games including a 2-1 win at Somerset Park.
Brad Mckay is suspended and James Keatings and James Vincent are doubts.
Robbo talking pre-match


Sadly, football takes a back seat this week after news that one of our own larger than life fans has passed away with so much still to offer. No one saw it coming, no one saw the signs. Everyone thinks that men are so tough they don't give a shit. Well I have news for you. Men do care, men hurt, men cry, men can do all these things. It's OK to be not OK. Men need help as well so please please please tell someone, talk to your best buddy. More people understand than they will tell you. Many of us have felt low at some point. It's not something to be ashamed of, but help is out there, speak about it, please. Rip 'Bronson' a nicer guy you would struggle to find anywhere. It's difficult to come to terms with this. For his family and close friends, this is sad times, but please, be comforted in the knowledge that Simon was well loved and will be sorely missed. Heartbroken is a word used too readily, it is the word to describe the feeling amongst all who had the privilege and honour of being in Simon's company.

Gringo posted this lovely heartfelt tribute to Simon.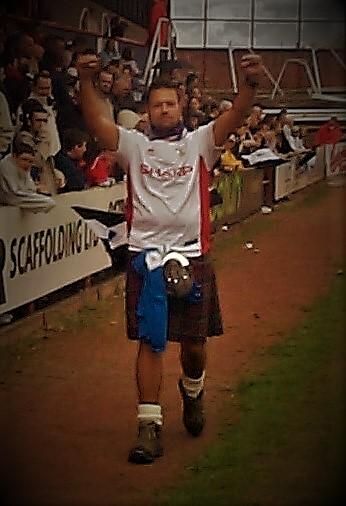 Words can not explain how I feel right now. Today I heard of the passing of one the nicest guys I ever met whilst supporting Inverness Caley Thistle. He was a laugh, a true Caley Thistle fan, a gent and was always in awe at my (our) long distance journeys that were made as a family to follow his (our) team. He was also a founder member of the infamous Highland March and also became the saviour of it too on that very first event. I shared the support bus with him on a number of occasions we're we talked football and rock music. From those halcyon days of the HM, the fun in the Innes Bar, the home matches and the away matches on the supporters bus I will never forget you Simon MacDonald 'Bronson' never. With a heavy heart I bid you farewell my friend and may you rest in peace now. My heart also goes out to all your family and friends. A pain unimaginable right now. I hope my words ease that awful pain somehow. 💔💔
Everyone on CTO will echo these thoughts and we all pass on our heartfelt condolences to Simon's family, friends and colleagues. Gone too soon, but will never be forgotten. 

Simon, you will never walk alone......