Nothings Easy
It wouldn't be the Inverness way if we simply cruised to victory as we suffered a late fright when Alloa launched a last ten comeback that saw them snatch two goals to take the gloss off an otherwise good performance. Aaron Doran continued his goalscoring run to open the scoring followed by a Sean Welsh penalty before the break. Jordan White added a third on the hour to put the game beyond doubt, or was it? Alloa got a penalty with ten minutes remaining and Alan Trouten scored via the post. Iain Flannigan's deflected shot meant for an uncomfortable five minutes but we held on for all three points to move up to third in the table. Alloa remain three points behind Partick at the foot of the table.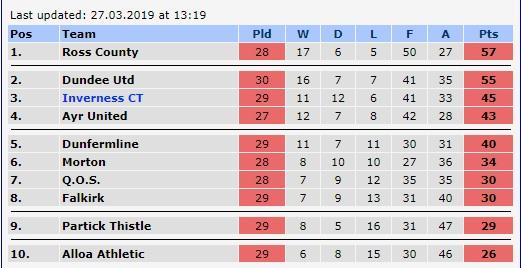 A chilly night for football saw Alloa pinned back in the early exchanges as Inverness probed for the opening goal. We had a number of early half chances which were mainly from distance but we must have left our shooting boots in the locker room. Liam Polworth came the closest after he created a yard of space to fire a decent effort from twenty-five yards which went a couple of feet over the bar.
However, it was that man again, Aaron Doran who opened the scoring with a glancing header into the bottom corner. Sean Welsh swung a curling cross into the heart of the box where Doran met it at the penalty spot to beat Neil Parry from twelve yards for another superb goal from the wee man, his fourth in four games and his eleventh of the season.
Suspicion of foul play when Polly and Welsh combined to set big Jordan White free in the box but nothing was awarded as White was brought down left of the six yard box.
Mark Ridgers was eventually called into action around the half hour as he gathered a low shot from outside the box. 
Soon after, Donaldson swung a deep ball into the box where Doran headed it down to White. As the striker tried to turn he was upended in clumsy fashion by Iain Flannigan and  there was no dispute about the award this time. Parry dived to his right, unfortunately for him Sean Welsh smashed the ball high down the centre of the goal to double our advantage.
Polworth looked as though he almost skimmed the top of the bar with a rasping shot from thirty yards as we continued to play attractive football with Polly and Welsh pulling the strings in midfield.
There followed a succession of attempts from outside the box with Joe Chalmers, Kevin McHattie and Jordan White all looking to get in on the act, but the half ended at 2-0 to Inverness.
The second period saw little change in the pattern and an inviting cross was inches away from being turned in by dainty feet White. He would not be denied though and he ran onto a through ball from Polworth to neatly dink it over the onrushing Parry.
Alloa were still plugging away though and Ridgers had to make a smart save to deny Alan Trouten putting the ball into the top corner after the striker waltzed into our box.
White came close to a fourth after shielding the ball well and playing it wide, he then got on the end of the cross but it bounced narrowly wide. Good effort from the big man who is growing into his role well.
A needless rash challenge by Jamie McCart threw Alloa a late lifeline when he brought down Trouten who was facing away from goal, but Jamie went through him to give away a penalty. Trouten picked himself up and buried his spot kick into the net off the post.
That perked Alloa up and given that our midfield had altered with Wesh, Chalmers and Doran going off Alloa saw an opportunity. 
We charged forward looking for another and when the move broke down Alloa were presented with a Flannigan shot from outside the box. It looked harmless enough but a massive deflection took it away from Ridgers and that made for a squeaky bum last five minutes.
The bums squeaked even louder as Donaldson conceded a corner in the final minute of overtime but we held on to take a valuable three points as Mark Ridgers rose high to collect the ball and end our torture.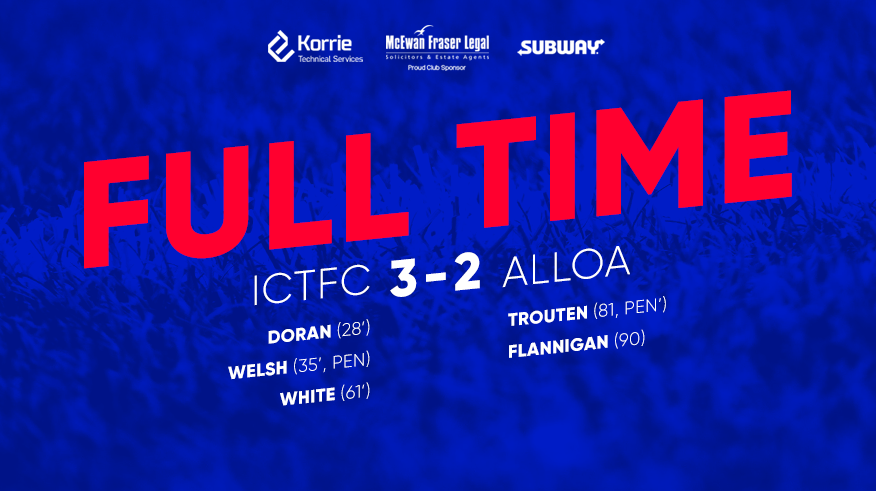 A tremendous game for 75 minutes then our wheels fell off somewhat. A bit worrying that in form Sean Welsh had to go off injured, hopefully he will recover quickly as we have some crucial games coming up.
Aaron Doran was our pick as MotM with great performances from Sean Welsh and Coll Donaldson with Jordan White endearing himself to the hard to please Caley Jags fans with another display showing some deft touches for a big lad.
More reaction to follow............
Video action from Caley Jags TV
And here is dainty Jordan..............
---
a