Refereeing Joke Ruins Derby
Using the term 'referee' loosely, Nick Walsh ruined any hope that a fair game would be played out as he sent Charlie Trafford off on half time and proceeded to flash yellow cards willy nilly, especially at those in blue and red. The game was ruined by half time and with County 2-1 ahead after a lack lustre first half from Inverness there was little hope that the hosts would get their noses in front, not with Nick useless Walsh trying to dominate the game. Josh Mullin rifled a shot home in eight minutes before Jordan White won and missed a penalty, Scott Fox guessing right and saving. We did draw level when Carl Tremarco headed home but we shot ourselves in the foot by gifting a sloppy second, Boyle taking advantage of joke defending. With Trafford going off that was it for us and County and Walsh held on for all three points as the weather worsened.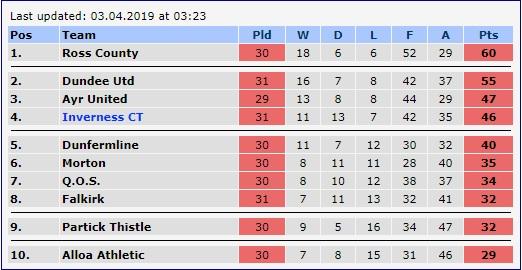 Results tonight showed no dramatic changes to the table with Ayr -V- Morton and Queens -V- Falkirk both ending in 1-1 draws. Falkirk climb above Partick Thistle on goal difference at the foot of the table but have played one more game. Top of the table clash on Friday night as County play Dundee United. We face a tough trip to Ayr on the Saturday and the Pars visit Partick Thistle.
This was a crucial game for both teams and neither side were able to field their full strength squad due to injuries. Robertson was without engine room penalty taking midfielder Sean Welsh who will miss the rest of the season. County had four or five first team squad players out, notable Michael Gardyne and Keith Watson with Iain Vigurs suffering a setback in his recuperation. Such is their depth of squad it made little difference to their playing routines.
A decent day gave way to some heavy showers shortly before kick off and the TV cameras restricted the fans in the stadium. The Inverness fans rightly relished this one after some great performances recently and having held the upper hand in most derby's this season although not always getting the right result. Undiminished, the optimism and belief that we could consolidate within the top four was rife, but that would soon crumble after we made a sluggish start to this encounter.
From the kick off, it was evident that County were the team that wanted this more and we were on the back foot in the opening minutes as we defended nervously. Josh Mullin had two or three half chances before he opened the scoring in the eighth minute. Joe Chalmers was disposessed in midfield. It looked innocuous enough as Mullin got the ball but he speared a low shot from outside of the box in the inside right position. However, it arrowed it's way across the keeper and nestled in the bottom right of Mark Ridgers' goal despite a despairing dive from the keeper. All looked a bit soft to me, but 1-0 to the visitors it was. We only had ourselves to blame at this stage as our tackling, passing and commitment were all wayward.
This stirred us slightly and just over ten minutes later we were awarded a penalty after Jordan White was released on the right side of the box. As he tried to go round Fox he was sent sprawling and he was awarded a penalty. He took it himself but telegraphed it somewhat to Fox who was cunning enough to have guessed the correct direction and saved the less than impressive spot kick to his right. Meh! Fox only got a yellow for his part in the incident.
His next play proved to be more profitable as he headed back for Carl Tremarco to score with a header off the underside of the bar to level the match five minutes later after a good spell from the hosts.
On the half hour Charlie Trafford would pick up a booking for a minor foul. That would come back to bite him on the bum before the interval.
Ten minutes before the break our recovery process was undone after we lost control of the ball and failed to clear our lines effectively. From the corner, Draper hit the ball into the ground and Andrew Boyle was able to nod the ball home from very close range with a number of defenders looking around and waving their arms at the referee in frustration. Shoddy stuff from the Caley Jags.
County now looked to be in control as we reverted to loose passing and half hearted challenges as Declan McManus and Mullin fired efforts at goal.
Aaron Doran broke the monopoly and Inverness forced three corners in succession which came to nothing. A free kick brought no joy either, Joe Chalmers hitting the wall. 
The game changer was upon us. Firstly Ross Draper seemed to bundle Liam Polworth to the ground which the 'referee' chose to ignore. Ten yards further away he penalised Charlie Trafford and gave him his second half baked yellow card which saw Trafford sent for an early bath in the first minute of stoppage time at the interval.
Half Time 1-2
Draper had done his job and the County management replaced him at the break. Considering that he already had picked up an early booking and was lucky to stay on the park, that was a shrewd move.
There was plenty of effort but little guile as we struggled to create clear openings, Brad McKay coming closest with a header. The weather had now turned decidedly nasty and a vicious swirling wind and sleet, hailstones and rain made conditions difficult and almost impossible to play a passing game.
Tom Walsh was our most effective player on the break and he curled a low effort just the wrong side of the post from the left edge of the box. Close, but not close enough. White almost made the right contact with a shot from twelve yards but could not get his foot round the ball enough under pressure from the defender and the shot went wide.
Looked as though County hit the bar at one point with a close range header by Lindsay amongst some confusion in our ranks.
Conditions were still deteriorating and the Nick Walsh I'm in charge booking extravaganza began. it was almost as if bookings were going out of fashion and four Inverness players were booked in the next six minutes. It seemed as though every tackle was not just a foul, but also a yellow card, yet the visitors were not chastised for anything. Polly was booked for dissent, Rooney for throwing the ball softly towards the shins of a visiting player.
~~~~~~~~~~~~~~~~~~~~~~~~~~~~~~~~~~~~~~~~~~
Inverness Caley Thistle manger John Robertson on BBC Sport: "The sending off - they both bookable offences. However, our boys are convinced Ross Draper caught Liam Polworth in the build-up and it could easily have been a red the other way. That was a big game-changer."
~~~~~~~~~~~~~~~~~~~~~~~~~~~~~~~~~~~~~~~~~~~
Nick Walsh take a bow son, you are absolutely useless, the worst referee in the history of worst referees.
The ten men were now physically and mentally drained but we did well to deny County any more goals, Brian Graham having a couple of late attempts.
Still time for a late ironic cheer from the Caley Jags fans when Sean Kelly was booked in time added on. That was as good as it got in a hugely disappointing game ruined by a small person with the big chip on his shoulder syndrome.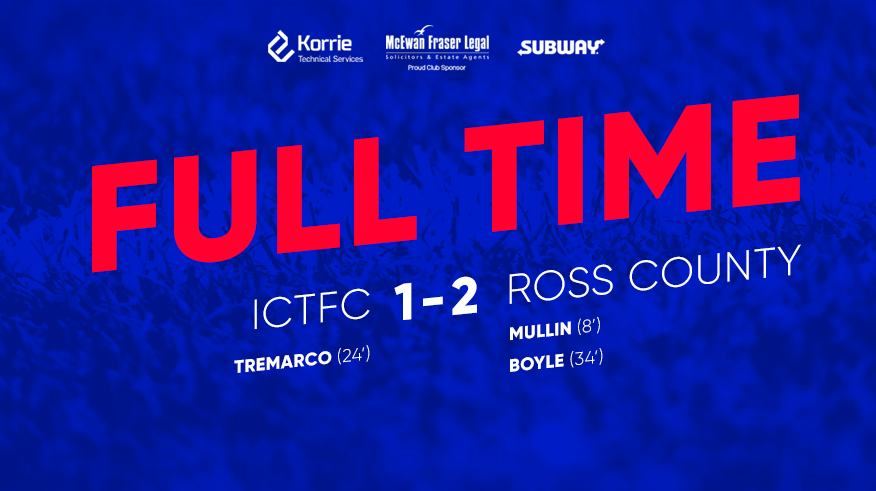 Coll Donaldson was again our best performer with Tom Walsh and Tommy Tremarco putting in a shift. However, we only have ourselves to blame for our poor start to the game where we strolled around making error after error giving County the belief and impetus to go on and win the game. Gone was the passion, commitment and desire of the previous derby's. It had been replaced by shirking tackles, misplaced passes and blaming someone else. All this helped by a totally incompetent official. Nuff said.
Video footage from SPFL OFFICIAL youtube
Our next game is away to Ayr United on Saturday. Play like we did at the start of this game and it could be a long day.
Here's the Top Ten reaction on CTO forum
All the mentions of terrible officiating makes it sound like sour grapes...………………..It certainly was not, that Ref was the worst of the season if not in history !!!!  Completely ruined the match.
Ref decided the game and that was very disappointing. Could have maybe nicked an equaliser but lacked ideas towards the end. Good effort despite being down to ten. 
The wrong Walsh was substituted.  

The refereeing - which is not affecting the score - is now bordering on the ridiculous.Disappointing. 

Not often I join the ref was a w***** brigade, but where do I join up?    Apart from that, our defending at set pieces was poor. 

Ref killed what was shaping up to be a great game he looked hell bent on booking any player in blue and red for any reason. 

A new low in  refereeing, worse than John McKendrick. 

I don't believe I've ever witnessed such an inept refereeing performance at any level ever before! It really was a farce. The only tiny mitigating factor might be the fact that the standside linesman was absolutely no help to the ref whatsoever. 

Geezo we have witnessed some shocking refs through the years, but that must be the worst ever. 

One word for that.... Shambolic, and I don't mean the players I mean the ref. I'm not one to ever just point fingers at every ref but that was the most incompetent biased and downright laughable officiating I have ever witnessed.
The final word will come from this geezer............. Really disappointing. I thought we started poor, got worse, got a lifeline, blew it, got level, fecked up and got a shit ref. Nick Walsh, you are the worst referee ever.
Disgusted,
North Kessock.
With that, I'll let you make your own mind up if the referee was any good!
---
a