Walsh stunner stuns Jags
Tom Walsh scored the only goal of the game with a brilliant solo goal to earn the Caley Jags all three points. Inverness had Mark Ridgers to thank for keeping another clean sheet as he superbly saved a Blair Spittal penalty with 15 minutes to go. 
Lest we forget...................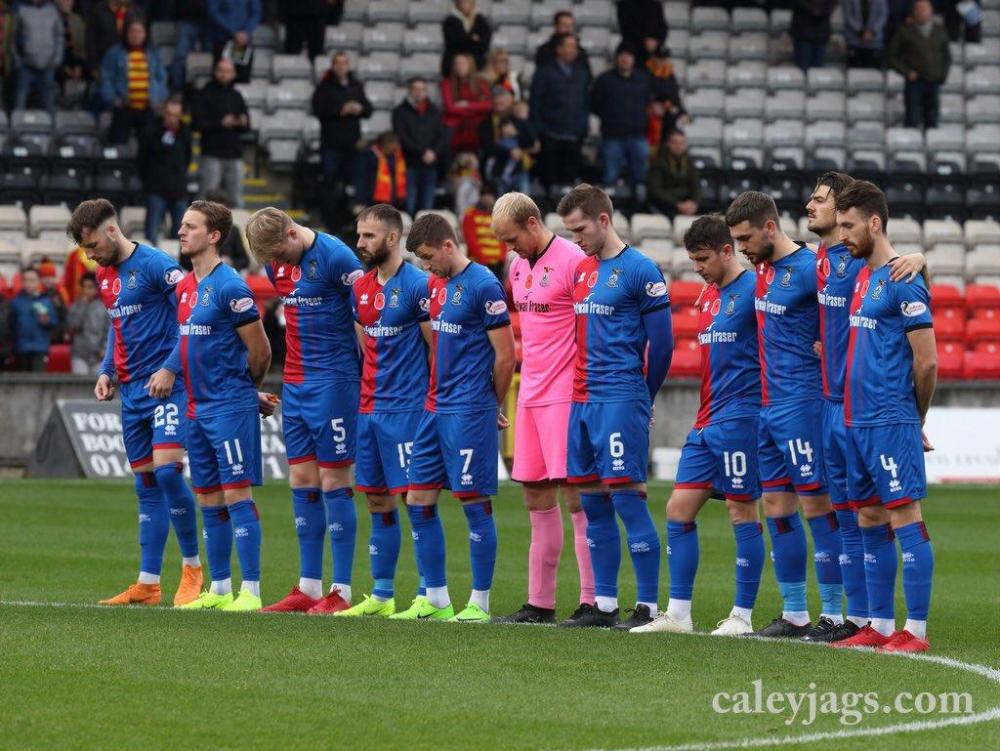 John Robertson made a couple of enforced changes from the side that started the Highland derby against Ross County. Out went the disgraced Riccardo Calder who has had his contract terminated and Shaun Rooney has ligament damage and will be out for some time. Carl Tremarco is still out injured. That meant a revamp at the back with Brad Mckay moving to right back, Joe Chalmers to left back and Jamie McCart teaming up with Coll Donaldson at the heart of the defence. Charlie Trafford was drafted into midfield. 
Gary Caldwell  had former Inverness striker Miles Storey on from the start with Jai Quitongo and Kris Doolan backing him up. The impressive Cammy Bell was the man hoping to keep Inverness out, with midfield powerhouse Blair Spittal a key player for the Harry Wraggs.
A crowd of around two and a half thousand observed an impeccable silence to remember the fallen before Partick got the match underway, Inverness defending the Glasgow end of Firhill Stadium.
 
Immortal Howden Ender was our man at the match and here is his report..............
Didn't we have a lovely day the day went to Partick. Well I just about got there and no thanks to yet another Rail strike. But it was well worth it to watch a sublime Tom Walsh curler hit the back of a rain soaked net in the 71st minute of what I can only describe as a turgid affair. Pre match we went "Into the Deep" and I enjoyed a scuba dive with Red Card, RIG, the Moffat Bros and a certain Mr. Oliver. Nice to actually listen to plaudits for the backroom staff and confirmation that a lot is actually been done behind the scenes. Never saw or heard a vulture all day.
Anyway to the game and probably a reason to make a more extensive introduction. In a way we were lucky to get away with three points. Partick had the more clear cut chances BUT they looked poor and never really looked like scoring, even from the penalty spot. It isn't hard to cheer on Caley when you are bombarded with "Come on Thistle / Jags" shouts and chants !! And a paltry crowd of just over 2500 at the "Energy Check Stadium" just summed up the fall of the Magyars of Firhill. A closed main stand and the barren hill at one end was a rather pitiful sight – especially when the heavens opened.
It was another disciplined and well organized defensive display that brought home the points. To be honest we never really tested Cammy Bell until the goal and although it was a sweet strike Bell did appear to flounder – and perhaps we should have had more than four strikes on target from 15 attempts. The first half was rather tedious. It was an open affair but neither side showed that killer touch. It looks like neither outfit have that goal scoring forward. Nice but ineffective tippy-tappy stuff but always either a poor last touch or a failed through ball. Plastic Whistle probably had the best opportunities when Ridgers saved from Quitongo and Doolan fluffed a half chance.
We appeared to move up a gear at the start of the second half and Oakley squandered a couple of chances from corner kick ploys. And then Thistle IMHO made a major error in hooking Miles Storey who had evidently been buoyed by facing his old team but his magic hat vanished and Gary Calwell displayed some of his tactical magic once again. And then on 71 minutes TOM WALSH successfully pulled a rabbit out of the hat. Picking up the ball on the left, neatly cut inside and curled a beauty via a sweeter right foot. But it was only three minutes later when we could have fecked it up. IMHO it was never a penalty but officials have a tendency to make such rewards when the ball accidentally is fired at a defenders flailing arm. But Ridgers stood tall and showered himself with a Calderesque (Jim by the way) slap off the crossbar, through himself to his left and tapped the ball round the post. He is definitely "One of our own".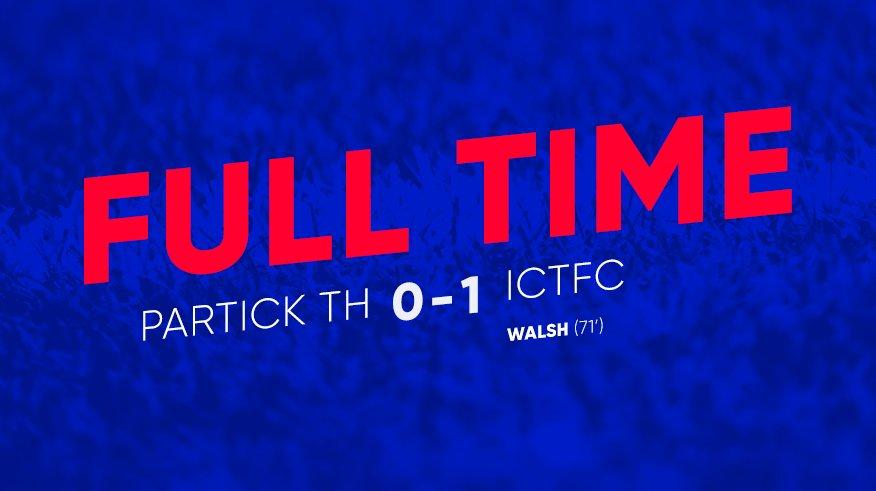 And the Plastic boys then went all out to save the game but Ridgers, Coll and McCart stood firm and were abetted by the substitute Fitzpatrick of Partick who missed a 1-1 chance and never even tested Ridgers. So our unbeaten run continued and Thistle slumped to their seventh consecutive defeat. And the relief from our players was clearly displayed as to a man plus Robbo they hailed the travelling support.
SMILEYMOMETER
RIDGERS ? ? ?? ?– I suspect that many will award him MotM. Well to me he was a very close second. But he has come on leaps and bounds and must be as good a custodian as anyone else in Scotland. Perhaps Tin-Tin Mcleish should have a wee gander.
McKAY   ? ? ?– Well he basically did his job defensively but rarely went forward apart from dead ball situations.
DONALDSON  ? ? ?? ?– MotM with a superb display. Made one bad error but more than made up for it. His calmness and distribution was a joy to behold.
McCART  ? ? ?? - Now that was a very solid looking central defence pairing. McCart was more of a get rid / hoof type performance but almost as effective as Coll.
CHALMERS  ? ? ?– Has not played at full back for some time but did a good job. Evidently was thinking defence and like Brad rarely foraged forward.
POLWORTH  ? ? ? - Well he ran and ran and ran. Clearly designated as the play maker but his good touches and good deliveries were almost the same ratio as the flawed ones. But he really did not have many moving targets. Perhaps Doran should be taking more of the dead ball ploys.
TRAFFORD  ? ? ?– Stood his ground, didn't make any mistakes but had a quiet 90 minutes.
WELSH –   ? ? ?Did a good job as the defending midfielder. Clearly thinks a good game and was leading others around him.
DORAN – ? ? ? not sure exactly where he was playing. Perhaps it was supposed to have been as a Number 10 but it looked more like an extra midfielder to me. I far prefer him playing out wider.
WALSH –  ? ? ??Apart from the goal he looked the man most likely to produce chances. The only flaw was his reluctance to take on defenders and play the through ball 20-30 yards out instead of hitting the bye line.
OAKLEY –  ? ? Basically up front on his Jack Jones and really should have scored from the one heading chance that came his way.
WHITE – Never really got a chance to show anything as he came on when we were under the cosh. But perhaps he should have started as his height may well have been more effective.
And we only had four outfield players on the bench including McGregor and Harper. So three points was more deserving for a depleted squad. So lets roll on to Dumbfries and plunder another three points from the Doon Hammers.
Here's a wee summary from Caley Stan..
Typical performance from us. Solid, organised, lacking creativity, but full of spirit. A real moment of magic from Tom Walsh and an excellent penalty save from Ridgers won us the game. McCart and Donaldson played very well but it looked like Coll was carrying an injury for much of the second half. Polworth also had a good game - great to see him finding pockets of space in wide and deep areas and using his ability to keep the ball - he's growing as a player. And Ridgers was excellent throughout, giving it big licks at the end too. What a season he's having. 
Walsh's superb goal and Mark's brilliant penalty save.............
Robbo aftermatch at Partick.
Here's Tom Walsh talking post match.............
Date: 10/11/2018  Venue: Firhill, Partick Attendance: 2509 Referee: Steven Kirkland
 
Partick Thistle: 0
a