Ayr Raid
There was plenty at stake for both clubs and it was the visitors that opened the scoring in the first half when James Vincent knocked a short clearance into the net. In the second half, Shaun Rooney did a Forrest Gump before scoring a brilliant second just after the hour. With no further scoring Inverness moved to within two points of both Dundee United and Ayr United. Great end to a difficult week for the club.
Run Forrest, run.........
Apparently when Shaun scored Pikachu said:- There's magic that brought us together. And that magic... is Rooney!
John Robertson went with the tried and tested at Somerset Park as Ayr went searching for their sixth win on the trot that would see them top the table on matchday 8 after leaders Dundee United stumbled at Alloa last night. Brad Mckay and Mitch Curry are back in training but not deemed fit enough to start this one, although they could see some action on Sunday in the Nos Cup final. Tom Walsh was still out injured and that saw Roddy MacGregor get his second start.
Caretaker boss Sandy Stewart was without the experienced Mark Kerr with Jordan Houston replacing him. That was the only change for Ayr who were looking to top the table after last nights Championship game saw the Wasps sting the Arabs 1-0. A massive three points available and all to play for in this one.
A crowd of nearly 2,000 were on hand to see this lively encounter with 148 & Pikachu supporting the Caley Jags. Amongst those was the Immortal Howden Ender and he will bring you his report shortly..................
Me you and Pikachu.....

It was the day that the Highland Pokemon prevailed in deepest Ayrshire and I am sure that Pikachu was envious of the lightning strike by Shaun Rooney in the second half. 
It was my first "live" game of the season and the fare served up by the Caley Jags enthused and surprised me. That was as solid a team performance that I have witnessed for some time. We could have been ahead in the first minute when Miles Storey outpaced the Ayr defence but then dragged his shot slightly wide with the help of the keepers fingertips, corner for ICT. Then came ten minutes of Ayr dominance. 
I felt that Ridgers kept us in the game three times, especially saves from McCowan and Moffat. Then on the half hour the away support lamented the substitution of Sean Welsh who hobbled off with yet another injury.

 However, within seconds we were celebrating a contentious opening goal. Not many would have been surprised if the referee had stopped play to allow treatment for the poleaxed Jordan White, lying prostrate in front of the Ayr goal. But the referee played on and JAMES VINCENT appeared to deflect home a Rooney cross. Not exactly a carbon copy of his Hampden clincher but very important none the less. 
I thought that we controlled the game thereafter. We were wholly solid defensively and looked dangerous on the break. The midfield certainly worked their socks off. Ayr's final touch or shooting was well off although Ridgers did save us twice more in the second half, especially one save where he appeared to turn himself in the air when the initial shot was deflected. 

Roddy MacGregor should have notched a second after the break but he hesitated and he who hesitates is lost. And then what must be a contender for goal of the season. In the 64th minute Donaldson punted upfield and SHAUN ROONEY remarkably kept the ball in play, swiveled, sped inside and as cool as a feckin cucumber  slotted the ball home. 
Rooney could have claimed a second late on when Todorov failed to execute the through ball with Rooney sure to overlap again. Doran really should have made it three but slashed at the ball from the penalty spot.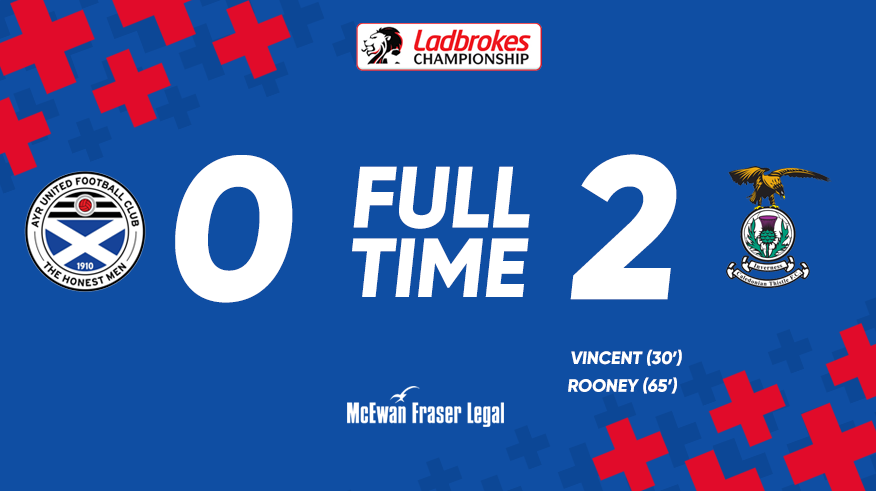 That completed another fine away day and the long journey home was worth it. Robbo's after match comments summed it up and perhaps he really does think that Ayr are more of a danger than the Tannadice bunch - "We are only eight games in, but it is important that we are still there at the top of the table. We faced the best team in the Championship today and we asked the players to put on a performance, show their character and that's what they did in some style."
~~~~~~~~~~~~~~~~~~~~~~~~~~~~~~~~
From BBC Sport, here's what the gaffers thought
Ayr United caretaker manager Sandy Stewart: "I can't fault the team's effort. While I don't think we were as good today as we have been in the last five or six weeks, we still had chances to take something from the game.
"People will look at the Dundee United loss to Alloa and be disappointed we did not take advantage today, but it was always going to be a tight race at the top and that has not changed."
Inverness Caledonian Thistle manager John Robertson: "We are only eight games in, but it is important that we are still there at the top of the table. We faced the best team in the Championship today and we asked the players to put on a performance, show their character and that's what they did in some style."
~~~~~~~~~~~~~~~~~~~~~~~~~~~~~~~~
And so to the Smileymometer and my apologies to the short-sighted Caley Stan !!  ?
RIDGERS  (*****)  On many a day he would have been MOM but he was outshone on the day by a Ross Tokely lookalike.
ROONEY  (*****) + Looking forward to seeing a replay of that goal. But apart from that he was solid at the back and always looked a danger when going forward – which he did menacingly on a regular basis.
DONALDSON (****) Looked more assured and far much more like his old composed self. Perhaps his fitness has hit the 100% mark ?
McCART (***) Tends to play in the shadow of Coll but he also looked assured and that central defence partnership will be a very important building block for the remainder of the season.
TREMARCO (***) Appeared to concentrate more on defensive duties which may well be his remit from now on.
VINCENT (***) Playmaker in the first half and very effective. Quieter in the second but defensively solid.
WELSH (**) Another bitter blow and leg injury allowed only 30 minutes of holding midfield at its best.
MacGREGOR (***) Very lively, sharp and pacy. Some nice touches but too easily knocked off the ball. Did look like a wee boy on a pitch of men. But he can only improve and he does have the required potential.
DORAN (**) Never does shine when the game is mostly about defending. Has lost some pace and that shows at this level.
WHITE (**) Poor Jordan is simply not my cup of tea. His height and presence does attract central defenders but he does nothing in the air and his hold up play is lacking. His main contribution was the first goal assist !!
STOREY (***) If only he had that bit of panache and composure to add to the lightning pace – he really would be wearing a magic hat. More effective out wide though.
TRAFFORD (****) He more than successfully filled the boots of Welsh. He was winning everything in central midfield.
CARSON (***) Evidently taken on to beef up the midfield. The complete opposite of McGregor. No nonsense needed in a game of this ilk.
TODOROV (***) Still not the final product but I feel he is more mobile, is a better holder and has more pace than any other forward at the club. Probably a better foil for Storey as well
It says that the attendance was 1912 but there looked a lot more than that – although the migration of Honest Men at the start and half time may have confused me. There were not many in the home end at full time though. My thanks to all, on and off the pitch, for making my first away day of the season a very enjoyable and wet one - and that surprisingly includes Kenny McLean 

Alternative Maryhill added: It was a really disciplined, hardworking performance from ICT. It looks like Robertson and Kellacher are more focused on coaching players on their individual roles than either Foran or Hughes were: Doran is tracking back and covering Tremarco far more then he used to, and Storey did the same really well on the opposite flank and provided real strength there, which is obviously necessary for us when Rooney goes off on his peregrinations. I thought Storey would be absolutely useless if not played through the middle, but he did an excellent job yesterday. Vincent worked his socks off in the middle and Trafford did fine when he came on, although it is going to be a big blow for us if Welsh does turn out to be long-term injured again.  I thought Ayr played some lovely stuff going forward - some great interplay between Forrest, Kelly and Moffat, and McCowan looked dangerous too - but Donaldson in particular dealt with them really well. And Rooney is just an absolute force of nature at the moment, and looks like he's loving playing for us. He's probably always going to struggle defensively if he's up against a fast, tricky left winger, but those rampages forward have been getting more and more audacious and basically made the difference between the teams yesterday. It's an absolute nap that he's going to get caught out at some point soon, and some team is going to ruin us on a counter-attack down our right, but it's worth it. Biggest cult hero we've had since Tokely. 

Here's both goals.............
Birthday boy post match............ Nice present for you John.
Full match highlights from Caley Jags TV
---
a