New Striker nets the goals.
Unfortunately for Inverness it was United's new man Lawrence Shankland that grabbed a brace of headers in the first half to put the Arabs into the break 2-1 ahead. Tom Walsh had levelled for Inverness but that only lasted for a couple of minutes before Shankland restored United's advantage. James Keatings had hit the post before the opening goal came along. Brad Mckay was stretchered off midway through the half with Carson moving to right back and James Vincent coming on. Shankland completed his headed hat-trick in the 53rd minute. Jordan White and James Vincent went close for the visitors and Vincent cleared one off his own line. However, Shankland completed the misery for Inverness when he scored a fourth with five minutes left.
Nearly 200 visiting fans saw new signing Miles Storey make the bench for Inverness and James Vincent and Nikolay Todorov sat beside him with David Carson starting. 
Top striker Lawrence Shankland started and it wouldn't take him long to make his mark...........
A frantic start saw Inverness survive a melee in their own box and then James Keatings hit the post from twelve yards after a ball in from Jordan White with the keeper beaten.
Lawrence Shankland was brought in to score goals and he opened his Championship accounts in the seventh minute as he headed a Louis Appere cross behind Mark Ridgers.
Keatings forced Siegrist into making a save as Inverness hit back two minutes later and at the other end Nicky Clark shot over on the break.
A sore one for Brad Mckay as he is helped from the park in a neck brace after falling awkwardly, James Vincent replacing him with David Carson moving to cover at right back.
The visitors were gaining a foothold in the match and following a couple of corners, Tom Walsh was on hand to knock the loose ball home after a Jamie McCart header rebounded near him.
Sadly, we never got time to settle on that leveller and Shankland headed his second of the game within a minute of Walsh scoring, Paul McMullan the provider.
We steadied the ship once more but at the break United had a slender but not insurmountable lead.
Half-Time 2-1
Eight minutes into the second forty-five and 'Lawrence of Arabia' notched his third goal of the afternoon. Another cross from Appere, another header from Shankland, another goal for United. What on earth have our defenders been doing in training?
Big turning point came a couple of minutes after the goal when Jordan White missed a great opportunity to get us back into contention, but he missed the target from close range. And that my friends is the difference between success and failure.
Keatings also shot over as we came to terms with our predicament and soon after a double substitution, but it was the same olde story (no pun intended). Doran came close to connecting to a ball from Walsh at the back post but the final nail in the coffin was coming.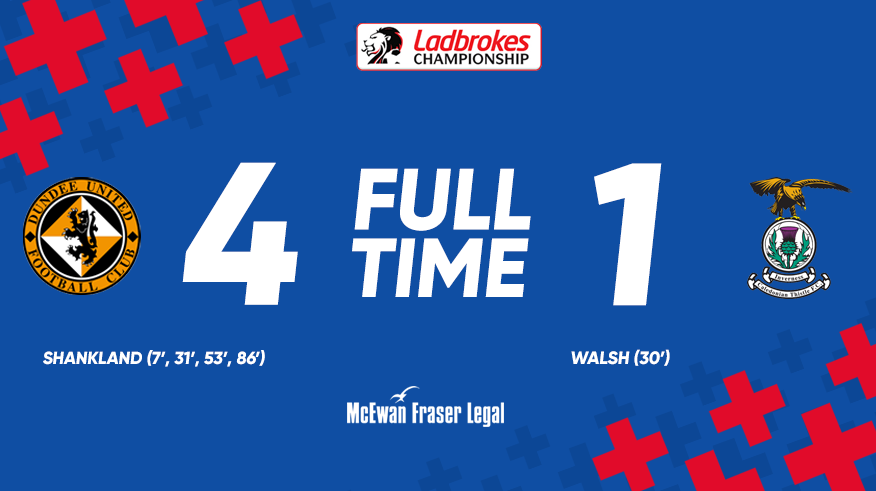 Cammy Smith saw an effort hacked clear as United went for a fourth to kill the game off and it duly came with around five minutes left on the clock. Who else but Man of the Match Lawrence Shankland who will be given the freedom of the city before the end of the season as he turned and shot past Ridgers effortlessly from inside the box before Inverness were spared any further punishment as Shanks was subbed. 
Predictably, our familiar slow start to a season continues to haunt us and it looks like the long ball approach is not going to get us far in this division given that every team has seen it coming for the last couple of years. Time to knuckle down and start playing football before we get left behind once more. Our normally reliable defence has taken a battering of late and that's three right backs down now. Coll Donaldson needs to re-focus and get back to his player of the year status. It appears that his performances are suffering recently. If anyone finds his mojo, please return it to John Robertson, c/o The Caledonian Stadium, Inverness (for now anyway).
~~~~~~~~~~~~~~~~~~~~~~~~~~~~~~~~~~~
Speaking to BBC Sport
Dundee United head coach Robbie Neilson: "I was delighted with the performance right from the start. I thought to a man they played very well.
"Shankland has been great since he came in. I think the other players have got to take credit for the as well because they brought him into the group and you can see he's getting the benefits."
Inverness CT manager John Robertson: "There were key parts of the game where we felt that had we defended properly first we'd have kept in it, but we missed good opportunities at the wrong time.
"And they had a man who they paid big money for and that's exactly why they've done it, that was a masterclass in finishing."
~~~~~~~~~~~~~~~~~~~~~~~~~~~~~~~~~~~
Caley Stan was a touch more lenient to the cause:
"So, a painful watch - United were better than us in every department but i still think the main issue is in the centre of the park - there isn't a combination among Trafford/Carson/Vincent that either protects the back 4 or provides a platform for the creative players to get into the game. The long ball is a necessity as a result, and Doran and Keatings are wasted without balls to feet.
We have to hope United are just way too good for this league and we're having our usual slow start.
Video footage will be added when available.
We've had better days..............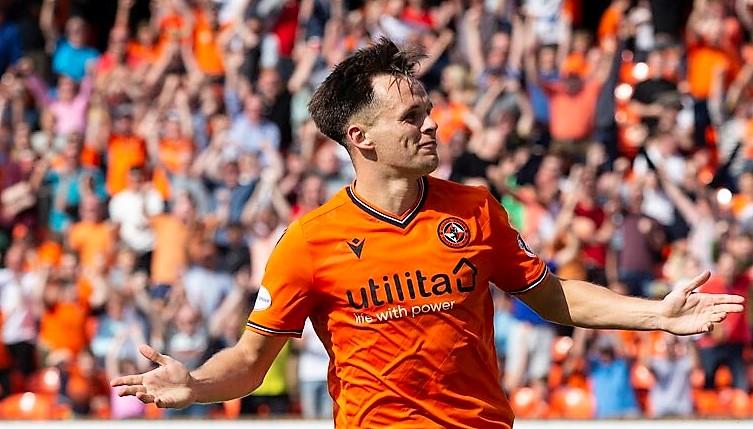 Man of the Match................I'll have to think about that one.............
No doubt about it, it's Lawrence of Arabia with his four goal performance. What a start to his United career as he takes the plaudits. Shanks very much.
Here's Robbo talking after the game
Here's another Storey for you...........
---
a