Dan's Deelight 
With both sides able to progress should the game be drawn, one wondered how this one would pan out. Would it be cagey or would the teams look to eliminate the opposition by winning the game outright. All will be revealed.
John Robertson added Charlie Trafford to the starting XI with David Carson dropping to the bench. Nikolay Todorov began on the bench. Jake McPake had Josh Meekings captaining the side against his former team mates. New signing Danny Johnson from Motherwell was on from the start and he proved to be decisive.
Both sides emerged from the tunnel to bright sunshine in their respective change strips, Dundee in white, Inverness in black. After swapping ends, it was the hosts that set the ball rolling.
A scrappy opening to the game was broken in the fifth minute as Brad Mckay swung a great ball into the box, but there were no takers. Similar at the other end soon after but Byrne failed to control an inviting ball into the box and Mark Ridgers gathered the loose ball.
Ridgers saved low down as Danny Johnnon shot goalwards and immediately James Keatings forced keeper Hamilton into a diving save as he grappled to clear a dipping shot from the striker and he almost scored from the resulting melee but the ball was forced away for a corner which was headed over by Coll Donaldson.
Best chance of the half so far came from Dundee as they managed to get a shot away from inside the box, however Johnson lashed his shot high and wide of the target, similar to Keatings earlier.
Keatings was the man causing Dundee problems and he turned and saw a deflected shot brilliantly saved by Hamilton at the expense of a corner.
Just after the half hour disaster for Inverness and Mark Ridgers in particular. As James Vincent slipped after chesting the ball down, Dundee took advantage and from a tightish angle a low shot from dangerous Danny Johnson found it's way in at the near post. Ridgers won't want to see that one again.
Two minutes later Keatings ruffled the side netting as he tried to sneak a ball in at Hamilton's near post, and Doran was just offside as he neatly controlled a through ball and slotted home as Inverness tried to hit back. Good response from the visitors, but despite our composed effort so far we were one down and heading out of the competition.
Keatings once more came close to connecting to a cross but it was scrambled away for a corner as we looked for a way back before the break, forcing a couple of corners. Keatings was sent tumbling on the turn as we kept the pressure on. He took the free kick himself, and had White gambled he may have got on the end of the ball as it fizzed past the post.
Dundee managed to hang on at the break and went in ahead, but only just and it wasn't for the want of trying by the visitors.
Half Time 1-0
No changes at the break as Inverness continued on the front foot and a White shot was blocked. Mckay floated another great ball to the back post but Doran fresh aired six yards out and the moment was gone.
Dundee got off lightly when White was adjudged to have fouled in the box. It looked more like a penalty to me, but Dee got away with that one.
Ridgers smothered a low shot from Marshall as Dundee responded to Inverness pressure and Paul McGowan went close when he poked one just wide on the run into the box as the game opened out.
A series of bookings followed as the game got a bit towsy, but with twenty minutes left Inverness were not going to progress unless they scored.
Nokolay Todorov and Mitch Curry were readied for action with White and Doran being replaced, the last throw of the dice for Inverness. Unfortunately Curry lasted only ten minutes after he was clattered in the box and had to go off injured.
Substitute McDaid shot narrowly wide as time ticked away with Dundee defending resolutely as we tried to force a draw. As we pushed forward, Dundee got the break of the ball but Josh Todd shot over on the charge.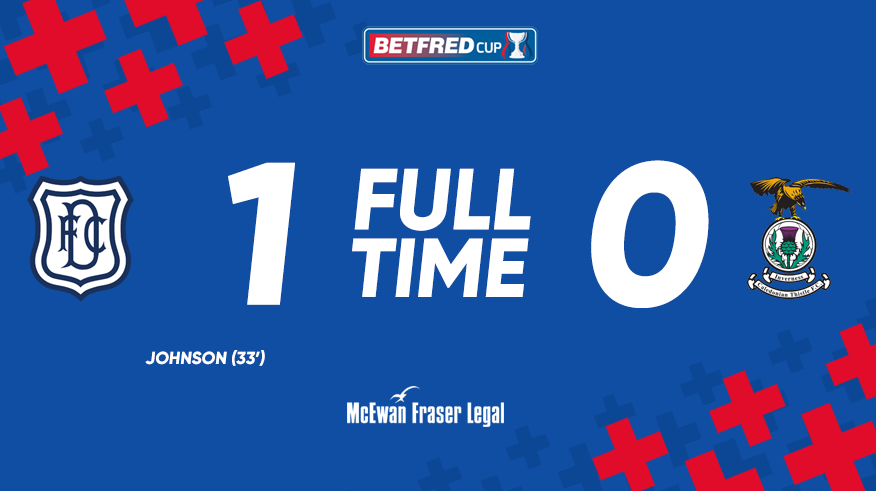 Good effort from Inverness against one of the teams tipped for the top but we were overall a bit shy to create clear opportunities. However, we created as many efforts on target as Dundee did and possibly could have snatched a draw, but the first half strike from MotM Dangerous Danny won the game and dumped Inverness out of the tournament, East Fife benefiting from our demise. 
James Keatings was our MotM with Jamie McCart solid in defence. Another to catch the eye was Todorov who looked very active when he came on. Unfortunately Doran, Walsh and White were posted missing and Charlie Trafford was a booking waiting to happen. Liability I'm afraid. Ridgers will have better days as the goal squirmed through him from a tight angle, seconds after Vincent slipped to the turf after chesting the ball down. A calamity of errors that we paid the price for.
Despite the effort, many visiting fans were not impressed with the performance and RIG summed it up like this:
Can't think of a single positive for ICT today. Dundee fully deserved their win. Rock solid at the back and plenty of good attacking play in the first half with McGowan defying his years and abysmal hairline to dominate the middle of the pitch and link well with Nelson and Johnson. Probably should have been up by more than one goal at halftime though I felt we had a couple of decent chances to get on the scoresheet. Second half was just rotten from us with Dundee easily holding us at bay. Meekings looked class. Still can't believe that we didn't get a penalty for what looked to be a clear foul on White but the way we were playing we probably would have missed it.
John Robertson said: "When you look back at it, I have no complaints, I think Dundee deserved to win the game today because they were slightly better at everything. They were slightly better at moving the ball, they were slightly better at passing it, they were slightly more clinical and they were slightly better at defending. If you put all that together then I think that Dundee deserved to go through."
Here's Keatings effort spectacularly cleared by a head lying on the ground. Meh!
---
a